Purported Samsung Galaxy Note II photo leaks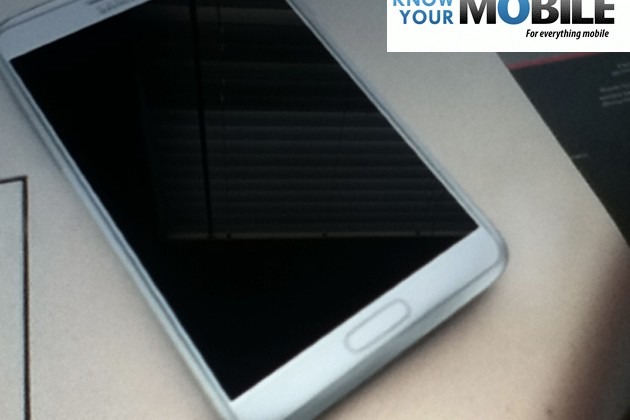 Just the other day we saw a front panel leak for the Samsung Galaxy Note II, backing up reports of a shift to a 16:9 ratio and an increase in screen size to 5.5-inches. KnowYourMobile has been sent a picture by a tipster that might just be the Galaxy Note II, bearing striking similarities to the leaked front panel. The screen does indeed look to have seen a size increase, and the bezel of the phone has been substantially reduced too.
The image largely matches up with the front panel that we saw a few days ago, with the physical home button bearing the same shape and size. The bezel, however, looks to be thinner on the assembled device – maybe a little too thin when compared to the leaked front panel. The sensors are also located in different places: in the front panel picture, they're positioned slightly above the earpiece, whereas in this finalized product they're placed further down down and to the right of the grill.
That matches up with previous Samsung products, however. Compare the sensor placement to what's found on the Galaxy S III, and you'll see the similarities. The front panel could possibly be an early part for the Note II, with Samsung having shifting sensors around and slimming down the bezel in the meantime. The overall design mimics the Galaxy S III as well, adding some subtle curves along with a white and silver trim. This could be what we officially see at the end of the month, or a very well done fake.
Previous reports have indicated that the Note II will feature a 5.5-inch Super AMOLED 1280x720 display, marking a shift away from the 16:10 ratio and 1280x800 resolution used on the original Note. Specs for the handset are said to include a quad-core Exynos processor clocked at 1.6Ghz along with 2GB of RAM, plus an eight megapixel camera. The phone will reportedly run Ice Cream Sandwich out of the box, but rumors have suggested that that Samsung has been testing Jelly Bean on the device for a possible retail launch. Samsung is expected to announce the Note II on August 29th at a pre-IFA event in Berlin.
[via PocketNow]