Alleged Samsung Galaxy Note II front panel spotted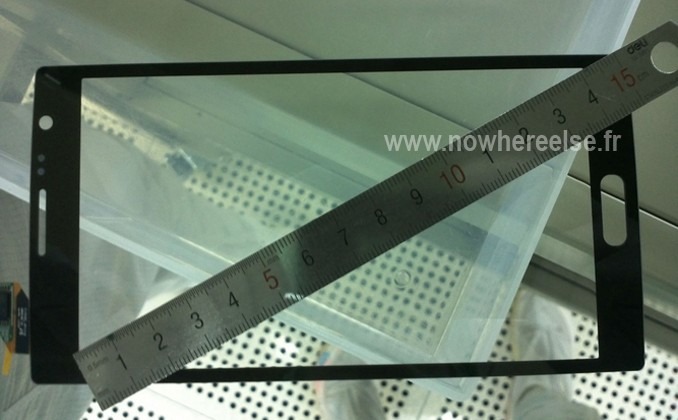 More and more details seem to be emerging of
Galaxy Note II as we creep closer to the company's IFA 2012 event on August 29th. This time it's a leaked case part, with
throwing up an image of what seems to be the front panel for the handset, complete with a ruler in order to judge the screen size. The screen seems to come in at around 14 cm diagonally, which would confirm the 5.5-inch screen size that has been alluded to in previous reports.
The bezel also looks to be relatively thin compared to the current Galaxy Note, and the top and bottom portions of the casing have also been reduced. The earpiece, front-facing camera, and sensors are present and accounted for at the top, and it looks like the device will still feature a large physical button below the screen.
Previous reports indicated that the design of the Galaxy Note II would be tweaked to fall inline with the aesthetics of the Galaxy S III, although this front panel shows a squared off design rather than the rounded corners and curves found on Samsung's flagship smartphone. Previous information has also suggested that the Galaxy Note II will feature unbreakable plane display technology, allowing Samsung to substitute fragile glass with a toughened plastic substrate while reducing device thickness.
Specs for the device are said to include a quad-core Exynos processor clocked at 1.6Ghz, along with a 5.5-inch 720p Super AMOLED display. The Note II will reportedly eschew the 16:10 aspect ratio used on the current Note in favor of 16:9, allowing for a slightly larger screen without taking up additional physical space. The device is expected to be announced at Samsung's IFA 2012 event on August 29th, so whatever the company has in store, there's not long to go until the big reveal.
[
Engadget]