Galaxy Note 10 renders will either make you cringe or sigh with relief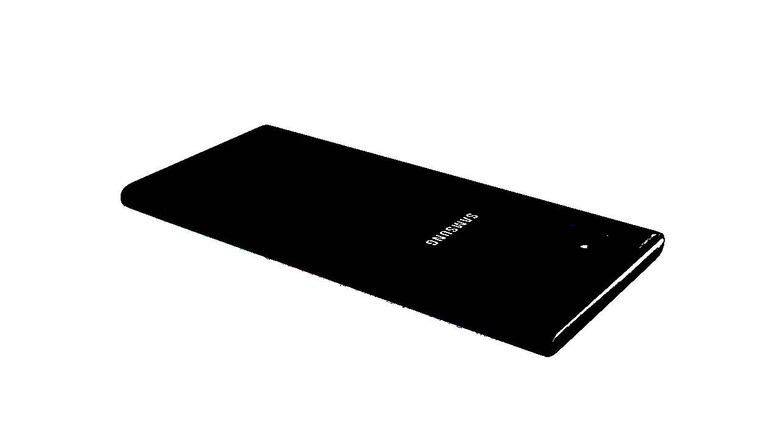 It's time to get the near-final renders of the Samsung Galaxy Note 10 in line as we edge into Summer. The images you're about to see come from the notoriously accurate OnLeaks, so you can be fairly sure they're going to be a good representation of the final product. The Samsung Galaxy Note 10 will, apparently, come in just one size (despite previous suspicions of a second model) and will have a frontside with a hole in its forehead.
Most of the imagery in this article was originally created for a article at 91mobiles to promote sales of phones from their web store. The images were created by OnLeaks using CAD renders of the actual phone which he attained from god-knows-where. The reason we look to these photos for information about this phone is the track record laid down by OnLeaks over the past half-decade – it's been very, very good.
Bottom Side of Note 10
On the bottom of this device is a single mic hole and USB C, as well as a speaker grille and standard S Pen. This is a pretty standard layout, not entirely different from what was delivered with the Samsung Galaxy Note 9 in 2018. Since the S Pen was updated in 2018, it wouldn't be a shock to find it appearing with essentially the same specs in 2019.
It might also be that Samsung's put all improvements to this S Pen stylus in the software, instead of the hardware. They've already got Bluetooth in the S Pen for the Note 9, what's left to add to this stylus? Rumors abound that air mouse and other new features could make the S Pen a surprising bit of added value in late 2019.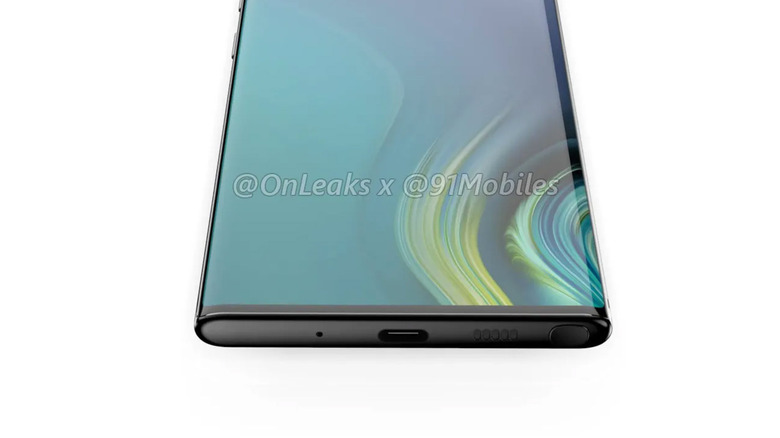 Left Side (the right has no buttons)
On the left side of the phone are a power/lock button and a volume rocker. It COULD BE that Samsung's finally given up on the Bixby button on this machine, which would be a good thing for those users that never wanted the hardware button in the first place.
The bad news on additions/removals is the axing of the headphone jack. Pour one out for our lost jack, everyone. This is truly another milestone in the long-dreaded path toward standard 3.5mm headphone jack destruction (on mobile devices, anyway).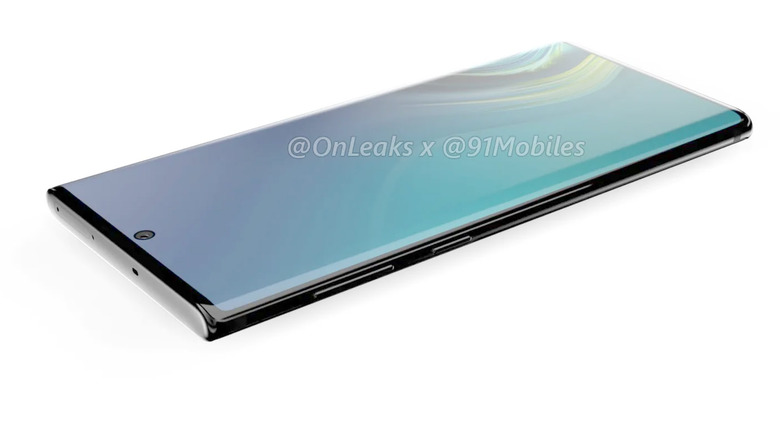 Across the top
On the top right of the phone is a sim card/micro-SD card tray, and another mic hole. Also at the top of the phone is what appears to be an IR-blaster. It might be that this blaster will only appear on global versions of the phone – but cross your fingers for the return of this very helpful piece of technology back in the USA, as well.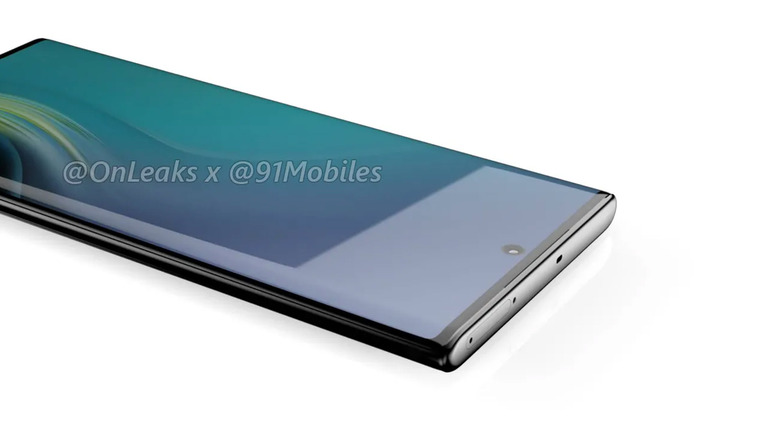 Camera arrangement
The back of the phone has a single LED flash hole (which might end up delivering 2x led bulb flash, but we'll see. There's a set of three camera lenses at the back of the phone as well, likely ramping up toward what we've seen leaked in the past.
• 12 MP, f/1.5-2.4, 26mm (wide), 1/2.55″, 1.4µm, Dual Pixel PDAF, OIS
• 12 MP, f/2.4, 52mm (telephoto), 1/3.6″, 1.0µm, AF, OIS, 2x optical zoom
• 16 MP, f/2.2, 12mm (ultrawide)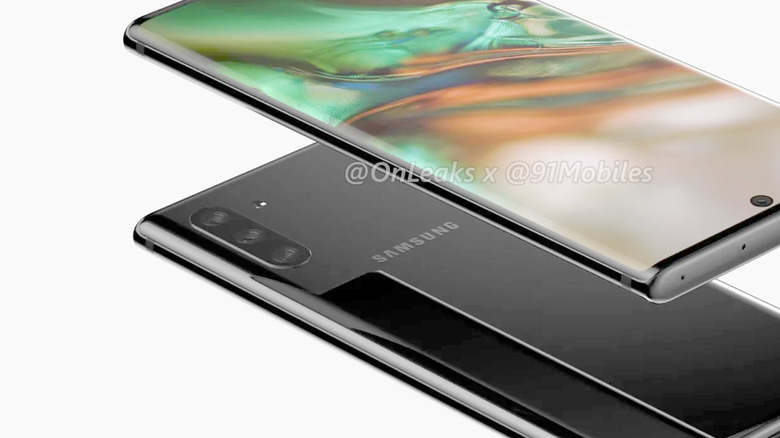 While we see one Galaxy Note 10 today, it COULD BE that there'll be another model with additional features. If that were so, the section called Note 10 camera arrangement in this SlashGear article could contain some odd insight.
A camera module there fits with what we see here in these latest renders, all but the area where we see the flash. In the imagery shared by Weibo's Martian-V, we were led to believe that there'd be room for a ToF camera – that's aka a Time of Flight 3D sensor.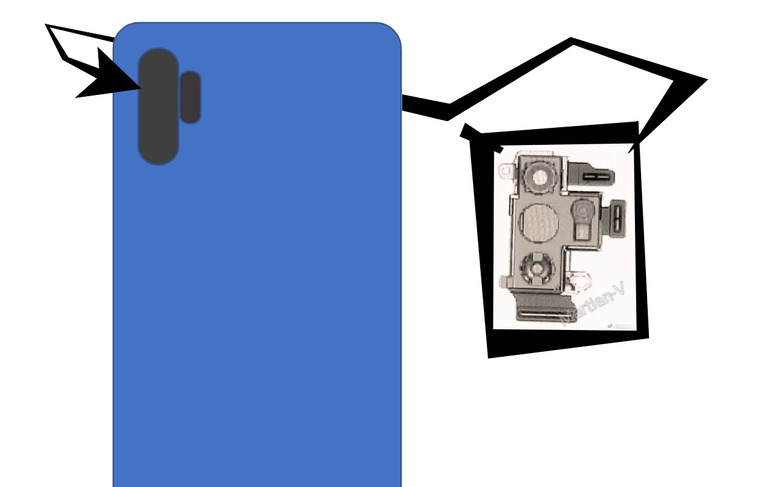 Frontside simplicity
The front of the Samsung Galaxy Note 10 (in this configuration, anyway), there's a single camera hole. That hole sits right at the center of the forehead of this phone, and it's pretty tiny. A report this week suggested that this hole will be tinier than any that've come before it – in an AMOLED display, that is to say.
See the Galaxy Note 10 "shrinking trend" article to learn more about the exact sizing of this hole, and how it'll be basically invisible in a couple of years' time.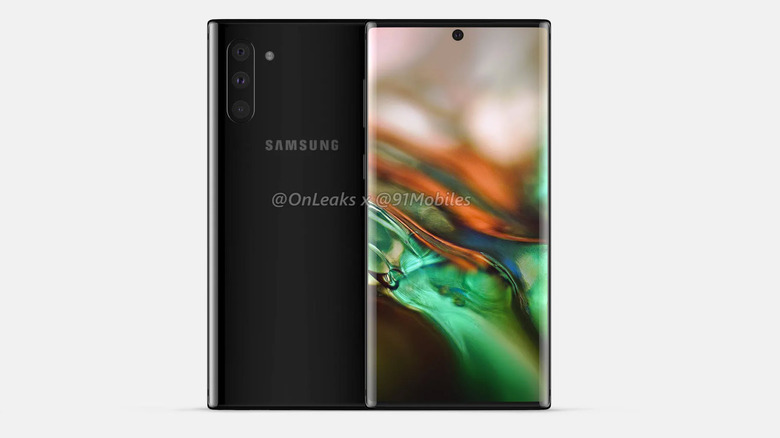 Availability and Price
It's expected that the Samsung Galaxy Note 10 will be revealed in early August, 2019. If Samsung holds with tradition, the Samsung Galaxy Note 10 release date will be in Late August, 2019 – just a few weeks after the reveal event.
It's been tipped that there will not be a "major" change in the pricing of the Galaxy Note 10 – but the word "major" could mean a lot of things. This may be the first time that Samsung holds nothing back when it comes to suggesting that the Samsung Galaxy Note 10 is the best and most premium phone in the world, releasing the device for over $1,000 straight out the gate.