Galaxy Nexus LTE shows off its extra bulk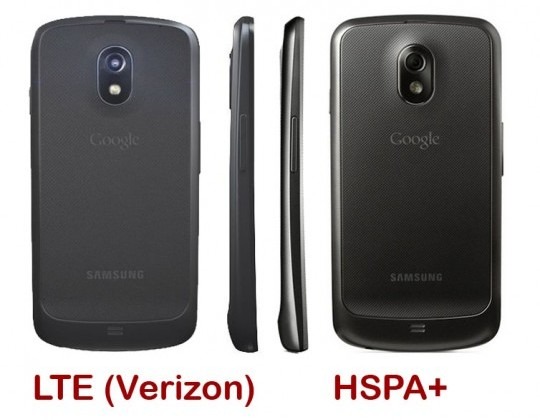 Google has given us a glimpse of just how extra-chunky adding LTE and a slightly larger battery makes the Galaxy Nexus, adding a 360-degree viewer of the fuller-figured Ice Cream Sandwich smartphone to its product page. Whereas the HSPA+ Galaxy Nexus on sale in the UK since last week is 8.9mm thick, the LTE version expected to hit Verizon on December 8 is 9.47mm thick.
That's no huge difference, in the grand scheme of things, but as the side-by-side shots above indicate it does make for a different profile for the two devices. The LTE model lacks the distinctive curve down to the speaker bulge on the lower rear of the phone, and ends up looking less like an arch in the process. There's still a slight lip, but not to the extent of the HSPA+ handset.
Still, that extra bulk does get you another 100mAh of battery capacity, probably much-needed given how power hungry LTE can be. The color differences in the two images may well be a factor of the press shots and 360-degree viewer rather than an actual aesthetic change; for that we'll have to wait and see.
For more on the Galaxy Nexus, check out the full SlashGear review, along with our comprehensive review of Android 4.0 Ice Cream Sandwich.
[via Android Community]