Galaxy Nexus appears on leaked Verizon map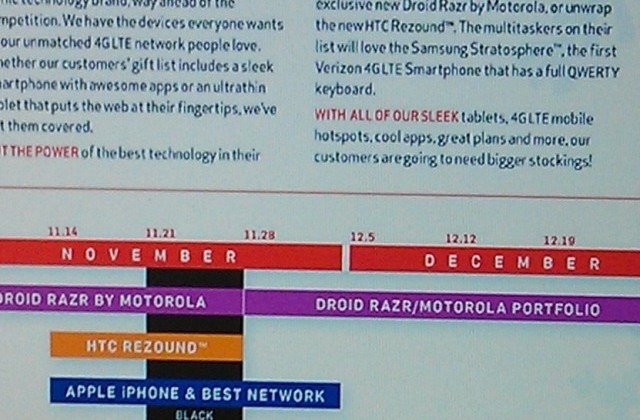 While there's always your occasional DROID or your Galaxy S device here and there in the mix, it's the Nexus line of Android devices that has the true grasp on the hearts of the Google mobile device lovers everywhere. That's why when a drop date comes in for the next in line for Google's vanilla flavored device that'll be holding the next big version of Android, that being 4.0 Ice Cream Sandwich, one must pay attention! What's come through today is what appears to be a map from Verizon that shows not only the drop date for the Galaxy Nexus, but some other starts and ends of promotional periods as well.
What you can see here is a map of promotional periods surrounding Black Friday weekend, that being the weekend connected with Thanksgiving here in the USA. What you'll be able to see quite clearly first is that the Motorola portfolio, it containing more than one DROID-branded device including the DROID RAZR which has already started to be promoted this month. We saw that device inside October complete with multiple accessories, one of which, the Lapdock 100, we reviewed just this past week.
Next there's the HTC Rezound which we can see here gets a mere 2 weeks of promotion before its time is up. This doesn't mean that the device will no longer be carried by Verizon, just that they won't be plugging television ads, radio spots, and in-store ads (and the like.) The Apple iPhone (4S) will be pumped up for a total of three weeks starting on the 14th of this month, then right after Black Friday weekend we've got the big news: the Samsung Holiday Portfolio.
Inside the Samsung Holiday Portfolio you've got the Galaxy Nexus, this being their big promotion for what appears to be the entire month of December plus the last few days of November. One week of crossover sits between the iPhone and the Galaxy Nexus, then it's all Galaxy Nexus until the holidays. And what else will be inside that Samsung pack? Perhaps something a bit larger?
Galaxy Nexus vs White Galaxy Note Hands-on
[via DroidLife]