Eight historic Corvettes have been damaged after falling through the floor of the National Corvette Museum in Kentucky, as a freak sinkhole opened beneath them. The cars – most of which were owned by the museum, but two of which were on loan from General Motors – range from 1962 classics to a 2009 ZR1 "Blue Devil", consumed by what turned out to be a 40-foot wide sinkhole estimated to be between 25 and 30 feet deep.
The hole began to form sometime before 5:30am local time, though it took around 15 minutes after that for the motion detectors to be triggered. The museum says nobody was in the "Skydome" area at the time, and nobody has been injured.
Of the eight cars, two were on loan from GM: the ZR1 "Blue Devil", and a 1993 ZR-1 Spyder. The remaining cars belong to the museum, and include a 1984 PPG Pace Car, a 1992 White 1 Millionth Corvette, a 1993 Ruby Red 40th Anniversary Corvette, a 2001 Mallett Hammer Z06 Corvette, and a 2009 White 1.5 Millionth Corvette.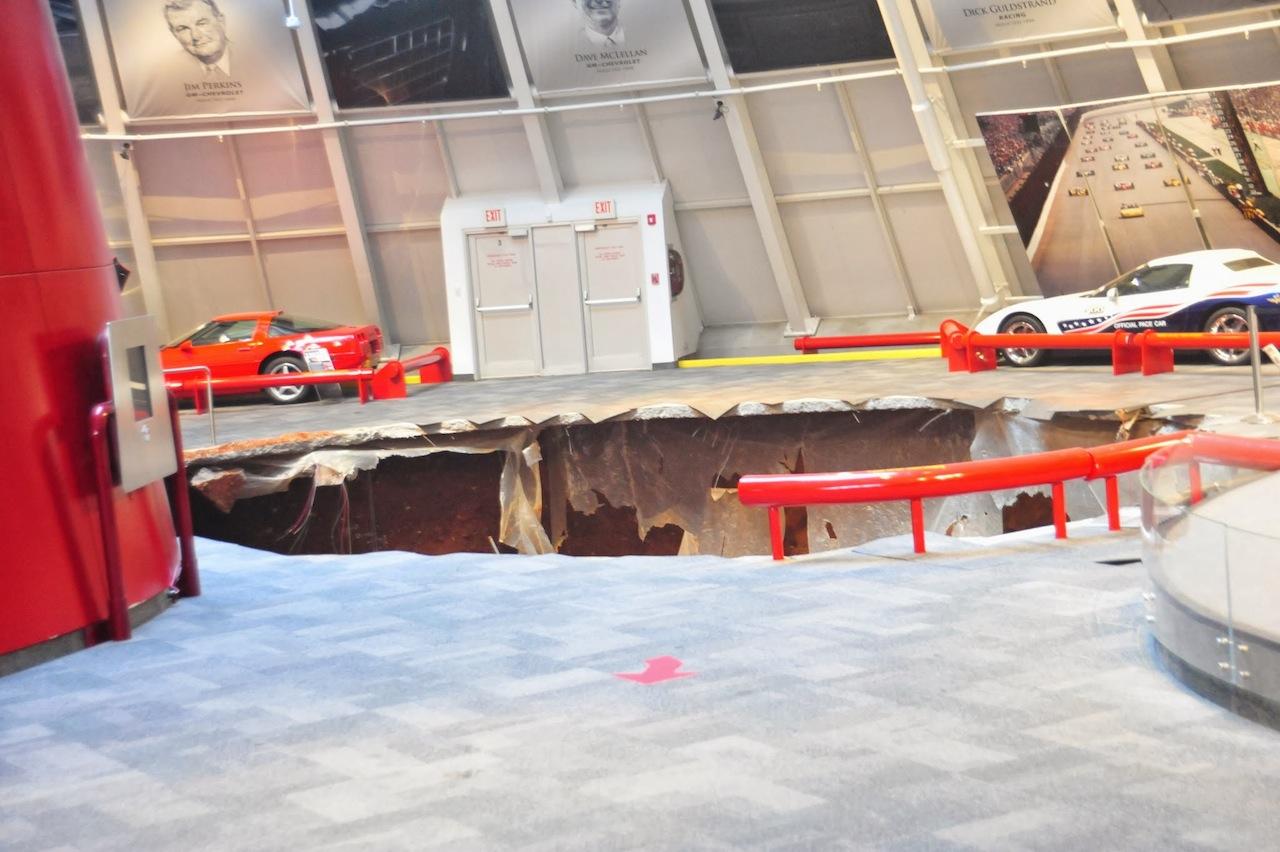 One car, not affected by the sinkhole but nearby, was moved, The Courier Journal reports: a 1983 Corvette prototype, from a year when GM did not make any production models. Described as "irreplaceable", the car is the only example of its kind.
Exactly what caused the sinkhole itself is unclear at this stage, though experts suggest that an underground cave could have progressively enlarged and eventually caused the instability. Next up is figuring out what structural damage has been caused, and how long it will take – and how much it will cost – to address.
Corvette has been in the news recently given the high-profile launch of the new Stingray C7. As well as significantly updating the style of the car, not to mention its build quality, the new model also gets some high-tech features like the Performance Data Recorder system we tested last month, which saves engine data and an HD video stream from the front of the car to an SD card for reviewing track days and races.