Ford's Shelby GT500 Mustang spotted amid 800 HP rumors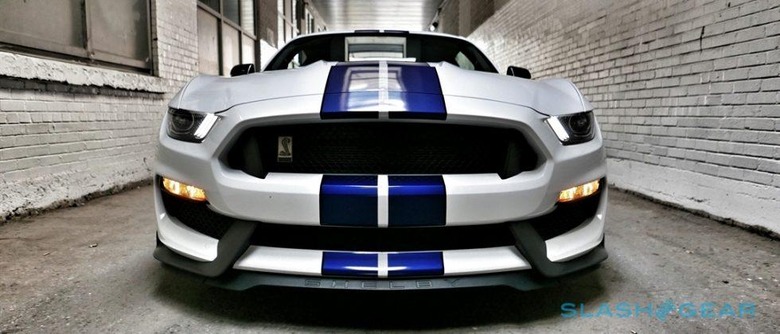 Put your dreams of a Shelby Mustang GT350 to one side for the moment, as Ford is reportedly working on an even more potent pony for those who demand frankly ridiculous levels of power. The Ford Shelby GT500 Mustang has been spotted plying the streets of Michigan, partially wrapped but sporting a very eye-catching aero kit.
More attention-grabbing, though, are some of the specifications insiders are whispering about. According to Autocar's sources, Ford has eschewed the natural aspiration of the current V8 found in its hottest Mustang, and turned instead to a twin-turbocharged setup.
That, it's suggested, makes the GT500 good for as much as 800 horsepower.
It might seem like silly numbers – the "regular" Shelby GT350 shown above, for instance, is good for 526 HP and a 0-60 mph time that, across various testing, hovers at the 4.3 second mark – but Ford needs to crank things up in order to compete with the more potent options from its long-standing rivals.
Over at Chevrolet, for instance, the Camaro ZL1's performance figures have been confirmed, and they make for tantalizing reading. Chevy's engineers have coaxed 650 HP from the car, nudging the GT350 into third place in the all-American mass market muscle car charts, with the Dodge Challenger SRT Hellcat keeping the top spot courtesy of its 707 HP.
The Camaro ZL1 starts at $62,135 in coupe form, with the convertible carrying a $7k premium. As for the Dodge, that starts at $64,195 for a coupe. A GT350 – if, indeed, you can find one in stock – will set you back $55,595.
Autoblog, meanwhile, shares video of the prototype in action on the streets, though there are questions around whether any sign of turbocharger whine can be heard to confirm the twin blower rumors.
The car has drilled and ventilated discs, Michelin Pilot Sport Cup 2 tires, and Brembo calipers, much like its track-centric GT350R sibling which we tried in earnest back in June.
NOW READ: Ford Shelby GT350 review
The previous-generation Shelby GT500 relied on a supercharger for its V8, making 662 HP in the process.
Ford, for its part, has not confirmed that a new GT500 is in the works, though this isn't the first time that a prototype has been spotted in the wild.