Ford warns 1.3m drivers: Your steering wheel could fall off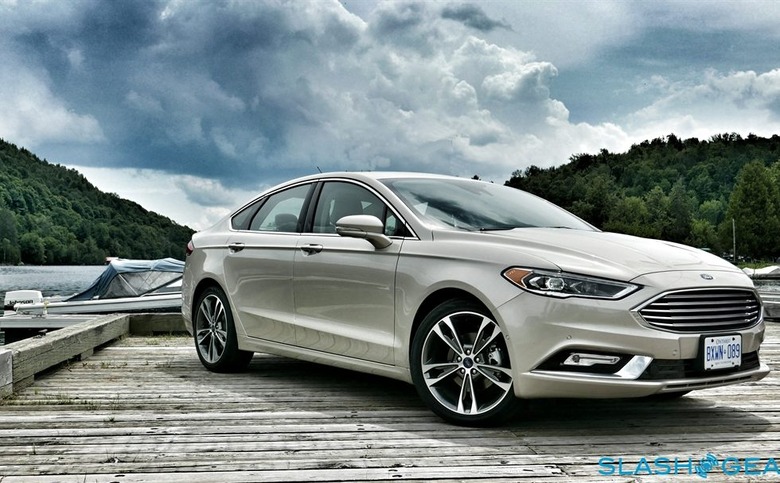 Ford is recalling a whopping 1.3 million cars in the US, after discovering that their steering wheels could come loose and detach completely while on the road. The American automaker has warned owners of select Ford Fusion and Lincoln MKZ cars that, over time, the bolts that hold their steering wheels to the steering column could come loose.
Unsurprisingly, that's not a good thing when it comes to the mechanism by which you steer your car. "In affected vehicles," Ford explains, "the steering wheel bolt may not maintain torque, allowing the bolt to loosen over time." As you might expect, if it's not caused that could be a serious problem: "a steering wheel could potentially detach and lead to a loss of steering control and increased risk of a crash," Ford concedes.
Approximately 1,378,637 cars are affected overall. Of that number, the vast majority are in the US: 1,301,986, in fact. The remainder are in Canada and Mexico. Dealers have been instructed to replace the steering wheel bolt, swapping git for a longer version "with more robust thread engagement." It'll be paired with a larger nylon patch, which will increase torque retention, the company says.
Despite the sheer number of vehicles involved in the recall, Ford says that the number of reported incidents caused by the issue is actually fairly low. Indeed, only two accidents are known to the automaker to be related to the problem. Of those, only one resulted in an unspecified injury.
Cars affected include the 2014-17 Ford Fusion, built at the Flat Rock Assembly Plant between August 6, 2013 and Feb. 29, 2016, and the 2014-18 Ford Fusion built at the Hermosillo Assembly Plant between July 25, 2013 and March 5, 2018. It also impacts the 2014-18 Lincoln MKZ, built at the Hermosillo Assembly Plant between July 25, 2013 and March 5, 2018.
Despite the news, Ford's share price was up slightly today, at just over $11. The company has been pushing its electric and autonomous technology in recent months, after criticism from some quarters that it had allowed rivals like GM and others to get ahead in both green and next-generation motoring. At the Detroit Auto Show in January, Ford reiterated its plan to launch a performance all-electric car by 2020, and announced it was increasing its investment in EVs to $11bn.
Later in the month, the automaker announced the formation of Ford X. Described as an incubator for new mobility products and services, it will focus on broadening Ford's footprint in areas like ride-sharing, broader transportation options, and smart cities. It will also be responsible for pushing Ford's efforts to commercialize driverless vehicles.