Ford Mustang Mach-E first look: Electric SUV takes on Tesla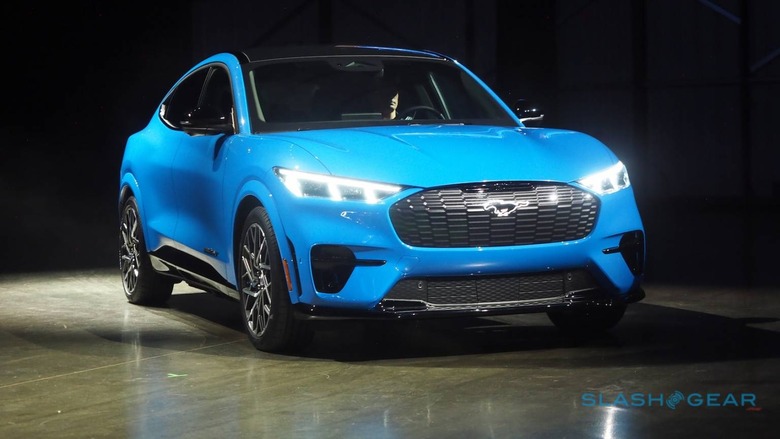 The 2021 Ford Mustang Mach-E has been officially revealed, complete with divisive design, up to 300 miles of all-electric range, and the sort of tech that EV drivers might more commonly associate with Tesla. Slipping out from under the covers just ahead of the LA Auto Show 2019, the newest addition to the Mustang family is counting on more than just a familiar brand name to give Ford a boost.
It's the handiwork of Team Edison, the group within the automaker tasked with closing the gap between the blue oval and its electrified competitors. Ford is taking no chances, either: the automaker says it benchmarked the Mustang Mach-E against the Porsche Macan, hardly easy competition in the crossover SUV segment.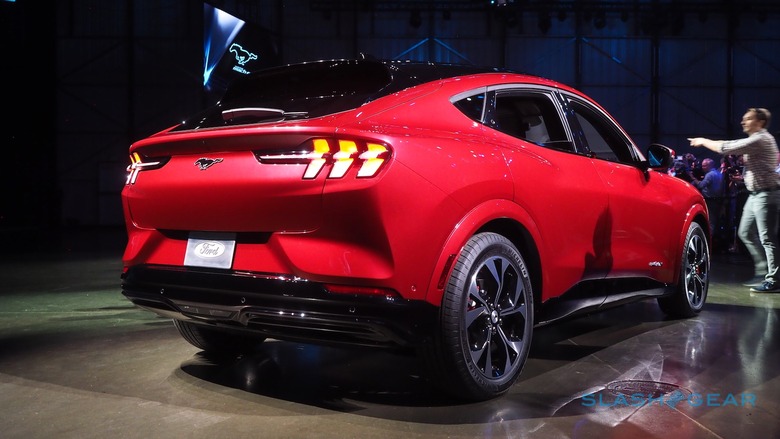 >
Design
Ford's Mustang-inspired styling is undoubtedly going to be the most controversial part of this car. The automaker is insistent that every angle, curve, crease, and sculpt line of the Mustang Mach-E was intentional, not to mention challenging. Originally intended to be more of a "compliance car" – a phrase that you can't help hearing the disdain in, when Ford's team says it – a far more dramatic aesthetic was decided on in the end.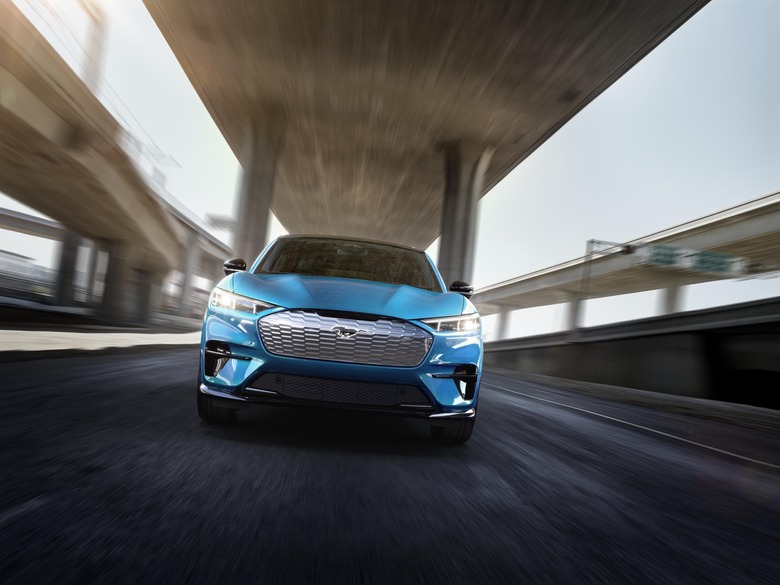 Squint, just a little, and the Mustang details are clear. The long hood – helping stretch out that all-important dash-to-axle distance – and the lamps of course, LEDs front and rear in those familiar triple-slash clusters. It's taller than a Mustang coupe, unsurprisingly, but Ford uses some visual trickery to the roofline to help give its SUV a more two-door-like arch.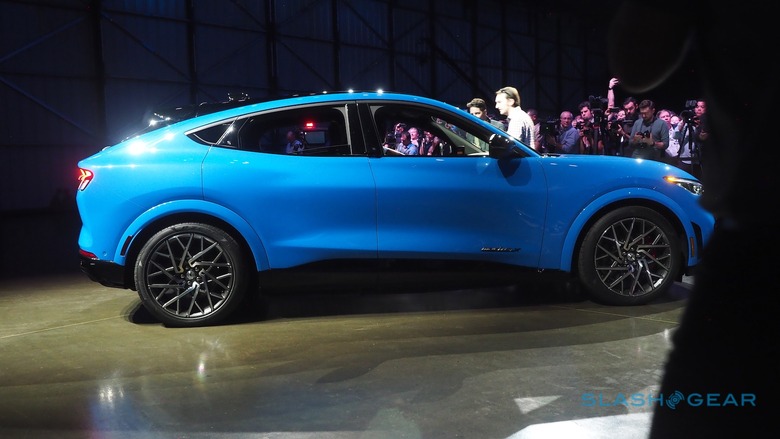 Look at it from the side and your eye first sees a lower, body-color roofline. That sweeps up, from the heavily-raked windshield, over, and then down to the hatchback rear. There is, though, a second roofline, blacked out so that your eye doesn't immediately see it. That follows a far more crossover-traditional line, allowing for more second row headroom.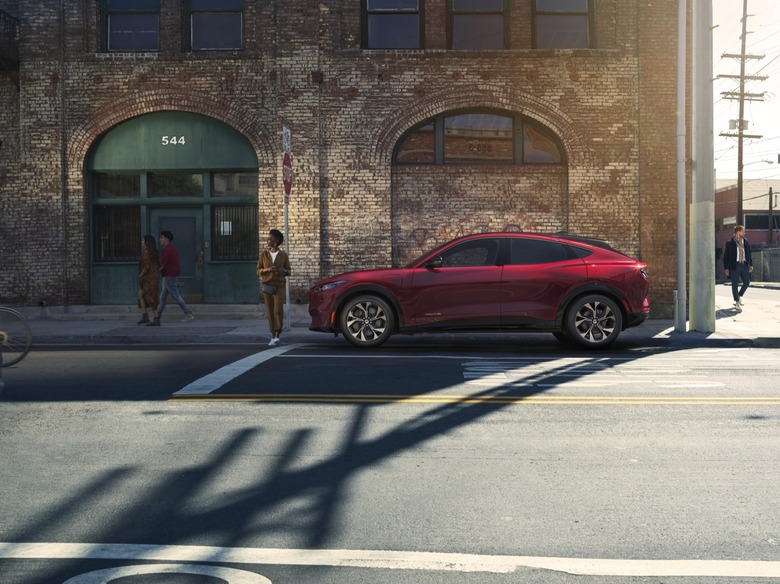 You might not like the end result, but even then there are some details worthy of your consideration. The heavily sculpted flanks, for instance, were only possible because of Ford's adoption of an e-latch. Without that push-button release, the mechanism of a traditional door handle would've demanded far flatter panels outside.
Similarly, the hood is astonishingly undulating when you look at it closely. That was something the designers could only achieve because there's no bulky gas engine underneath.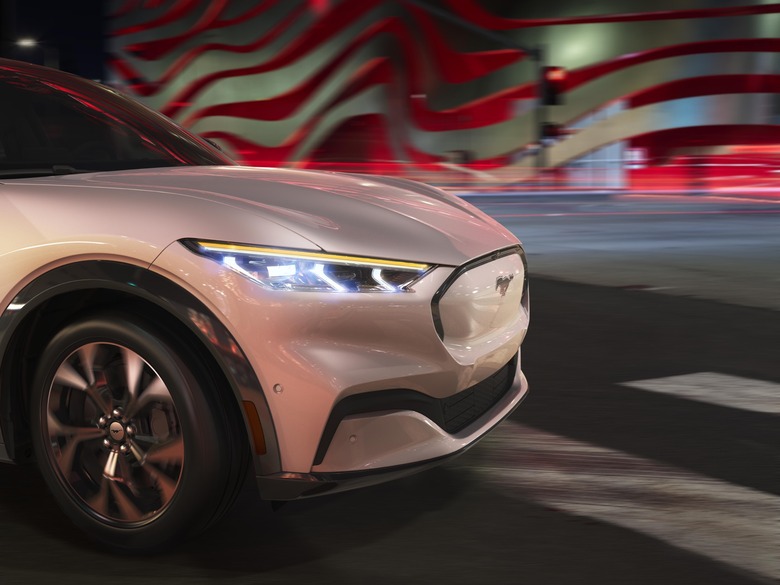 Ford calls the Mustang Mach-E an SUV, but it definitely errs on the sporting side rather than outright practicality. Its 5.7-inch ground clearance, in fact, is about the same as that of a regular Mustang. This shouldn't be your first port of call if wading through mud or rivers are on the agenda.
Models, Trims and Pricing
Ford is planning five trims for the Mustang Mach-E, though not all will be available on day one. They'll be differentiated by styling, equipment, performance, and range. First to arrive will be the Mustang Mach-E Premium and the First Edition, both in late 2020. They'll be priced from $50,600 and $59,900 respectively, before the $7,500 federal tax credit for EVs.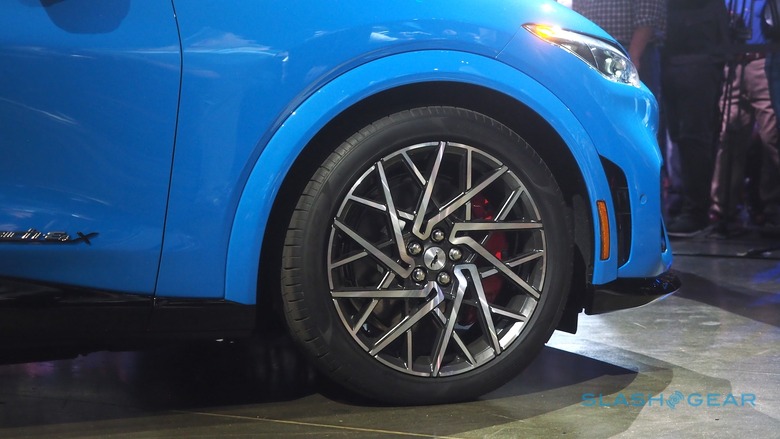 After that will come the Mustang Mach-E Select, the California Route 1, and then finally the GT Performance Edition. We've broken down the full five models separately, but the key takeaways are that there'll be both RWD and AWD cars, with either Standard Range or Extended Range batteries.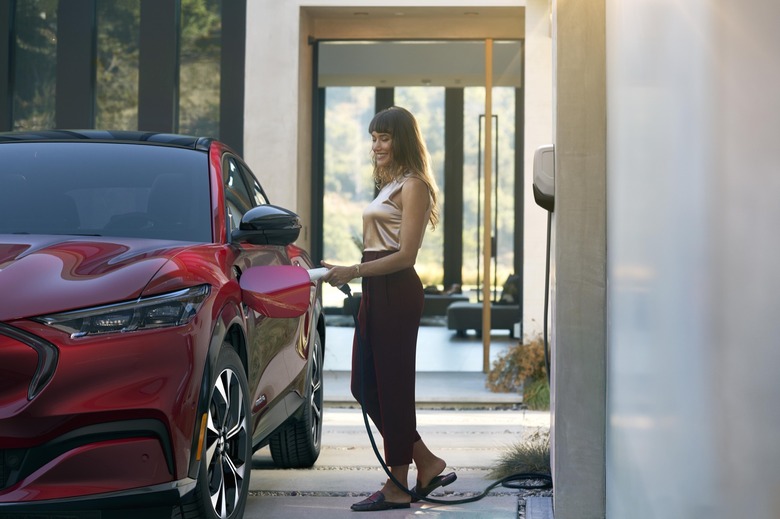 Depending on the combination of those, therefore, you're looking at 210 miles of range at the lowest, or 300 miles at the greatest. Maximum performance, meanwhile, is 0-60 mph in mid three seconds.
Every Mustang Mach-E will get Ford Co-Pilot360 Assist 2.0 as standard, with adaptive cruise control, lane centering, and speed sign recognition. Down the line, though, the automaker plans to turn on hands-free cruise control. That'll use an attention sensor mounted on the steering column, much as we've seen Cadillac's Super Cruise do, and be able to pilot the car along highways, staying in lane without requiring the driver touching the wheel.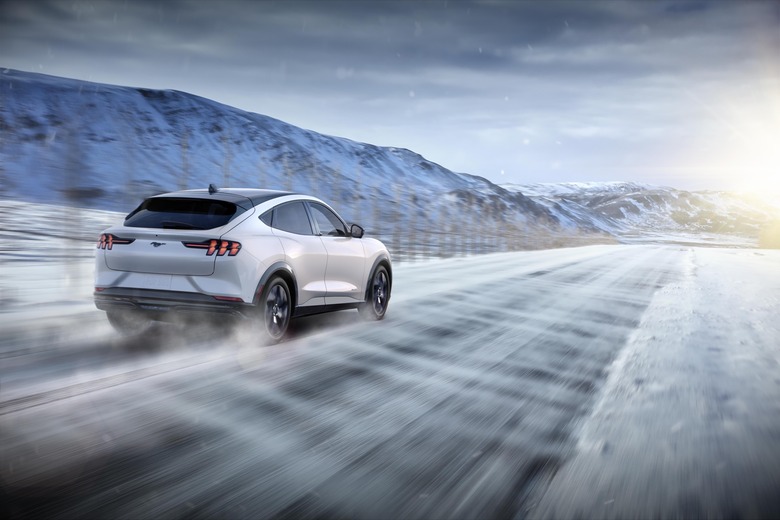 It won't be available at launch, though cars with the required sensors – which will include LIDAR, radar, cameras, ultrasonic, and more – will be produced from day 1. Ford plans to push out a software update to enable the hands-free driving system later on, though doesn't have a timescale for it yet.
Interior
It's subjective, but I think the Mustang Mach-E's cabin is the best in Ford's line-up. Clean, and free of unnecessary over-design, it's also impressively authentic in its materials. It's also worlds apart from the dark, plasticky cocoon that is the regular Mustang's interior.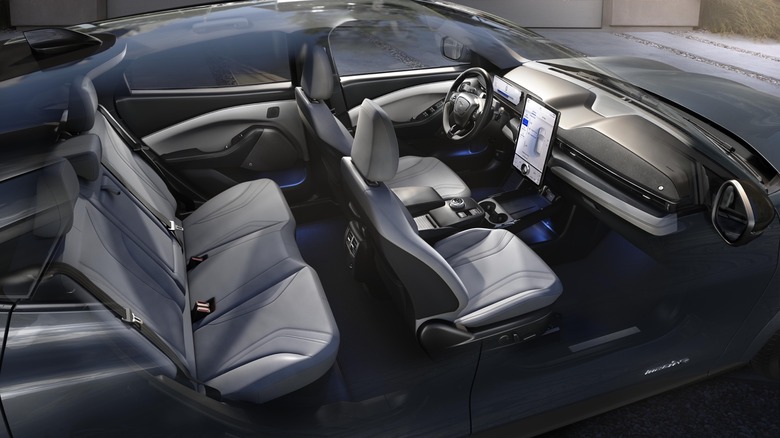 Ford's palette of materials avoids animal-based products: the seats, dashboard, and door trim is faux-leather, and there's microfiber suede on the heavily bolstered Mustang Mach-E GT's sports seats. Higher-trim cars get real aluminum, and though there's a little shared switchgear – like the window controls – with the automaker's other models, for the most part it all feels solid and premium.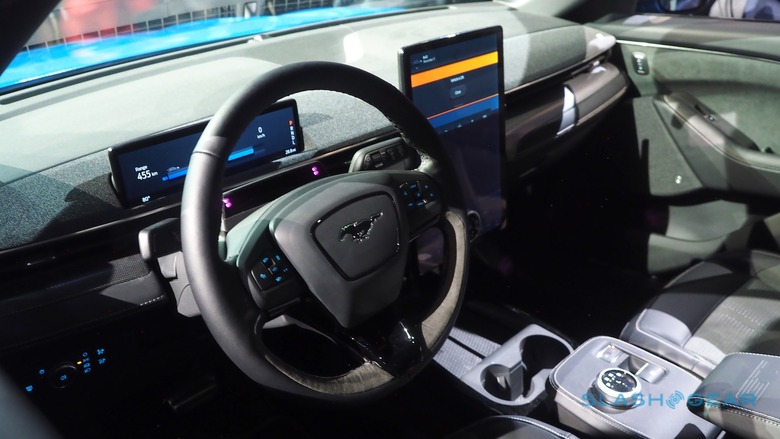 The driver gets a sports steering wheel with cruise control buttons on one spoke and media controls on the other. Ahead of that is a letterbox-shaped 10.2-inch digital cluster: that shows things like speed, battery charge, and range remaining. It changes according to which of the three drive modes you're in, and each layout is animated differently. In Whisper mode, for example, it resembles rippling black silk, tinted purple when you drive economically.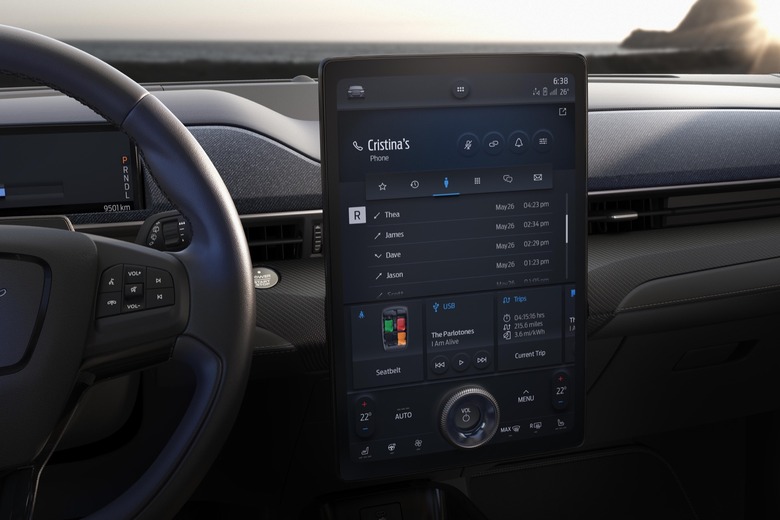 In the center is the 15.5-inch portrait aspect SYNC 4 touchscreen, punctured with a physical knob for volume. It's where you choose between the drive modes and handle all the Mustang Mach-E's settings. A knob in the center console switches between drive, reverse, park, and "L" which adds a stronger regenerative braking.
It's a surprisingly airy cabin, partly because Ford intentionally opted for lighter materials than it would normally pick. There are darker finishes, if drivers prefer. Headroom in the back is a particular surprise: people over six feet will easily be able to sit back there without grazing their heads. The full-length glass roof is an option; it doesn't open, but it looks great and contributes 0.2-inches to that spacious feel. Three adults might feel cramped on the rear bench, mind.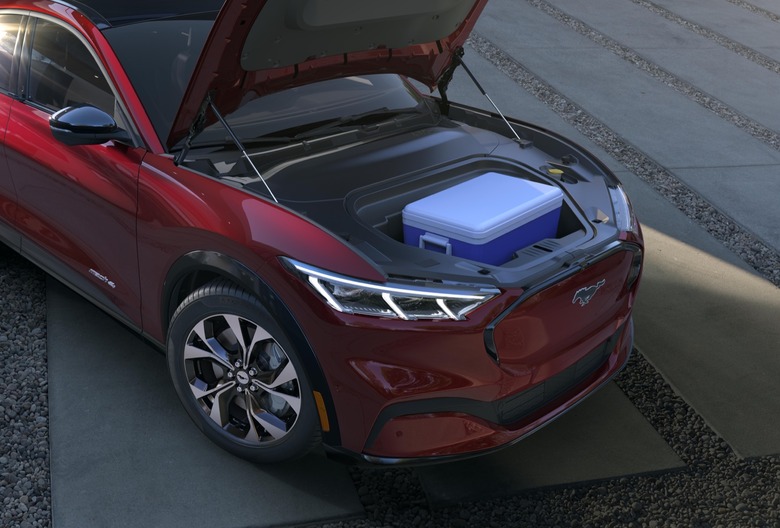 That bench folds down – there's a 60/40 split – to expand the 29 cu. ft. of trunk space to 59.6 cu.ft. There's a further 4.8 cu. ft. to play with in the front trunk, or "frunk"; Ford also designed that with places to put cups if you're tailgating (or whatever the version of that is when you're sat at the front of the car, not the rear) and the compartment itself can be drained if you've filled it with ice to chill drinks.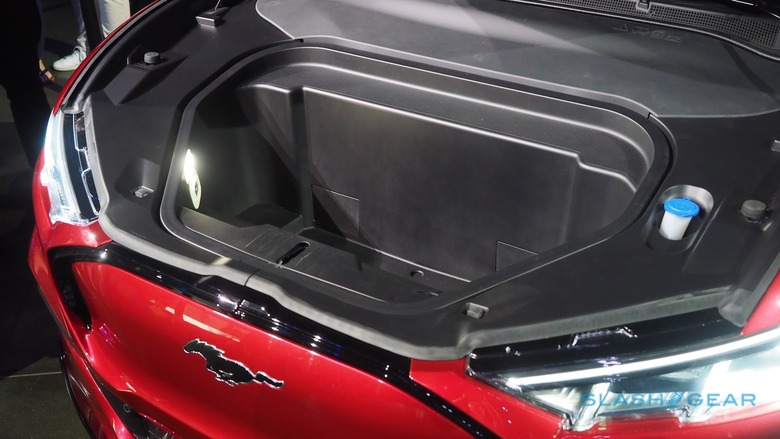 SYNC 4
Ford unveiled SYNC 4 last month, and it comes as little surprise to find that the Mustang Mach-E gets the best of its features. Completely reworked from the ground-up, it promises more smartphone-like interactions as well as greater simplicity. There are no home or back buttons anymore, just a straightforward system of cards.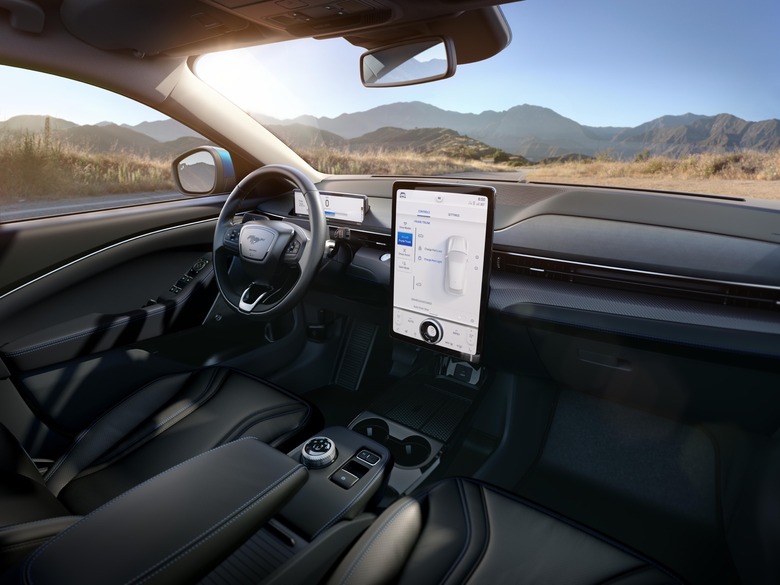 Ford's pitch is that SYNC 4 will gradually learn your habits and come to proactively support them. Tracking who is driving by their key (or their smartphone acting as a key), it'll figure out that if you always drive to the gym on Tuesday afternoon then you might automatically want that route – completely with live traffic data – shown then. Similarly, if you always call a certain contact when you're leaving the office, the new Mustang's infotainment will suggest that automatically.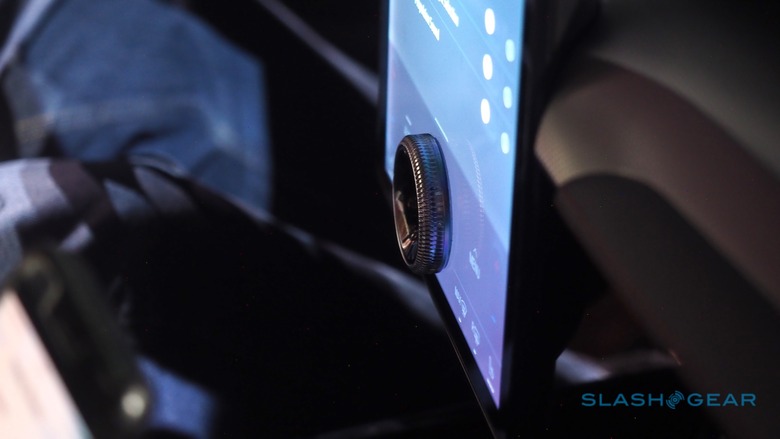 You can, of course, use Apple CarPlay or Android Auto instead, and the Mustang Mach-E supports wireless connections for both. They co-exist better with the SYNC 4 interface, too. Your phone's projection is treated like another card in the UI, so that you can be controlling music through CarPlay but using the EV's navigation system, for instance.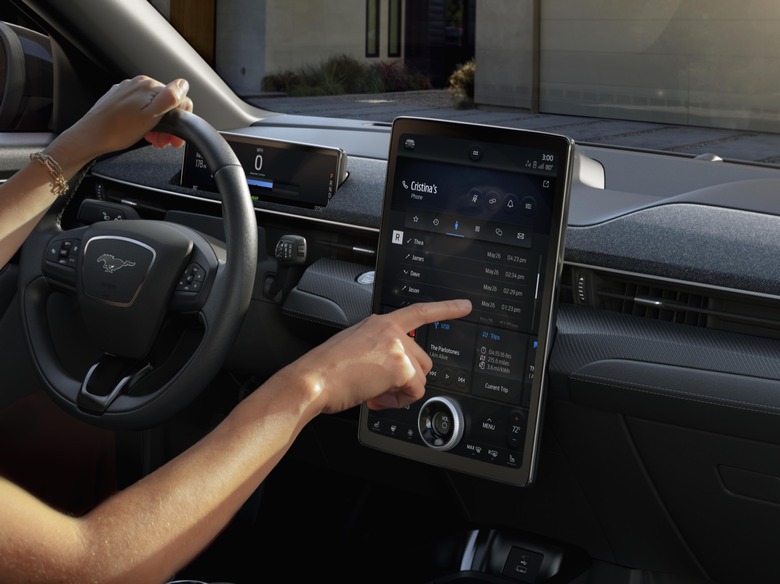 That's important, as navigation – standard across all trims – gets some key EV-related features. There's natural language voice recognition and online points-of-interest search, and if you're looking for a charger you can see how many ports it might have, what type they are, and which are in use.
Ford has also built SYNC 4 with over-the-air updates in mind. These can be automatically downloaded when the car is idle – over either its LTE cellular connection or via WiFi – and then installed, typically overnight so that you don't find the Mach-E unusable because it's in the midst of an upgrade. You'll be able to skip updates if you don't want them, though.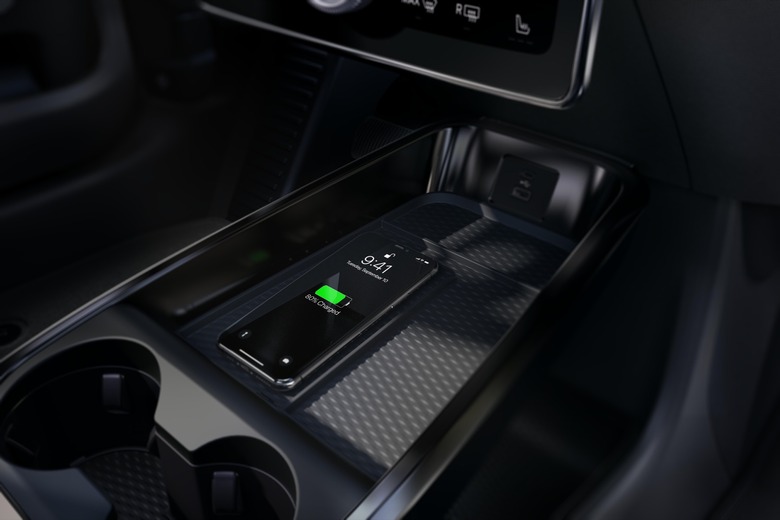 It all seems like a big improvement over the old SYNC in Ford's existing cars. Both USB-C and USB-A is a nice touch, too, as are native apps for things like PlugShare and different streaming services. With Ford's mobile app you can remotely track charging status, program in new routes, and control preconditioning of the cabin.
Still, there are a few omissions. The absence of a head-up display is an obvious one, though Ford counters that the digital cluster is positioned almost in your eye-line. How 4G LTE will be priced is still to be decided, too; what seems likely is that all the features will be activated initially, but when while things like POI search, remote access through the app, and charger status will remain free, the more advanced features such as WiFi hotspot will require a subscription.
Charging and Infrastructure
Concerns about where to charge up an EV are one of the biggest barriers to ownership, Ford's research discovered: 62-percent of people said they didn't believe an all-electric vehicle could be taken on a long road trip. Ford isn't building its own Supercharger-style network, but it is trying to better connect the dots between the different public charging stations out there.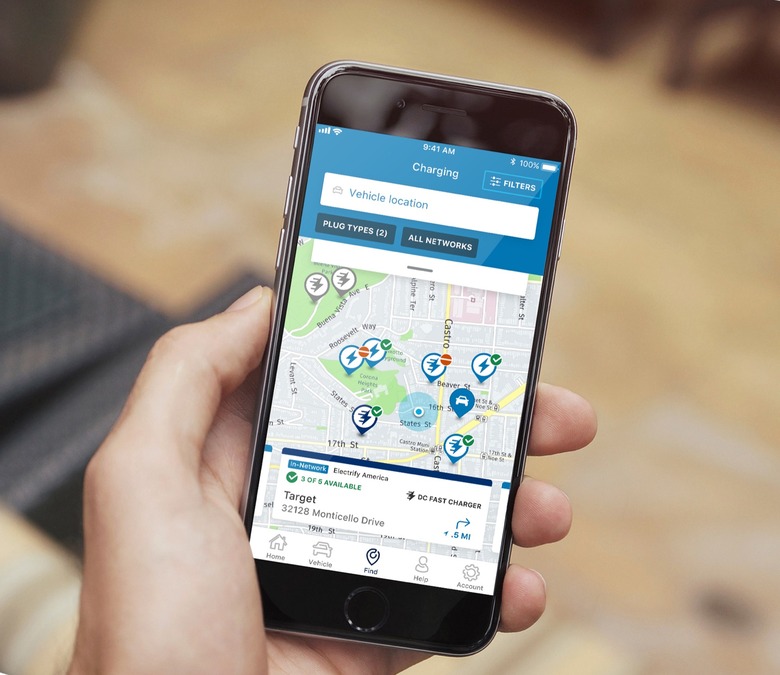 It's calling it the FordPass Charging Network, and it'll launch with over 35,000 charge plugs across 12,500 stations in the US. What's special is that Ford is promising a single point of payment from all in-network chargers. So, if you pull into an Electrify America station and plug in, you won't have to set up a separate account. Some locations will support initiating charging via the Mustang Mach-E's infotainment screen or the mobile app; even easier, others will support Plug & Charge, where simply connecting the charger is sufficient to begin the session.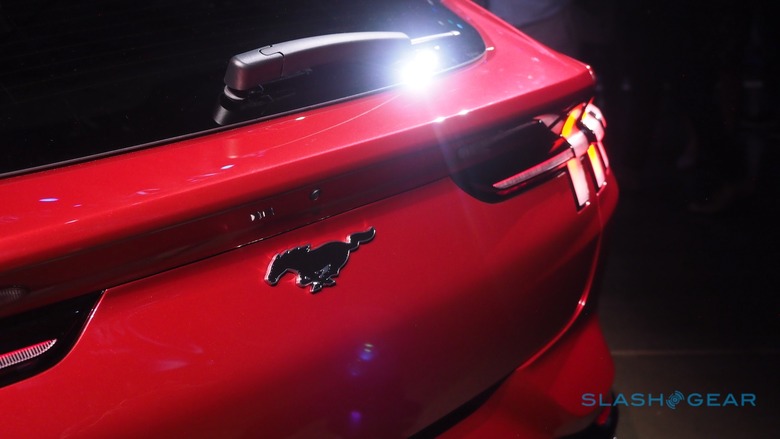 All versions of the Mustang Mach-E will support DC fast charging, potentially taking the EV from 10- to 80-percent in around 38 minutes. The Select trim will support up to 110 kW DC fast charging, while the Premium, First Edition, California Route 1, and GT will support up to 150 kW.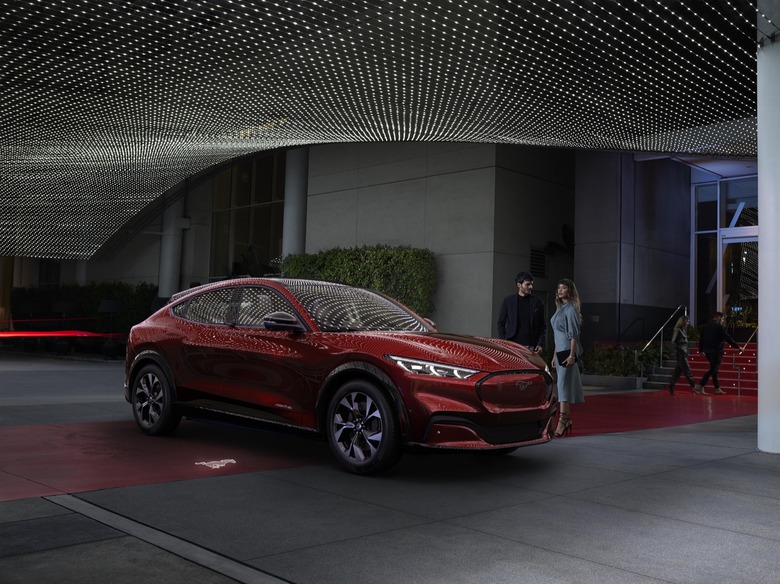 Most charging, of course, is actually done at home: 80-percent, in fact. There'll be a 110/240V mobile charger included with the Mustang Mach-E, that'll add around 3 miles of range an hour from a 110V outlet, or 22 miles on a 240V outlet. An optional Ford Connected Charging station will be offered for installation through dealerships and via Amazon Home Services; if your wiring is up to its 48 amp support, you're looking at potentially 32 miles added per hour.