Ford SYNC 4 will bring big touchscreens to the dashboard war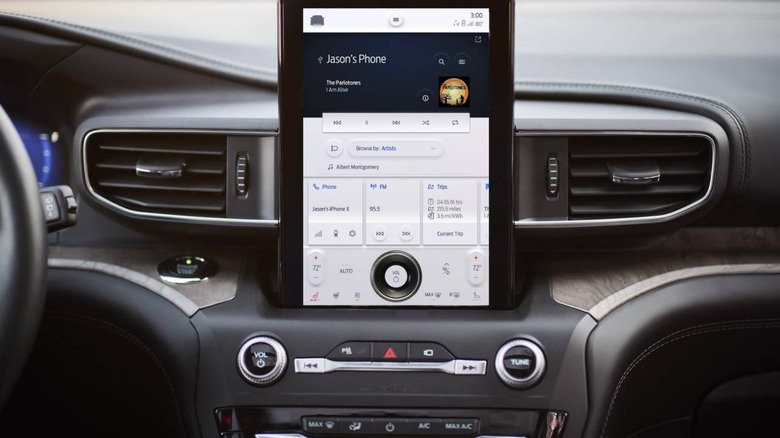 Ford has revealed its new infotainment system, SYNC 4, paving the way for significantly larger dashboard touchscreens along with wireless Apple CarPlay and Android Auto. The automaker is also promising OTA (over-the-air) update support for new cars from 2020, helping reduce the number of times drivers have to take their vehicle into a dealership.
Ford SYNC 4
The infotainment wars have heated up over the past few years, not least as automakers find themselves competing both with each other but also phone OS-makers like Apple and Google. While SYNC 4 will include both CarPlay and Android Auto support, as you'd expect, and in both wired and wireless forms, Ford's goal is to try to deliver enough that you won't necessarily want to cover its interface with a third-party one.
Most significantly, SYNC 4 has been designed for a new generation of much larger displays. SYNC 3 typically runs on a 7- or 8-inch touchscreen, which is starting to look small given the rest of the industry. The problem is, it's not designed to take full advantage of bigger panels, and as such merely enlarges its graphics rather than fitting more detail on-screen.
SYNC 4 has been designed to better scale to different touchscreens. The smallest will be 8-inches, Ford says, but anything up to 15.5-inches will be supported, with both portrait and landscape orientations. On 12-inch displays, SYNC 4 will support a split-screen mode, showing for example navigation on the larger area and music playback on the smaller pane. Information on Demand will be configurable for nine different features, Ford says.
For those cars with a 15.5-inch touchscreen – as the upcoming Ford F-150 refresh is expected to offer – SYNC 4 will use an Adaptive Dash Cards interface. That replaces traditional menus with individual cards, organized by popularity or recent use underneath the main portion of the screen. Each works both as a shortcut to the function itself, and as a widget: so, you'll be able to control media playback from the music card, or tap it to open the full media UI.
SYNC 4 will be paired with FordPass Connect and an AT&T 4G LTE modem with WiFi hotspot support. That'll pave the way for live traffic and other map updates, along with cloud-based natural language voice processing for commands and dictating SMS/email replies. There'll of course be onboard processing for when the car is offline, and Ford says SYNC 4 is now twice as powerful as its predecessor.
Machine learning, meanwhile, will attempt to learn your common routines and prompt you with functionality rather than waiting for you to trigger those features manually. If you always call home as you leave work, for example, SYNC 4 will offer to initiate a call at that point. Previous destinations can be used for the navigation system to suggest possible locations.
SYNC 4 will also include an integrated digital owners manual, with search and video tutorials. SiriusXM with 360L will offer on-demand content and curated channels, assuming you're a subscriber of course. There'll also be support for wireless charging of phones, model depending.
SYNC 4 is expected to begin featuring in Ford vehicles from 2020. We'd also expect it to appear in Lincoln vehicles, which currently use a reskinned version of SYNC 3.
Ford OTA updates
Ford's other big announcement is around vehicle updates. Currently, most new features need to be installed with a visit to a dealership, but from 2020 Ford's redesigned vehicles will support new over-the-air updates.
Offered both on gas-powered as well as upcoming electric vehicles, like the soon-to-be-unveiled Mustang inspired EV SUV, the OTA support is expected to both add features and fix bugs. The first updates are expected to roll out from around six months after Ford starts adding OTA support, and there'll be a mixture of visible and invisible changes.
Usefully, Ford is using a system whereby the new software is downloaded and prepared for installation in the background, allowing the current software to keep running. Only when it's actually ready to go will the old software stop working. Ford says the system means most updates will be activated in under two minutes.
Some will still require the car to be parked and shut off, and so owners will be able to schedule when they're installed. There'll be notifications when an update is available and what it contains, and the choice of installing it over either WiFi or cellular connections. A dialog confirming the installation will show up when the vehicle is next started.