Ford Bronco teased: Old name, new EV tech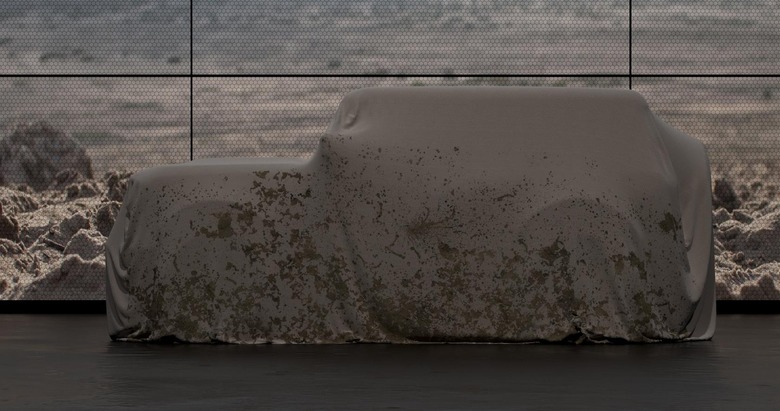 Ford has given us the first glimpse of the new Ford Bronco... well, sort of, anyway. The hotly-anticipated new truck will see Ford revive one of its most loved nameplates, but so far the automaker has been playing its Bronco cards close to its chest.
Now, we have our first look at what we can expect when the new Bronco arrives next year, at least in silhouette. Ford has, annoyingly, draped its new SUV in a mud-spattered tarp, but it's sufficient to confirm that the original's squared-off aesthetic has been carried through to this new model. Given the tendency for wind tunnel work and aerodynamic necessity to turn many vehicles into amorphous blobs on wheels, it comes as something of a relief that the new Bronco isn't going the same way.
All the same, Ford isn't going entirely old-school with the truck. Indeed, it's been earmarked as one of the automaker's prime candidates for a sizable push into electrification. The Bronco hybrid will join the F-150, Mustang, Explorer, and Escape in getting gas-electric talents, which Ford says will not only help with fuel economy – "a hedge for customers against higher gas prices" it points out – but also deliver benefits in low-end torque and more.
What seems unlikely is that there'll be an all-electric Bronco EV. Ford isn't stinting on battery electric vehicles, and in fact has plans for six such cars by 2022. All the same, it won't be until 2020 when we see a performance battery electric SUV with a new nameplate, tentatively expected to be the "Mach 1" going by Ford's Detroit Auto Show 2018 announcement.
Ford's focus on trucks and SUVs is a tactical one. The automaker is shifting $7bn in capital from car development to SUVs, of which it plans to have eight by 2020. Five of those will have hybrid options, and one will be completely battery electric. SUV sales are predicted to rise by 20-percent for the automaker, according to third-party figures.
Meanwhile, there'll be a new, small utility vehicle that Ford promises won't sacrifice its off-road talents. At the same time, despite the larger line-up, the automaker insists that it's actually making its SUVs easier to build. Configurations have been stripped back so that there's less complexity in what drivers can order – by 80-percent, in fact, since 2014, Ford says – and it's counting on connected cars giving insights through vehicles' life-cycles as to what features actually get used and which are less appreciated. That, Ford suggests, could help when it comes to figuring out what to invest in and what to retire.