Flip Video UltraHD and MinoHD get refreshed; new accessory program includes snap-on Pico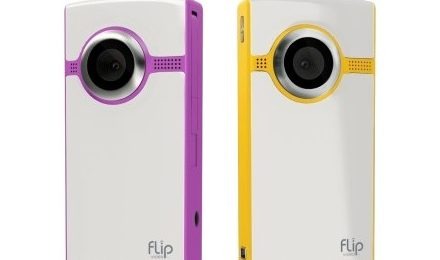 We've seen quite a few companies looking to steal Flip's crown for point-and-shoot camcorders – JVC's PICSIO models, for instance, or the HP V5020u – but Cisco aren't willing to sit back and watch that happen.  A new range of Flip Video cameras has been launched, the UltraHD 8GB and 4GB, and the MinoHD 8GB and 4GB, each capable of 720p 60fps recording.
The two 8GB versions can store up to two hours of footage, while the 4GB models max out at an hour.  All but the cheapest UltraHD have image stabilization, and of course there's the flip-out USB plug and preloaded copy of FlipShare for basic editing and uploading content.
The Flip Video UltraHD 4GB is $149.99 while the UltraHD 8GB is $199.99; the MinoHD 4GB is $179.99 while the MinoHD 8GB is $179.99.  They're on sale today in various colors, or can be customized online at TheFlip.com.
Meanwhile Cisco has also kicked off a "Designed for Flip" accessories program, with various third-party companies taking advantage of the new FlipPort connector.  For instance, Blue Microphones will be offering the Mikey for Flip, an external microphone, while Scosche are readying a wireless clip-mic.  iGo have a new Pocket Projector accessory, a pico-projector which snaps onto the FlipPort for showing your footage at up to 70-inches.
Press Release:
Cisco Debuts All-New Flip Video Lineup

New Line Delivers Next-Generation Video Quality, Expanded Personalization Capabilities, and More Options for Fun

September 20, 2010 — San Francisco, CA

Cisco's Flip Video™, the world's leader in shoot-and share video cameras, today rolled out an all-new line of affordable UltraHD™ and MinoHD™ video cameras. These new video cameras feature Flip Video simplicity, enhanced HD video quality, hardware-based image stabilization, expanded product personalization options, and more ways to share video using pre-loaded FlipShare™ software. Flip also announced today Designed for Flip™, a new program offering fun accessories from a wide range of partners that include everything from wide angle lenses and external microphones to battery chargers and a portable projector (see separate release).

"This is without question the best line of Flip Video cameras we've ever created," said Jonathan Kaplan, senior vice president and general manager of Cisco Consumer Products. "The new line combines Flip simplicity, affordability and fun with truly breakthrough video quality, image stabilization, and unlimited personalization options."

Building upon the acclaimed Flip Video user experience — which makes it easy and fun for anyone to capture and share video — Flip Video's new line has raised the bar again, by delivering amazing video quality without compromising Flip's hallmark simplicity. By combining its innovative, always-on image stabilization technology with 720p resolution at 60 frames per second (fps), Flip now offers the consumer stunningly clear and steady video that's both simple and affordable. The new Flip Video line is available nationwide starting at just $149.99, offering a video camera for every budget.

In addition, the entire Flip Video family is now available in personalized designs so Flip owners can express their own personal style with every Flip they buy, at no additional cost. Consumers can visit the Flip Online Store (TheFlip.com) to choose from thousands of designs from artists, celebrities, and iconic brands, or upload an image to create their own one-of-a-kind Flip video camera.

The new Flip video cameras also come pre-loaded with the latest version of FlipShare, which helps consumers easily organize, edit and share their videos. FlipShare upgrade now includes direct posts to Twitter™ – joining the convenient direct-share options already popular with Facebook™ and YouTube™. Flip Video users can count on stunning video no matter how they choose to view or share it – on a computer, their HDTV or using the simple direct uploads to social media sites.

New UltraHD Family

The world's best-selling shoot-and-share video family – the Flip Video UltraHD – now offers two new models with even more reasons to own one. For the first time, the UltraHD line offers personalization through the Flip Online Store (TheFlip.com) with thousands of designs for users to create a video camera showcasing their own personal style. Along with always-on image stabilization and newly enhanced 720p/60 fps video quality, the new Flip Video UltraHD 2 hour also features a new slimmer design that fits easily in a pocket or purse. The UltraHD 2 hour is the first Flip video camera to feature FlipPort™ – a proprietary Flip-designed connector enabling new add-ons options as part of the newly announced Designed for Flip™ accessory program.

The new Flip Video UltraHD 1 hour is the first-ever HD Flip Video camera priced at $149.99. An industry top-seller and consumer favorite, this Flip offers more for less: one hour of high-quality HD video; Flip simplicity, no-hassle built-in memory; plus a choice of magenta, blue, white or thousands of unique designs.

New Flip MinoHD Line

The new MinoHD 1 hour and 2 hour video cameras are sleek and stylish with enhanced HD video quality. Like the new UltraHD 2HR, the new MinoHD video cameras now feature the built-in image stabilization and 720p/60 fps combination allowing consumers to capture incredibly clear and steady video. Flip customers can opt for black, silver or from thousands of designs at the Flip Online Store (TheFlip.com). To express their own personal style, consumers can easily upload their own image to create a one-of-a-kind Flip MinoHD video camera.

Availability

The new Flip video cameras will be broadly distributed and are available starting today at the Flip Video Store (www.TheFlip.com), Best Buy and Amazon.com and coming soon to Wal-Mart, Target and Staples.
Press Release:
Flip Video Expands Consumer Options with "Designed for Flip" Accessory Program

Shoot & Share Category Leader Offers New Ways to Extend the Fun with New Flip Accessories from Aquapac, Blue Microphones, Bower, iGo, Ikelite, Seagate and Scosche

September 20, 2010 — San Francisco, CA

Cisco's Flip Video®, the shoot and share video camera leader, today announced an all-new accessory program called Designed for Flip™ to expand the Flip Video experience for consumers. New Designed for Flip accessories announced today include a range of products including: wide angle lens, two different types of enhanced external microphones, waterproof cases, battery chargers and a pocket projector.

"People choose Flip because it makes capturing and sharing video simple, affordable, and most of all, fun," said Simon Fleming-Wood, senior director of marketing for Cisco's Consumer Products. "The new Designed for Flip program extends the fun with more choices from leading accessory companies so Flip users can do more and go more places with their Flips."

New Designed for Flip and FlipPort™

The all-new Designed for Flip line will debut several products starting today and then continue to roll out more accessories through the fall and beyond. The Flip Video Designed for Flip team is working with leading companies in multiple product segments to provide a wide selection of general purpose and specialized products for both current and future Flip video cameras.

A key component of the Designed for Flip initiative is a new Flip Video feature called FlipPort™. The FlipPort is a uniquely developed connector found on the bottom of the new Flip UltraHD 8 GB/2 hour video camera — also announced today — that will become a standard feature on future generations of Flip video cameras. The FlipPort, will allow a range of specialized accessories to easily plug right in to Flip video cameras and open up a world of new uses and creativity for consumers.

New Designed for Flip products using FlipPort include Mikey for Flip, from Blue Microphones™, a professional quality external microphone that lets Flip users capture even better sound quality ranging from a whisper to a rock concert. Scosche™ will also be offering a wireless lavaliere microphone that will enable up close audio ideal for interviews. iGo™ is also offering three new products: the Overtime Battery extender which doubles the Flip Video battery life; the Charge Anywhere power adapter can charge two products at once such as a Flip video camera and another USB accessory; and finally a new Pocket Projector will allow Flip owners to instantly project and watch their Flip video clips directly from the video camera anywhere and on any flat surface up to the size of a 70" TV. In addition, Seagate has plans to support Flip video cameras with FlipPort in the coming months.

For all Flip video cameras, the Designed for Flip accessory line also features a wide assortment of products to let users do more with their Flip. New accessories now available include Flip Waterproof cases from Aquapac®, which allow consumers to use their Flip video camera for activities such as sailing, snorkeling and skiing, a line of underwater cases from Ikelite™, ideal for scuba diving and a new magnetic Wide Angle Lens, from Bower™, that makes it easy to capture wide-angle video footage.

Pricing and Availability

Select Designed for Flip accessory products are available* today in the United States at the Flip Video Store (TheFlip.com) and will be coming soon to Amazon.com and other retailers.

For information about how to become a Designed for Flip developer, please contact developer@theflip.com.