JVC PICSIO GC-WP10 and GC-FM2 Review
Point and shoot camcorders are a range under threat these days, as cellphones up their video capture game. JVC's latest PICSIO models show one approach to keep hold of the niche: throw in Full HD capture and, in the case of the GC-WP10, waterproof the casing. JVC sent over the PICSIO GC-WP10 along with its non-waterproof sibling the GC-FM2; check out the SlashGear review after the cut.
Both models slip in under the $200 mark, with the WP10 getting a $199.95 MRSP and the FM2 just $179.99. Each has a 3-inch 230k pixel touchscreen, records to SD card (compatible with SDHC/SDXC too) and has both a mini HDMI port and an analog AV output; the FM2 also gets a pop-out USB 2.0 plug. The 5.13-megapixel sensor can grab still images up to 2592 x 1944 or up to 1920 x 1080 30fps Full HD video.
So far, so regular, but the WP10 is clad in suitably sporty rubber and has port flaps ensuring it's waterproof to up to 10 feet. While you may not generally be shooting underwater, it does mean there's nothing to worry about if it's raining or snowing. It does add bulk, though: the regular FM2 measures in at a smooth, slim 53 x 102 x 22 mm, while the WP10 is a chunkier 60 x 101 x 25 mm. It may not sound too much, but the slight difference – together with the grippy rubber – can make it tricky to quickly pull the waterproof version out of your pocket and grab an impromptu shot.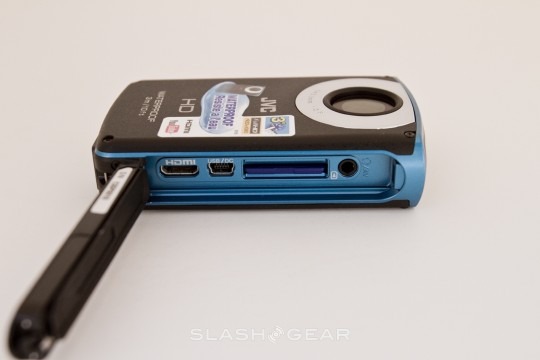 Usability is fair, with the large touchscreen offering easy access to the relatively sparse functionality. The WP10 throws in an audio recording icon as it will work as a dictaphone. On the flip-side, it means you need to look at the display in order to use it (unlike physical buttons) and outdoors you'll need to shade the screen in order to make out either the preview or the controls.
Image quality is the biggest factor, of course, and unfortunately neither JVC wows with either video or still performance. Stills show more than an average amount of noise, though colors are reasonable, while video is jerky and prone to over-exposure. The 4x digital zoom, as always, is best avoided since it increases pixelation unpleasantly.
JVC PICSIO GC-FM2 video sample:
[vms cd194a4b1e6992063e94]
JVC PICSIO GC-WP10 underwater video sample:
[vms 15c77a7149e92a551338]
The problem is, most modern smartphones – certainly those capable of 720p HD – are able to match the stills and footage produced by the PICSIO pair. That means a fair amount of people won't see a step up by carrying a separate device. True, the waterproofing on the WP10 is a neat addition that's rare on smartphones (unless you opt for a third-party case) but we're still not sure the end result is worth the bulk.