Fisker electric SUV to take on Model Y with sub-$40k price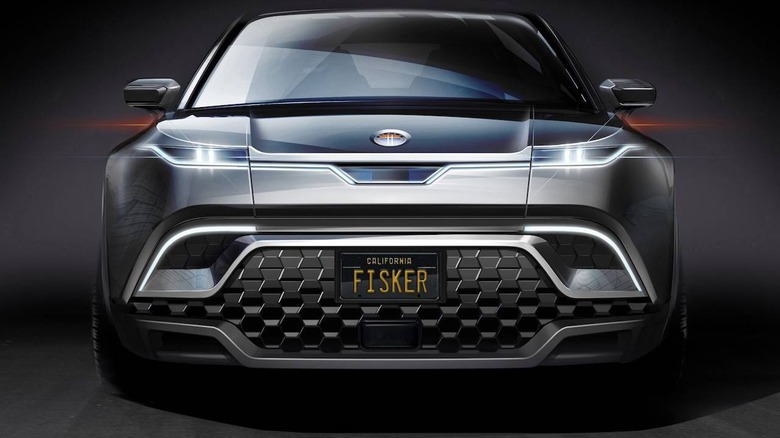 Electric car company Fisker has revealed its newest model, an EV SUV the automaker promises will start under $40,000. Taking on the Tesla Model Y, when it goes on sale in a few years time, the as-yet-unnamed SUV promises cutting-edge technology along with around 300 miles of zero-emissions range, though we still have plenty of questions.
Fisker's vision is an affordable all-electric SUV
Accessibility is key to Fisker's new SUV. It'll be priced from under $40,000, the automaker says, when it goes on sale in the second half of 2021, with Fisker intending to sell direct to customers. A "nationwide concierge service model" will be used to maintain the cars.
Specifications for the sub-$40k SUV haven't been shared, though Fisker is talking about some of the more advanced options. There'll be four-wheel drive available, for instance, using one electric motor at the front and one at the rear, just like the Model Y Dual Motor AWD. 22-inch wheels will be optional, too.
Extended range comes as standard
What won't be an option is the so-called "extended range" battery. Fisker says the new SUV will have at least 80 kWh onboard – more details will come closer to launch – which it's targeting approximately 300 miles of range from.
We'll have to wait a little while to see how realistic that actually is. Fisker won't have a drivable prototype to show until the end of this year, it concedes, at which point we'll apparently get final pricing, too. Early deposits won't be taken until closer to the start of production: Fisker says it's currently "finalizing the selection of a facility" to actually manufacture the SUV, though it has said that location will be somewhere in the US.
Expect a modern exterior and a tech-savvy cabin
Embracing the advantages of electrification will happen outside and in, Fisker promises. For the exterior design, for example, the traditional grille has been replaced with a small glass panel, behind which is a radar, on the upper section. Below that is a parametric mesh, with directed air cooling.
Inside, meanwhile, Fisker says its electric platform should open up the interior for more usable space. The dashboard will get a sizable head-up display, along with "a unique, intuitive user interface that will control some of the latest emerging in-vehicle technologies." There's also the tease of "an extended open-air atmosphere," which sounds a lot like a retractable panoramic sunroof to us.
The Fisker SUV will launch before the EMotion sedan
This isn't Fisker's first new vehicle in recent time. The Fisker EMotion luxury electric sedan was unveiled back at CES 2018, a stunning four-seater with gullwing doors front and rear, and the promise of 400 miles of range. All-wheel drive, the EMotion depends on a new battery technology.
That's dubbed the Fisker Solid-State Battery, which the automaker has patented, and there are some huge claims attached. Promising 2.5 times the energy density of lithium-ion batteries, the technology can supposedly recharge in potentially as little as a minute. Back in 2018, Fisker suggested it could have automotive-grade batteries ready "sometime after 2020."
Now, though, it's juggling the timelines. The EMotion will still be the first to use the Fisker Solid-State batteries, but it won't be the first car to launch. Instead, it will arrive after the more affordable model. That'll give Fisker time to continue working on the battery tech – and, presumably, help finance it with the proceeds of the cheaper car, which will use a more traditional li-ion battery pack.
This new SUV is just the beginning
Much in the way that Tesla has attempted to make its EVs more accessible to the mainstream, with the Model 3 and upcoming Model Y, so Fisker has ambitions for a broader audience. As such, this SUV will be the first of what the automaker says should end up a range of three "mass market vehicles."
"While other manufacturers have introduced beautiful, high-performance electric cars with high price tags, the real race is about who can deliver a truly high-volume, affordable, yet desirable EV – produced through a unique, profitable business model," Henrik Fisker says of the scheme. Of course, he's no stranger to the idea of a high price tag EV: the EMotion has previously been tipped as having a six-figure cost itself.
$40,000 for this new Fisker SUV, then, seems positively affordable in comparison. Still, there's no shortage of electric car start-ups, each hoping to capitalize on the shift toward electrification. Fisker has big plans and equally big promises: now it needs to deliver on them.