Fisher-Price is making kid-safe baby moments with GoPro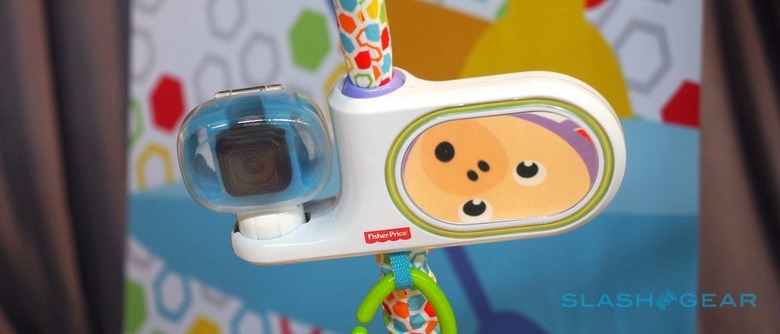 GoPro cameras might be most commonly associated with track days and extreme sports, but if Fisher-Price has its way you'll be using them to record your kids, too. The company is one of more than a hundred different firms taking part in the GoPro Developer Program, the camera specialist's attempt to turn its product line into a whole ecosystem.
For Fisher-Price, that means giving parents a line-of-sight that usually they might not encounter when looking after, or playing with, their children. The company has cooked up a new GoPro mount that can be fitted to select products from the toy-maker's range.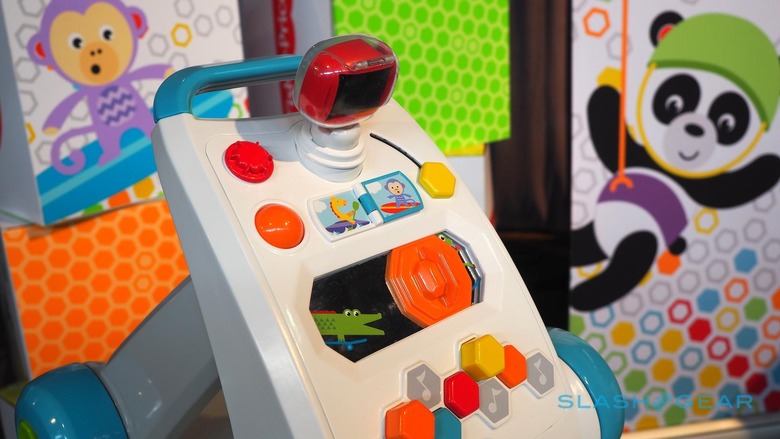 The current prototype toys include a walker – there, the camera is mounted just under the handlebar, giving an up-nose shot of your tottering toddler – along with a jungle-gym with a camera peering down at the occupied baby.
Just as GoPro mounts for action sports have certain requirements, like needing to be waterproof or shock resistant, so Fisher-Price had to think a little differently to make sure its version was kid-friendly. The primary fear was that little fingers might get in and play with the camera, potentially damaging it and getting cut on the glass lens, or even just turning it off mid-recording.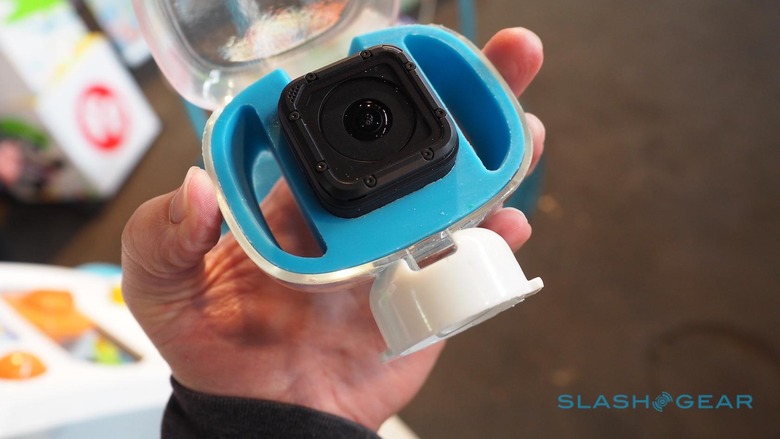 The result is a bulbous housing with smooth edges, which uses a double-action locking and mounting mechanism. To get it open, or off the toy, you need to rotate and line-up two different parts simultaneously: in theory, that's something a parent could do (though those who have struggled with "child-proof" medication bottles might argue otherwise) but a kid could not.
Fisher-Price will supply two colored inserts, a blue one for the HERO4 Session, and a red version for the more traditionally-shaped Hero+. The final casing design will be completely transparent, the company tells me: this version is just an early mold for demo purposes.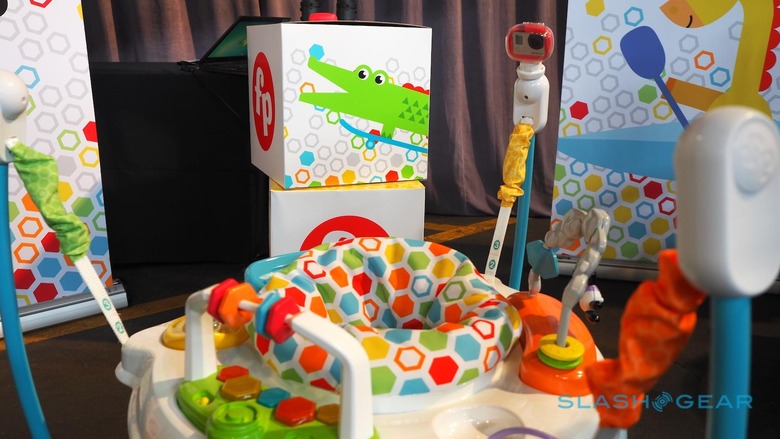 NOW READ: GoPro wants to make itself a platform
Not every toy in Fisher-Price's catalog will get a GoPro mount option, but the company says that select models from its Jumperoo, Walker, and Gym lines will all sprout the sockets depending on consumer feedback.
The goal is to make play possible while still recording, rather than having parents distracted by trying to hold cameras or phones at the same time. Basically, expect to see a lot more video on your Facebook wall of your friends' babies.