GoPro Hero+ debuts with WiFi and a low price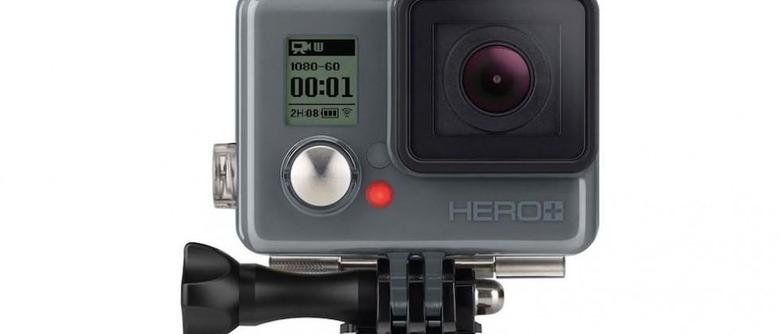 These days, GoPro has a wide range of action camera models, all at varying price points. Unfortunately, the most budget friendly model, the standard Hero ($130), doesn't include one of the most useful features: WiFi connectivity. In order to get WiFi, users would have step up to the next model, the $300 Hero+LCD. Well, GoPro has now addressed that gap, announcing the new Hero+. Featuring WiFi and priced at $200, it fits nicely between the previous two cameras.
While the Hero+ may seem like GoPro is just charging an extra $70 for the WiFi feature, there are several other improvements over the standard Hero as well. The Hero+ can shoot 1080p video with 60 frames per second, a nice step up from the Hero's 1080p30fps, and the new model can also capture 8 megapixel still, instead of just 5MP.
The WiFi and Bluetooth connectivity means the Hero+ can paired with a smartphone for framing shots, changing settings, and sharing footage. If a built-in color display is still needed, then it's better to make the next step up to the Hero+LCD. GoPro says the new Hero+ will be available worldwide starting October 4th.
At the same time, GoPro is also drastically lowering the price on its cube-shaped Hero 4 Session, from $400 to $300. The camera's tiny form-factor makes it easy to carry around and use in a variety of situations, however its previous price made it the same as the Hero 4 Silver, which features 4K and a touchscreen display. That comparison made the Session come up lacking, but at $100 cheaper it should be much more appealing.
SOURCE GoPro