GoPro announces new Hero camera with LCD touchscreen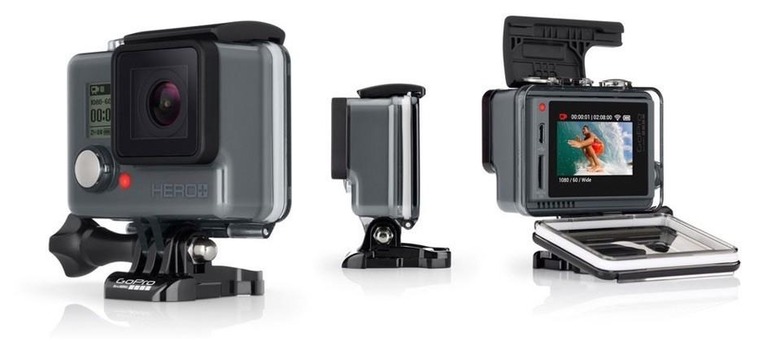 GoPro, the makers of one of world's most popular rugged sports/action HD video cameras, has just announced a new model in its entry-level Hero lineup. Dubbed the GoPro Hero+LCD, the $299 camera features a LCD touchscreen, something sorely missing from the standard Hero model. Set to be released on June 6th in the US, the camera will also feature a handful of other nice upgrades, although nothing so big as to push the Hero out of the entry-level position.
The Hero+LCD will capture video at a max quality of 1080p at 60fps, not quite as high as the 4K recording found on GoPro's more expensive models, but still more than adequate for YouTube. The camera can also capture 8-megapixel still images, an improvement over the previous 5MP.
WiFi and Bluetooth connectivity are also included, so the Hero+LCD can be paired with GoPro's smartphone app or their wireless remote. The touchscreen will make tasks like navigating menus and choosing settings much easier, however accessing it will require opening the rear cover, as the Hero can't be removed from its waterproof casing. A full battery charge is said to offer 2 hours of use.
There's also a new software feature that isn't yet available on any of GoPro's other models: in-camera trimming for videos. This will let users quickly remove unneeded footage at the beginning or end of a video. The Hero+LCD will also remain compatible with GoPro's wide range of mounts and accessories. The new camera will be available outside the US starting June 12th.
SOURCE GoPro