You may or may not like Amazon's recently announced Fire Phone, but for what it's worth, it has some amazing features that you would be hard-pressed to find in other smartphones or services. One of those is Mayday, a 24/7 live assistance service that will get you through your technical problems with a personal touch. And we've got an exclusive hands-on video of just how well this extremely helpful feature works.
Let's face it. Not everyone will know how to pilot a smartphone and not everyone will be adept at pouring over manuals, web pages, or even back and forth email messages. Amazon knows that and it has developed the Mayday system just for that purpose. While the feature actually debuted with the new Kindle Fire HDX tablets late last year, Mayday is making a bigger splash today when CEO Jeff Bezos announced the feature on the company's latest product, the Fire Phone.
Mayday is designed to be easy to use, and getting to it is as simple as pulling down your notification panel, or alternatively making a twisting gesture, and tapping on the Mayday button. You are then taken to a window with instructions and a large Connect button that you can, and will, tap. After a 15-second waiting period, and it really is 15 seconds long, you will be connected to a customer service representative to help sort out your troubles with the phone.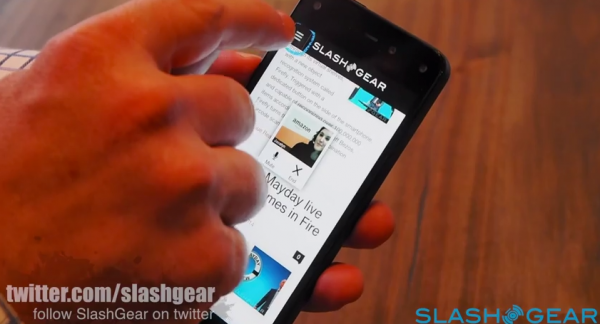 And this is the part that separates Mayday from any other customer support system out there. You won't just hear the voice or see a name, you will also see the face of your technical savior in real-time, adding a fine personal touch to the service. But Mayday puts more than just a face and a voice. On the other side, the support crew will be able to indicate to the user the specific buttons and toggles that he or she needs to press, encircling the appropriate area with blue lines. The user will still have to tap on those to proceed, which makes it a better learning experience.
All in all, the feature was smooth as butter and well thought out There was barely any lag in our hands-on demo, but actual reception will, of course, depend on your Internet connection. We're still not sure if your time with Mayday will count towards your mobile plan, but since the Fire Phone is an AT&T exclusive, it could well be within the carrier's power to offer it for free. Mayday, along with the likes of Firefly and X-Ray, will definitely make the Fire Phone a smartphone worth considering, even if you don't buy into the whole 3D Dynamic Perspective spiel.