Amazon Kindle Fire HDX 7" Review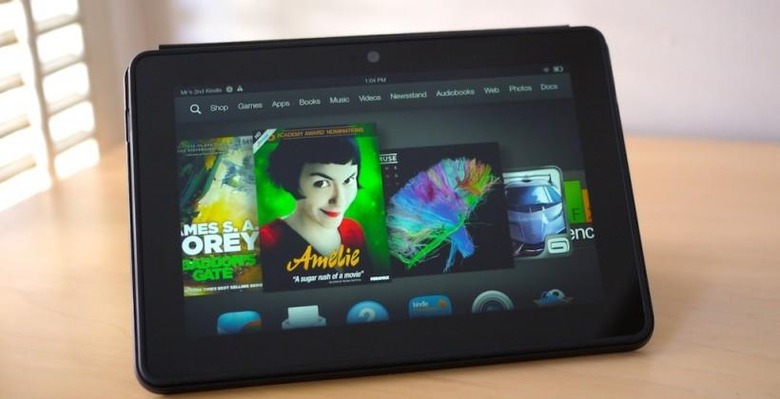 You could call Amazon's Kindle Fire the anti-Nexus. While the new Kindle Fire HDX may be based on Android, it's resolutely designed to cater for avid customers of Amazon's store, tailoring just about every part of the experience to streamline your shopping (whether digital or physical). Amazon may be selling the Kindle Fire HDX 7" practically at cost, but that doesn't mean the specifications underwhelm: one of the fastest processors paired with an incredible 7-inch 323 ppi display make for a pocketable powerhouse. Thrown in Mayday, Amazon's new rescue service for confused novices, and you've a tablet that wants to be a jack of all trades. Does it succeed? Read on for the full SlashGear review.
Hardware and Design
Smaller than the last 7-inch Kindle Fire in all dimensions, not to mention lighter in weight, the new Fire HDX 7 may look like its predecessor at first glance but it's a far more successful design in the hands. Amazon has stuck with the sober blacks of previous models, here covered for the most part in a soft-touch rubberized plastic that makes the bulk of the rear grippy. A glossy strip of black plastic running across the upper edge gives a little visual interest – it's also where the stereo speakers are, and where your fingerprints are regularly collected on the shiny material.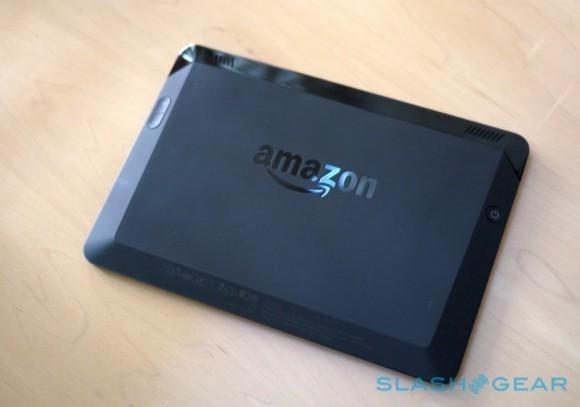 Bevelled edges lead to the equally unassuming bezel, with edge-to-edge glass covering the 7-inch display and front-facing camera. Although the 8.9-inch Kindle Fire HDX will have a rear camera, this smaller model makes do without; Amazon tells us that's because it envisages most users switching to their smartphone for any photography done in earnest.
Physical controls have been spread across the back of the tablet, split with the power/standby button on one side and the volume rocker on the other. They're pleasingly tactile and clicky to press, falling underneath the fingers easily.
While it may look much the same as before, Amazon has actually changed its production processes and construction of the Kindle Fire HDX quite considerably, much to the tablet's benefit. Rather than wrapping a plastic casing around an inner chassis, the Kindle Fire HDX makes its new magnesium alloy body both the frame and the casing. That's what allows for a 7.3 x 5.0 x 0.35 inch, 10.7 ounce design.
Specifications
Into that soft-touch shell, Amazon injects Qualcomm's latest Snapdragon 800 chipset running at a hefty 2.2GHz, and paired with Adreno 330 graphics along with 2GB of memory. There's a choice of 16GB, 32GB, or 64GB of internal storage (of which 10.9GB, 25.5GB, or 54.3GB is user-available) though still no memory card slot; Amazon would rather you store things in the cloud and either retrieve or stream as needed.
Connectivity includes WiFi a/b/g/n (dual band) along with Bluetooth as standard. There's also a 3.5mm headphone socket and a microUSB port for charging and synchronizing. Amazon offers LTE versions of the Kindle Fire HDX 7 for either AT&T or Verizon's 4G networks; those versions also include assisted-GPS.
The Kindle Fire HDX 7's crowning glory is undoubtedly its display, though. The 7-inch panel runs at a hefty 1920 x 1200 resolution – that's higher than Full HD – for 323 ppi pixel density. If you couldn't guess, that means incredibly smooth graphics, jag-free text, and the sort of crisp realism at the cutting edge of mobile gaming.
Detail isn't this display's only advantage, however. It's also the first Kindle Fire screen to support 100-percent sRGB color accuracy, and Amazon has cooked up a new Dynamic Image Contrast system to better handle indoor/outdoor use. Rather than simply notching up the backlight to maximum whenever you step into direct sunlight, the Fire HDX's ambient light sensor can actually control the on-screen contrast. So, in bright conditions the contrast of the panel can be increased to make it easier to see differences in graphics and text; it also helps reduce battery consumption from actively backlighting the screen.
We were skeptical, but it works surprisingly well. Set aside any expectations that the Kindle can deliver the sort of direct sunlight visibility of, say, e-paper on a traditional ereader, but there's still enough detail there to comfortably use the Kindle Fire HDX in bright conditions.
Fire OS
The Kindle Fire software now has a name, or at least a public one. In actual fact, Amazon has been referring to the modified Android platform as Fire OS since the start, but it's only with the Fire HDX range that the name has graduated to public use. Amazon is now on version 3.0 – codenamed "Mojito" – with 3.1 waiting in the wings for an imminent release.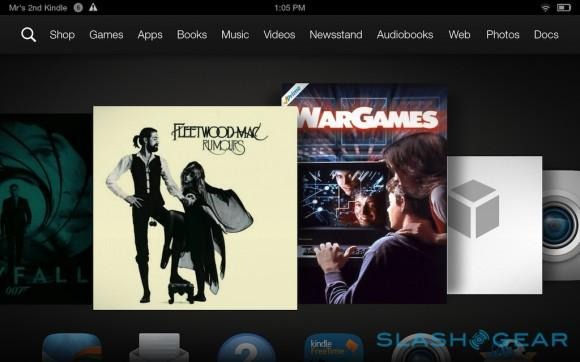 Although at first glance it looks much like the second-gen Kindle Fire, there are tweaks and changes throughout the interface. The side-scrolling carousel of apps and content remains, but now you can swipe up and see a more traditional grid layout. Icons can be rearranged, though not dragged on top of each other to create folders; the icon underneath just squeaks out of the way.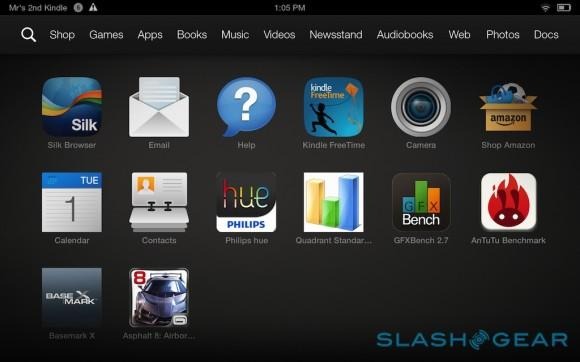 Running across the top edge there's a shortcut bar to all of the key content you'll have on your Kindle Fire HDX, from the shop, through games and apps, ebooks, music and videos, the web, photos, and more. Rather than treat each app type – e.g. ereader app, or music app, or video app – as the most granular level, Fire OS goes one step deeper to the content itself. It's a small change over regular Android, but it makes a big difference when jumping between items, particularly when using the new pull-out app switcher.
Sliding out on the right, from the Home/Back bar, this has icons for all your recent apps and content, making it easy to jump between them. There's no split-screen functionality to have two titles showing simultaneously, mind, nor thumbnail previews of what the app is currently showing; ebooks do get a percentage to show how far through them you are.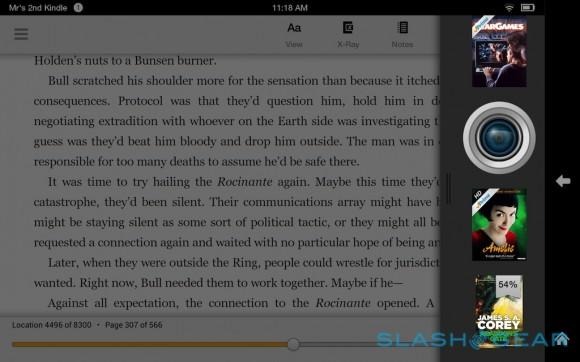 Later this year, Amazon will add Cloud Collections, as it launched on the iOS Kindle app. That will allow for groups of documents, apps, and periodicals to be gathered up as Collections and automatically synchronized: so, rather than having to download each of the Harry Potter books individually, you'll be able to pull them all down from Amazon's servers with one tap.
Amazon is pretty keen to stress that this isn't a reskin to Android but a partial rewrite. Gone is the standard Android graphics pipeline, replaced with Amazon's own Graphics Direct Texture to keep things like the content carousel moving smoothly despite the high screen resolution, and there's a new download manager which can not only download multiple things simultaneously, but open videos, magazines, and audiobooks while they're still in progress.
On top of that there's new enterprise support. The email client has been refined, adding preset configurations for the common account types to streamline setup, and adding threaded messaging and synchronization. The Fire HDX offers hardware encryption for those IT departments wanting to make sure user data is locked up tight, and there'll be wireless printing support – if you have a compatible printer – later in the year.
Probably of more use to most consumers will be the new comparison shopping system in the Amazon store. Now, by tapping and holding a preview image and flicking it down to the bottom of the screen, you can build up an impromptu portfolio of items to compare: tapping the thumbnails switches between each product page. It's certainly quicker than jumping between the overall product list and each different page, though it's not quite a side-by-side comparison.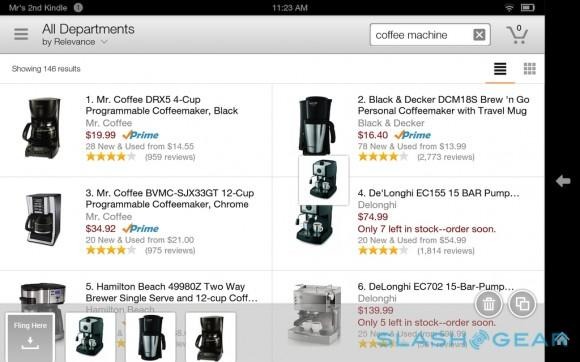 Ebooks
Once upon a time, ebooks were the Kindle's raison d'être. Now, digital reading is just one of the Kindle Fire HDX's strings, though its been given an extra lick of usability polish on the latest hardware.
As always, there's Amazon's sizable catalog of ebooks to purchase and download, with Whispersync to put them on all of the devices – whether dedicated Kindle or the Kindle app – signed into the same account, complete with notes and a record of your most-recently-read page. Prime members get Kindle Owners Lending Library access to around 400,000 titles bundled into their subscription, too.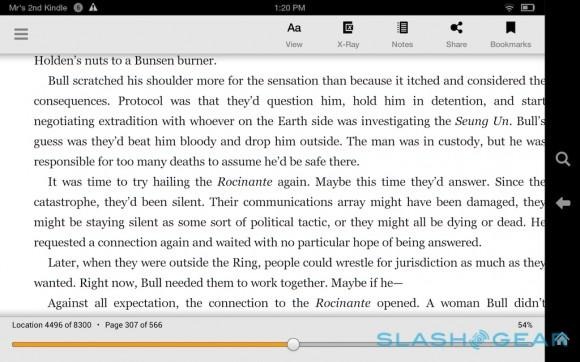 In addition to ebooks, Amazon offers digital magazines and audiobooks. Later in the year, the company will enable Goodreads integration, which will build social into the reading experience, allowing Kindle users to comment on sections of ebooks with their friends, rate titles, and share highlights. Unfortunately that wasn't available for us to try on our review unit.
What sets the Kindle Fire HDX apart from other tablets, when it comes to digital books, is the new Reading Mode. By powering down the quadcore processor automatically, whenever the Kindle ebook app is running, as well as pushing the text into a lower-power chunk of memory, Amazon claims up to 17 hours of battery life: 6-7 more than in regular use. We'll look at how well that performs later, in the battery section.
Multimedia
With a 1080p-capable display, video on the Kindle Fire HDX was a no-brainer. Happily it looks excellent, with Full HD content playing smoothly thanks to the capable graphics chipset, while the speakers (which use Dolby Digital Plus audio processing) do a decent job, though unsurprisingly lack on the bass end of the scale.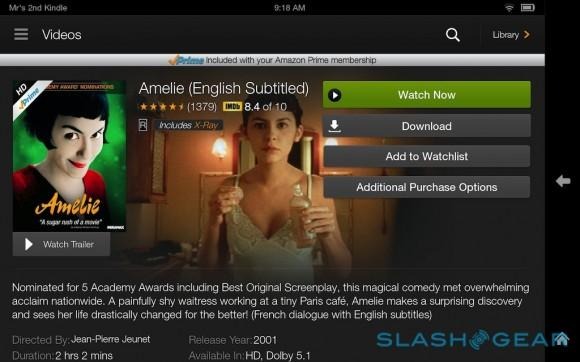 You can buy music and video content directly from Amazon, side-load it, or borrow it as part of your Prime membership. New to the Fire HDX are Prime downloads, where select titles are available to cache to your Kindle for offline playback. Not every movie or TV show is eligible – Amazon says "tens of thousands" of the 41,000 items in the catalog are available to download – and there's no indicator on the gallery view as to which is and which isn't: you have to tap through to see.
Those that can be downloaded give a choice of three different resolution levels – 1080p, 720p, or standard definition – which obviously take different lengths of time and storage space to complete. You can pause and cancel downloads in-progress, change the quality you're downloading at, and start watching mid-download, though how soon that's allowed and how far through you can skip depends on your network connection speed.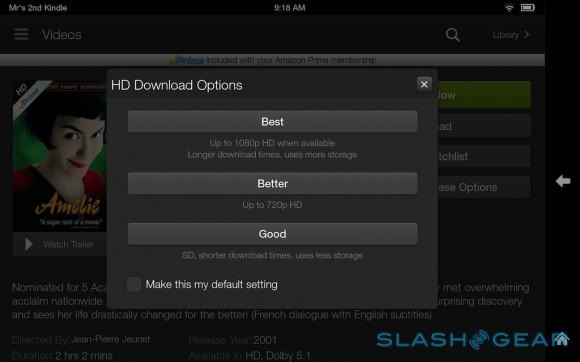 Amazon launched X-Ray for Movies and TV roughly a year ago, and it gets a revamp on the Fire HDX along with a new X-Ray for Music service. As before, X-Ray for Movies shows actor biographies and character lists for whichever character is on-screen at the time, pulled in from the IMDB, but now it also flags up what music is playing, along with show trivia. The music system is particularly slick, not only telling you the current track (and allowing you to buy the MP3, of course), but letting you jump between different scenes based on the musical backing.
X-Ray on the Kindle Fire HDX:
X-Ray for Music effectively turns your Kindle Fire HDX into a karaoke machine. Amazon has apparently licensed a huge database of song lyrics for tracks both new and old – the company tells us it has "tens of thousands" currently – and they scroll along on-screen as the track plays. You can skip through the track and see the lyrics jump along in time, and use Miracast to mirror the Kindle Fire HDX's display on your TV or projector for rowdy group singing sessions. We had mixed results finding songs with lyrics, however.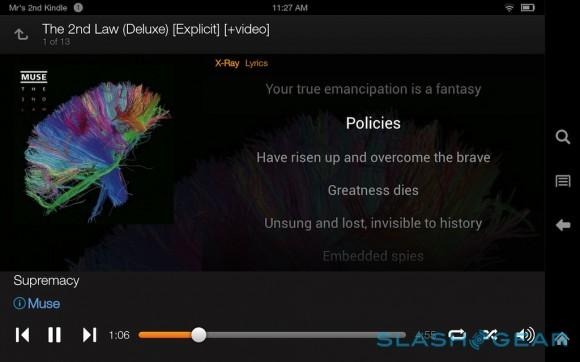 Second Screen
Miracast goes some way to making up for the absence of an HDMI output, but Amazon has another scheme in the pipeline to address that too. Second Screen, which will launch later in the year with the arrival of FIre OS 3.1, rethinks the tablet-to-TV playback system by putting the cloud in-between. Rather than play content on your tablet and then wirelessly push it over to your TV, the Kindle Fire HDX will be able to remotely control a copy of the multimedia stored in the cloud. That will be streamed to your TV – via, initially, a PS3, Xbox 360, or Samsung Smart TV, though Amazon says more adapter support is in the pipeline; we hope there will be more affordable options too – leaving the Fire HDX's processing abilities (not to mention its display) free to do other things.
So, if you're watching TV and you want to check out the X-Ray for Movies content about what's playing, you can do that on the Kindle Fire HDX without interrupting playback or, indeed, suffering any slow-down as the tablet tries to simultaneously process a Full HD video and the data content. Or, you can multitask during the dull parts by checking email, browsing the web, or playing Asphalt 8: Infinity.
Second Screen demo:
Second Screen isn't ready for us to test as part of this review, though we did have the opportunity to experience it in Amazon's demo labs. Most of the time, the presence of the cloud was effectively invisible: you simply tapped to fling playback from the tablet to a remote screen, selected the TV from the pop-up list (you can stream to different sets around the house, as long as they have a suitable cloud adapter like a console attached, though only to one at a time), and after a second or two of lag the playback switched over and resumed from where you'd been watching it on the Fire HDX. Pulling content back over from the TV was basically the same steps in reverse.
The Second Screen functionality works on all Amazon Instant Videos and Prime Instant Videos. However, there's no support for uploading your own, sideloaded content to Amazon's cloud and streaming it in the same way: if you have, say, a home movie you recorded on your phone, you can't use the Second Screen system to play it back. Instead, there's Miracast for that, though it's screen mirroring and so you can't have something different on TV and tablet.
Amazon Mayday
Apple has its Genius Bar, and now Amazon has the Mayday button, bringing the expertise of the company's customer services team directly to the homescreen of the Kindle Fire HDX. A discrete little life ring logo in the pull-down control and notification bar, Mayday promises access to a technician any time of the day or night, 365 days of the year. The goal, Amazon says, is to have someone connected and helping within fifteen seconds.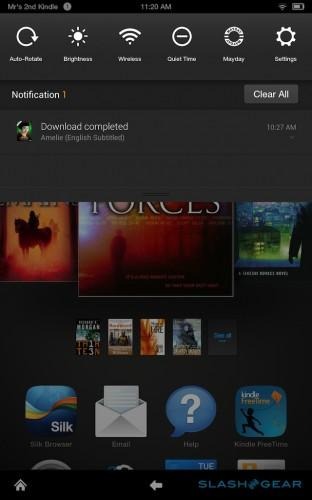 According to the company, Mayday demanded plenty of work throughout the Android stack to make it run smoothly. For the end-user, Mayday is simplicity itself. Tap the button; wait for the pop-up window – which can be dragged around the screen if it's covering a button or menu – to say you're connected, and then talk to the thumbnail of the customers services assistant you see appear. They can guide you through difficult or forgotten tasks, like how to set up the Kindle FreeTime kids mode, sketching on the display with arrows and underlines as they go.
Amazon Mayday demo:
Alternatively, the Mayday assistant can take full control of your tablet and actually carry out tasks for you. We were pleased to see that they still talked us through exactly what they were doing and why during that time, increasing the likelihood of our remembering it ourselves next time. Any time a password or payment details were required, the technician blanked their screen so that they couldn't see what we entered; Amazon also tells us that they're covered by comprehensive privacy policies, so even if they catch sight of your risqué ebook collection they won't tell anyone.
The geeks in the audience might turn their nose up at Mayday; after all, it's a rite of passage of sorts to create and fix your own issues, preferably without admitting you read the user guide. For more mainstream Kindle Fire HDX owners, however, we can see Mayday being the lifeline the name suggests. Even those who have access to a more tech-savvy family member or colleague might not feel comfortable pestering them with questions, whereas the ever-smiling faces of Amazon's support team are unlikely to get exasperated with you.
Camera
The Kindle Fire HDX 7 might not have the 8-megapixel rear camera of its 8.9-inch sibling, but it does get Amazon's new camera app. That supports still or video photography – including the ability to snap a still while you're recording footage – and has a new editor suite for tweaking and post-processing.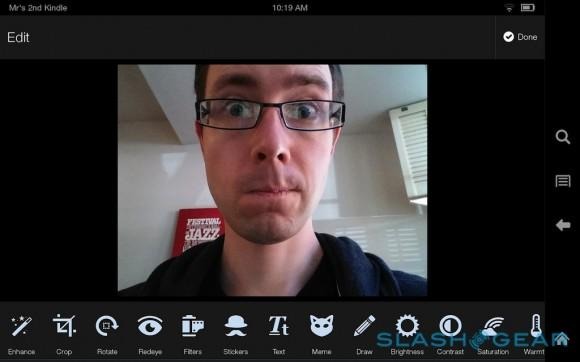 It's surprisingly full-featured, too, ranging from more mainstream tools like crop, redeye-reduction, rotate, auto-enhance, and brightness/contrast/saturation, through to clipart, meme-text, and sketching tools.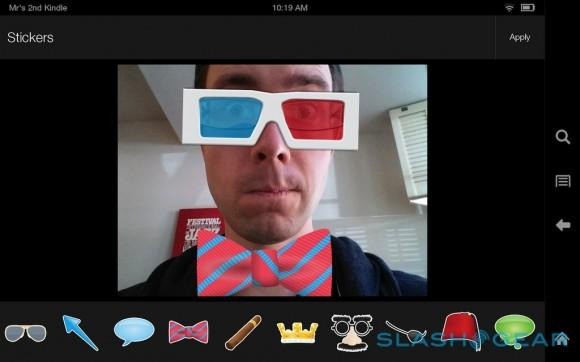 The gallery collects not only the local photos on the Kindle Fire HDX itself, but optionally shots from your Facebook profile and synchronized over from your phone. Considering Fire OS' editing suite bests what Facebook and most smartphone apps we've seen do, out of the box at least, we could see many people using the Kindle as a hub for processing images.
Battery
Amazon says you'll get up to eleven hours of mixed use from a full charge of the Kindle Fire HDX, or alternatively up to seventeen hours in Reading Mode, when the processor, memory, and other components can be set into low-power mode.
"Mixed use" on a tablet is a particularly arbitrary thing. When we spent most of our time reading Kindle ebooks and browsing, we found the Fire HDX lasted several days before requiring a recharge. Conversely, video streaming, gaming, and using the speakers saw that fall quite steeply, though still to levels where we could be away from the mains for more than a day.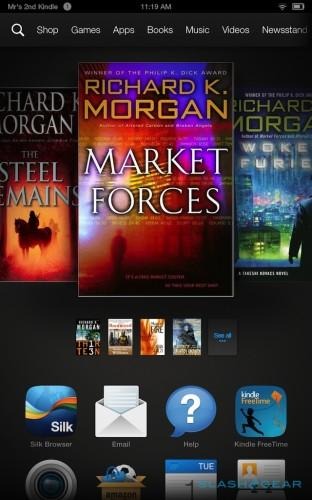 Amazon's estimates look broadly right, then, though you should expect less runtime if you're an avid gamer stressing that potent Snapdragon 800; expect the gage to drop a little faster if you have the LTE model and make frequent use of cellular data. The surprise to us was how long the Kindle Fire HDX could run in Reading Mode; we'll update with more battery statistics when we've had more time to live with the tablet.
Origami Case
No modern tablet is complete without an oddly-folding case to double as a stand these days, and the Kindle Fire HDX is no exception. In fact, Amazon's Origami stand is probably the most complexly-creased we've seen so far.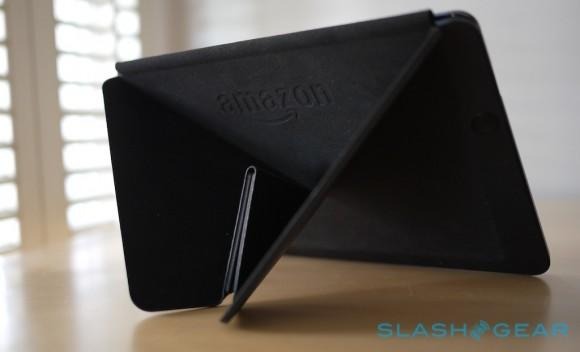 The Fire HDX drops in and is held magnetically in place, with push-through buttons for power and volume. Five score lines on the cover – also magnetically clasped – allows it to concertina into a stand that props up the tablet in both portrait and landscape orientation. Meanwhile, opening the cover automatically powers on the screen, though it doesn't actually unlock it: you still need to swipe across the lock bar for that.
It works well, though it's a little on the bulky side. Amazon has opted for protection over minimalism, which is handy if you're rough and tumble with your tablet, but does spoil its sleek lines somewhat. It's also $10 more expensive than the iPad mini's Smart Cover, at $49.99, or there's a leather Origami case for $64.99.
Wrap-Up
There's a lot to like about the Kindle Fire HDX. The screen is superb, the form-factor sober but sturdy, and the processor cutting edge for the market. Amazon's $229 starting price (with subsidizing Special Offers on the lockscreen, 16GB of storage, and WiF-only connectivity; figure $100 more if you want LTE and $15 more if you don't want the Special Offers) is highly competitive, and while the Mayday functionality may seem gimmicky to some, the selfish part of us is looking forward to those unexpected "help!" calls from our parents drying up.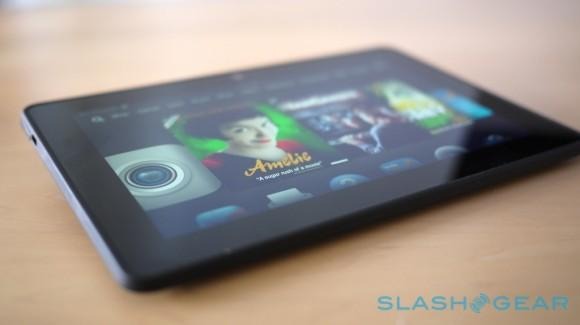 At the same time, if you're not a devotee of Amazon's store and services, then the Kindle Fire HDX isn't for you. What makes it so adept at handling the retailer's content and cloud, also means it's not really set up for third-party video, music, ebook, and other stores. Yes, you could jury-rig the Fire HDX with sideloaded media, but you'd be missing out on most of what makes the tablet distinctive, and probably better off with a Nexus 7.
Luckily for Amazon, the potential audience of its customers keeps growing, though. The Kindle Fire HDX ticks the right boxes across the board, in that case: ebooks look great and can be read for longer; movies and TV shows will soon have the clever Second Screen functionality; and Prime subscribers get the benefit of offline playback. It's fast, portable, and well constructed, and if you've bought into the Amazon ecosystem – or are looking for a one-stop-shop in which to set up your digital life, that isn't Apple – then the Kindle Fire HDX makes a compelling argument to be that shopfront.