Evernote has updated its search functionality, adding fuzzy logic to how notes are discovered so that users can hunt down their content using conversational phrases. Evernote Descriptive Search, initially only available on the Mac desktop client, adds to the existing keyword search by allowing users to describe their required outcome – whether that be "images from California since 2013" or "audio notes from a phone" – rather than remember specifics.
Different criteria for Descriptive Search can be used, depending on what you want to find and what you remember about it. Initially, elements like when the note was created, where it was saved and which device was used, and the type of documents – if any – attached are supported.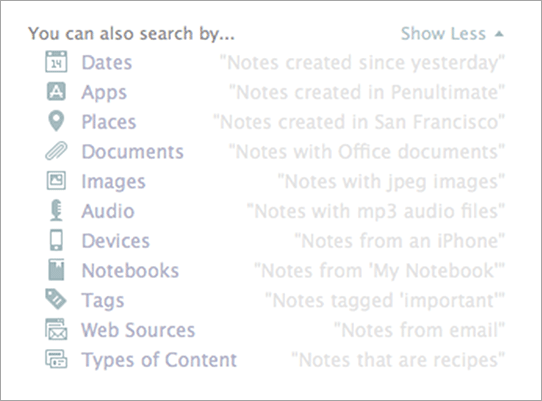 The move is part of Evernote's push to cater to not only note-taking power users but those who are perhaps less organized, even with the service's help. Last month, the company boosted the speed at which notes synchronize, while a recent tweak to the Android app introduced handwritten note support.
Evernote's updated version for Mac also adds support for automatically importing business card details into an address book, as long as they were scanned in via ScanSnap's Evernote Edition scanner. That's currently priced at $495.