VW's Electrify America is now a huge Tesla customer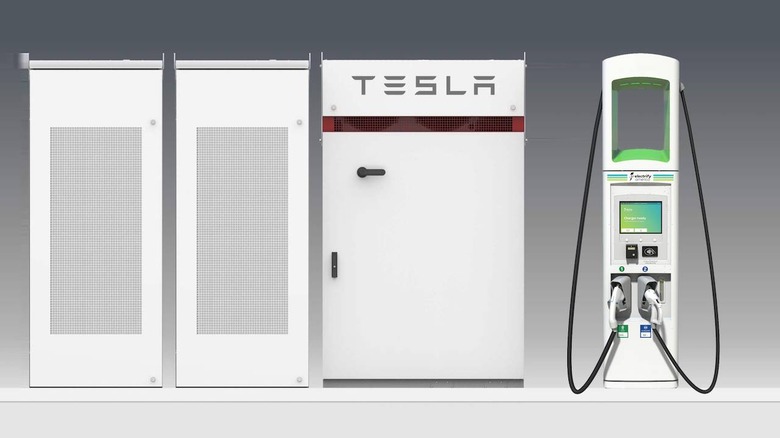 Electrify America will install Tesla Powerpack batteries across more than 100 of its electric vehicle charging stations in the US, the VW-owned startup announced today. The ambitious charger network includes DC fast charging stations that can deliver up to 350 kW of power to a compatible EV, but that can present serious issues depending on the nature of the grid connection serving it.
The upside to a 350 kW connection is clear. An electric car able to take advantage of such a high powered charge could, in theory, add 20 miles of range per minute plugged in. In the process, it would significantly reduce one of the lingering pain points for EVs, namely that filling up a gas or diesel vehicle's tank with gas can be done in around five to six minutes on average.
The downside, though, is infrastructure and price. Drawing such a large amount of power at any one time leaves Electrify American dependent on the current price of electricity at the time, not to mention reliant on the local grid being capable of supplying such power. Considering each of the company's stations is expected to have multiple DC fast charging units, that can present an even greater challenge.
Its solution is an array of on-site batteries, and that's where Tesla comes in. More than 100 of Electrify America's locations across the US will be outfitted with Tesla Powerpack batteries in 2019: they'll be used to store energy which could be delivered to a charging EV rather than tapping directly into the grid.
The advantages of the system are various. For a start, Electrify America will be able to charge up the Powerpack batteries when electricity is at its cheapest, even if that power is then used when the grid's fees are higher. If multiple vehicles are present and requesting rapid charging rates, Electrify America could combine the Powerpack battery's power with the grid.
Initially, each site will use a 210 kW battery system from Tesla, with approximately 350 kWh of capacity. That would be enough for roughly three full charges of a current long-range EV. However the design is modular, which means that Electrify America could theoretically add more batteries over time should a particular site demand it.
"With our chargers offering high power levels, it makes sense for us to use batteries at our most high demand stations for peak shaving to operate more efficiently," Giovanni Palazzo, CEO of Electrify America, said of the deal. "Tesla's Powerpack system is a natural fit given their global expertise in both battery storage development and EV charging."
Although they do not have Tesla-specific charging plugs, Electrify America stations are compatible with Tesla vehicles with the correct adapter. Although the Model 3, Model S, and Model X are not capable of accepting a full 350 kW charging rate, the fact that the automaker's Supercharger network is being augmented by even more public locations to charge can only be a good thing for drivers of the EVs. Now, Tesla too is seeing some of the benefit of Electrify America's significant investment in electrification infrastructure in the US.
The company, wholly owned by Volkswagen, was set up as part of the automaker's reparations following the so-called "dieselgate" scandal, in which diesel engine cars across a number of VW Group brands were found to cheat when in emissions testing conditions. While Volkswagen faced a significant fine after the behavior was discovered, it was also required to make an investment into EV adoption. One element of that is Electrify America, which will see $2bn spent over the course of ten years in infrastructure for Zero Emission Vehicles, along with education and access.
While it may have been mandated, that investment is working out in VW Group's favor. With cars like the Audi e-tron, Porsche Taycan, and Audi e-tron GT due to arrive on dealership forecourts across the next few years, making sure owners have a straightforward – and preferably fast – way to keep their luxury EVs charged up is essential. Meanwhile, Electrify America has been able to ink deals with other automakers to provide them with bundled charging support, expanding the company's business.