Eking M5 UMPC gets reviewed: hot-swap battery good, price bad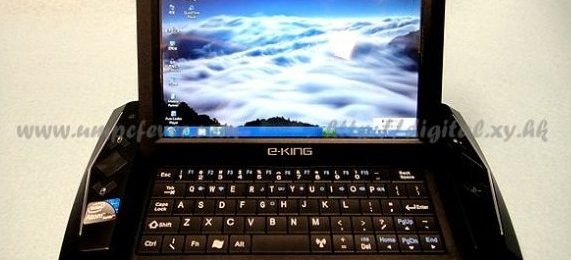 Eking's M5 UMPC has been a few months in coming, since its first teasing photos on Chinese forums, but the 5-inch ultraportable has finally dropped for a review over at UMPC Fever.  For the equivalent of around $772 you get an Intel Atom Z515 1.2GHz processor, 1GB of RAM, a 16GB SSD and 3G, along with a backlit, full QWERTY keyboard.  That's expensive, especially when you make the inevitable iPad comparisons, though Eking have added in a few neat touches.
For instance, as well as the standard 2,600 mAh removable battery – which is apparently good for 3-4hrs of use – Eking have fitted a second, internal power pack.  That makes the M5 hot-swappable, so you can quickly replace the dead battery with a new one without having to first shut the system down.
The display – which uses a Sharp panel – also gets praise, being bright, clear and, at 1024 x 600, high resolution for its compact dimensions; we criticized the PsiXpda for having a mere WVGA screen of the same size.  Unfortunately Eking used a resistive touch panel, and it sounds like performance and build quality aren't much to write home about.  If you simply must have a keyboard then there are easier ways to do it, sadly.