PsiXpda UMPC Review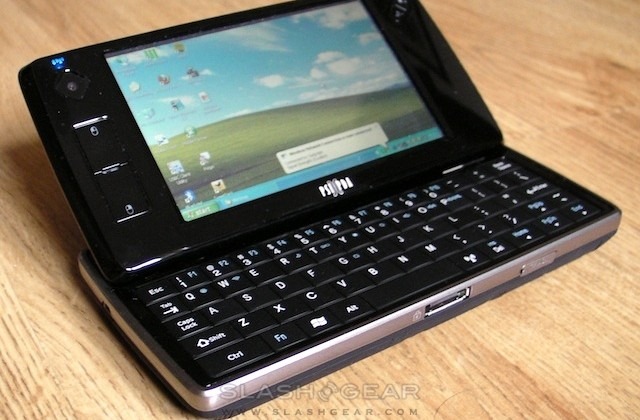 Tablets are a fashionable topic right now – Apple are expected to announce their own model next week, and CES 2010 was positively dripping with touchscreens – but we've been hammering on about how useful a compact ultramobile device can be for years now. Before Christmas new UK startup PsiXpda dropped off their first offering, a compact UMPC with a slick, sliding/tilting form-factor, and asked us to give our honest opinion. At a shade under £500 ($820) the PsiXpda isn't cheap, especially in a world of netbooks and "superphones"; check out how it does in the full SlashGear review after the cut.
The hardware specifications look a little underwhelming, until you remind yourself of the scale of the PsiXpda itself. An Intel Atom Z510 1.1GHz processor is paired with 1GB of RAM and a 4.8-inch 800 x 480 WVGA resistive touchscreen; storage is a 16GB SSD and connectivity includes WiFi b/g, Bluetooth 2.0+EDR, two USB 2.0 ports (one of which is a mini USB) and optional 3G via a readily-accessed miniPCI card under a panel on the bottom. There's also a microSD card slot (labeled TransFlash), a 2.5mm headphones/headset socket and a proprietary port for a docking station (that doesn't currently seem to be available from PsiXpda).
PsiXpda unboxing video:
[vms 84325132fca8edcdfb40]
The whole thing measures in at 174 x 84 x 25 mm and tips the scales at 430g, a fair chunk of which is the 1,850 mAh battery that slots into side of the UMPC. Most distinctive of the form-factor is the PsiXpda's slide-and-tilt display; it's a little like an HTC Touch Pro2, though obviously larger. The display is flanked by a VGA webcam and left/right mouse buttons on the left side and brightness buttons plus a trackpad on the right side, and there are LED indicators for battery and HDD activity just above. On the top edge there are two buttons, one for power and another to temporarily turn off the display, handy for saving power but keeping the UMPC ready for instant use.
Touch-typists aren't going to be won over by the PsiXpda's backlit QWERTY keyboard, but it's sufficient for casual use. It measures 155 mm across, with each key a roughly 11 x 10 mm rectangle; travel is minimal and it's a reasonably loud, clicky 'board. We like the broad spacebar (35 mm across) but some may be frustrated by the absence of a right-side shift key and the offset cursor key layout. Various functions can be triggered with an Fn modifier, including page-up and -down, volume, brightness, wireless on/off and the traditional Function keys; more useful, perhaps, is being able to manually rotate the display for a longer, narrower portrait view that's great for reading news site columns. Unfortunately there's no accelerometer to automatically flip the orientation, and the required key presses themselves are unmarked.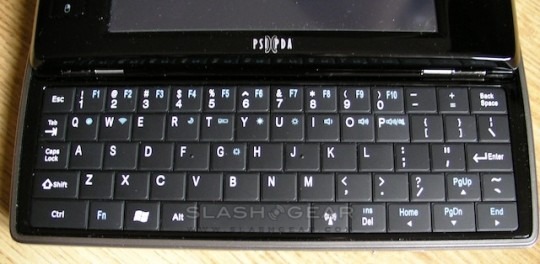 The standard OS is Windows XP Pro (while PsiXpda encourage owners to load up different platforms, and will supply whatever hardware drivers they have available, in a worst-case scenario they'll always instruct people to restore to the regular XP build) and it copes reasonably well with the low-power hardware. Geekbench benchmarking results are, unsurprisingly, on the low end of the scale: an overall score of 440 puts the PsiXpda at just half what a basic, Atom N270 netbook can muster. In day to day use the UMPC is fine for browsing with a few tabs open, perhaps playing music in the background, but falls short of smooth 720p video playback. We also noticed some pauses and brief freezes, though we're yet to see the PsiXpda freeze altogether.
Unfortunately, one of the biggest usability issues comes from the display. While it's reasonably bright and crisp, the 800 x 480 resolution is particularly low, even for a netbook. When you consider many smartphones run at WVGA (and in fact the Motorola DROID throws in a few extra pixels, despite having a smaller, 3.7-inch panel) the PsiXpda makes a serious compromise. We could probably cope with extra scrolling if it wasn't for two significant bug-bears: Windows XP doesn't handle WVGA well, and often puts OK and Cancel buttons off-screen, and there's no F11 button for easily flipping into and out of full-screen mode in apps like the browser. It's possible to force the display into interpolated 1024 x 768 resolution, using a system tray Intel app, but what you roughly gain in on-screen detail you lose in clarity.  A tiny, pull-out stylus lurks in a silo on the side, but it's too narrow for comfortable use; we're also disappointed that PsiXpda didn't load up Windows XP Tablet Edition, which adds handwriting and voice recognition; instead you're limited to the standard onscreen QWERTY keyboard if you don't want to slide the UMPC open.
Windows XP handled connecting via WiFi b/g with no problems, though we had to do a little groundwork before we could use the 3G modem. PsiXpda fitted an Huawei EM730 HSDPA module – they have other options, depending on the choice of networks where you live – but we had to supply the network settings that Google turned up. There's a list of common UK settings in the UMPC's (downloadable) manual, but if you're outside the country you'll have to supply your own. Flipping on 3G is then a matter of using the preloaded Huawei app, which can also send and receive SMS messages and make voice calls (either using the onboard microphone and speaker, or with a hands-free kit).
Battery life is the bug-bear of any ultraportable device, and PsiXpda are being upfront about their UMPC's limitations. The official claim is up to 4hrs runtime, wireless shut off, dropping to around 2.5hrs if you're browsing over WiFi, and we found those figures to be broadly accurate. That's obviously nowhere near all-day longevity, but with judicious use of the screen shut-off button and Windows XP's standby mode it's possible to go eke runtime out using the PsiXpda for occasional web queries and email. Happily the power adapter is reasonably compact (considering you'll probably want to carry it all the time) and the company throw in a neoprene slip-case for the UMPC that left us a little more comfortable dropping it into a bag. Less impressive is the amount of power consumed in standby mode; left to its own devices for a day or so, in standby and with no actual use, the PsiXpda managed to suck down the majority of its charge.
If all this sounds like compromise on top of compromise, then welcome to the tablet world as it currently stands. For all we've critiqued, there's also something immeasurably useful about having a full Windows computer to hand, and one which can be so easily used while standing up or without a desk in front of you. Holding the PsiXpda as you would a PSP, using the responsive trackpad with one thumb and the mouse keys with the other, makes for a nifty web-browsing experience, and the whole thing is ideally sized for thumb-typing with the screen pushed up. At such times we appreciated the soft-touch rubberised coating on the back of the UMPC, and its relatively light weight; having full access to Spotify over 3G and WiFi left us wishing for longer battery life.
PsiXpda video demo:
[vms 84325132fca8edcdfb40]
Like the Psion range its name coyly alludes to, the PsiXpda UMPC is a niche product that suffers from broad comparisons to the rest of the ultraportable market. Netbooks are, obviously, cheaper and faster, with more eye-friendly displays and bigger keyboards, but they don't perform quite so well at true mobile use – standing in line at the store, browsing while walking (always making sure to keep an eye out for lampposts and open manholes, naturally). Problem is, today's smartphones do an increasingly good job at delivering the desktop internet experience while in just that sort of mobile situation, and couple it with longer battery life too.
We're not sure how many units PsiXpda need to sell in order to make good on their investment; the company has told us it's a sensible number, and they're not fooling themselves into believing this UMPC will change the world. They're already thinking of version 2.0, too, which will hopefully address such shortcomings as the undersized headphone socket. This isn't the UMPC to push the form-factor into the mainstream, but it's a welcome addition to a segment that lacks native vendors rather than imports and eBay. Perhaps the next-gen model will be better suited to a broader audience, but at £499.95 ($821) the PsiXpda has a few too many compromises to be appealing to all but the UMPC-faithful.