EA Games $0.99 App Store sale begins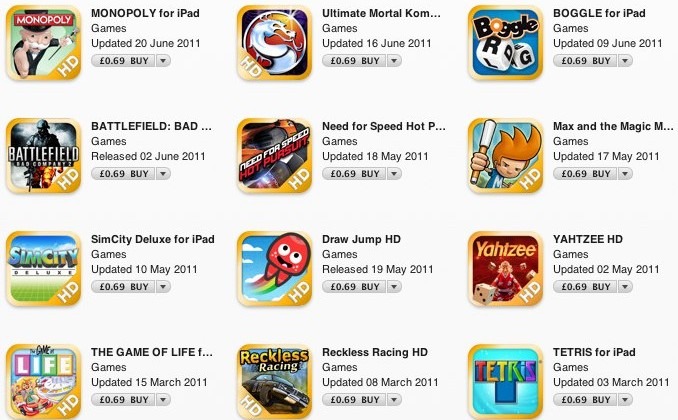 EA Games has kicked off its App Store games sale, offering dozens of iPhone and iPad apps for under a dollar as the company prepares for the holiday season. Titles in the promotion (which has started with a £0.69 sale in the UK, and is expected to spread to the US imminently) include FIFA 11, Mirror's Edge and Transformers: Dark of the Moon HD on the iPad, as well as Need for Speed Undercover, SimCity Deluxe and Ultimate Mortal Kombat on the iPhone. Check out the full list after the cut.
While EA Games' deals do offer a few bargains for would-be iOS gamers, the company has a more strategic ambition in mind than simply offering holiday cheer. Apple's App Store team goes on vacation for eight days over the Christmas period, during which time the download store's various charts are frozen.
Developers who have secured a place on those charts – by suddenly selling thousands of copies of $0.99 games, for instance – can expect a huge surge of sales when a new batch of iPhone, iPad and iPod touch owners open their toys on December 25. Last year, EA managed to grab eight of the ten spots on the paid games chart.
iPad:
Battlefield: Bad Company

Battleship

Boggle

Bop It!

Command & Conquer: Red Alert

Dead Space

FIFA 11

Madden NFL 12

Mirror's Edge

Monopoly/Monopoly Here & Now

NBA Jam

Need for Speed Hot Pursuit

Pictureka!

RISK

SimCity Deluxe

Tetris

The Game of Life

Transformers: Dark of the Moon HD

Trivial Pursuit Master Edition

Ultimate Mortal Kombat

Yahtzee
iPhone:
Battlefield: Bad Company

Battleship

Boggle

Bop It!

Cluedo

Command & Conquer

Connect 4

Dead Space

Deal or No Deal

FIFA 10

Fight Night Champion

Madden NFL 12

MMA

Monopoly Here & Now

NBA Jam

Need for Speed Undercover

Pictureka!

RISK

SimCity Deluxe

The Simpsons Arcade

The Sims Ambitions

The Sims 3 World Adventures

Skate It

Spore Creatures

Tetris

The Game of Life

Transformers: Dark of the Moon

Trenches II

Ultimate Mortal Kombat

Yahtzee Adventures
[via Hot UK Deals]