EA 99 Cent Game Promotion Wins Them 8/10 In The iTunes Chart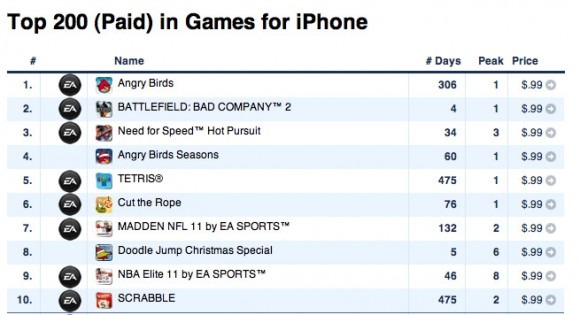 Electronic Arts' $0.99 iOS game sales promotion looks to have been a success, with the company's titles taking eight out of the ten top spots among paid iPhone games, and a full 21 of the top 30. The news will likely mean that EA's games retain prime position among the Apple charts when the company freezes them over the December 22 to December 26 holiday period, giving them a significant attention advantage among new iOS device owners receiving iPads, iPod touches and iPhones this Christmas.
The price slash affected all of EA's titles for iPhone, iPod touch and iPad, bringing games such as The Sims 3 and FIFA 11 down to a mere $0.99 [iTunes link] in the US (or £0.59 in the UK). In case you're wondering, EA owns game publisher Chillingo, who was responsible for publishing Angry Birds and Cut the Rope.
[via Ezone]