Does an iPad Mini add up, Retina style?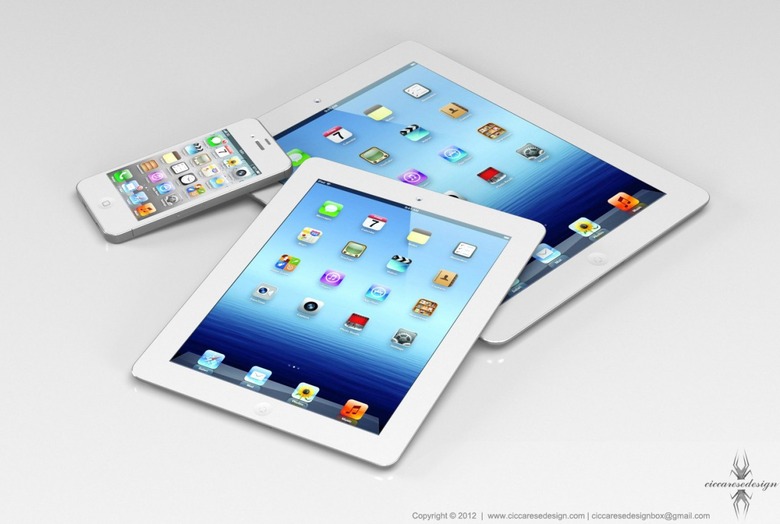 Apple's iPad Mini is the rumor that refuses to die, with several high-profile sites lending their support to speculation that a "tweener" iOS tablet is indeed in the pipeline. Such a slate would presumably instantly help Apple better compete with the Kindle Fire juggernaut, as well as the freshly announced Nexus 7, but that's assuming it can keep up its end of the bargain. Namely, does Apple – and its suppliers – have the technical capabilities to deliver a screen good enough to bear the Retina Display branding?
According to the rumors, Apple has turned to Sharp for its display panels in the iPad Mini. On the face of it that makes sense; long-standing Apple production partner Foxconn already holds a significant number of shares in Sharp, a fact which has seen links drawn between the companies and the possibility of an Apple television set.
For the iPad mini, though, it would be Sharp's smaller panels that are of interest: namely, the IGZO technology screens that went into production back in April. That tech produces thinner, better-quality displays than we've seen before, which would allow Apple to create a small, thin tablet without sacrificing all-important usability.
Question is, can Sharp's screen deliver on what is gradually becoming a selling point across Apple's range? Retina Display may be a marketing term rather than a specific standard, but Apple has taken the idea of pixels too small to differentiate between at average user-distance and run with it in the iPhone, iPod touch, iPad and, most recently, the top-tier version of the 2012 MacBook Pro. True, there are iOS devices still on sale without Retina support, but they're the older iPhone 3GS and iPad 2, legacies of yesterday's tech kept on to keep the entry-level price points catered for.
Could Apple launch a non-Retina iPad Mini? And what would such a tablet entail? With the iPhone 4S having a pixel density of 326ppi and the new iPad coming in at 264ppi, the iPad mini would presumably have to slot in somewhere around the latter end of those numbers; that, and keeping roughly the same aspect ratio as both existing devices, would call for at least a 1600 x 12800 UXGA panel, which would deliver 261ppi for the speculated 7.85-inch screen.
Ah, but does Sharp have such a panel, remains the question. According to the April announcement, the company has three IGZO screens: a 32-inch panel running at 3840 x 2160, a 10-inch at 2560 x 1600, and finally a 7-inch at 1280 x 800 for a 217ppi count.
Not quite Retina then, and not 7.85-inches, though of course Sharp could well be playing some Apple-specific cards close to its chest. Given the emphasis Apple has placed on Retina Display branding and technology as the future of its pixel-rich devices, the iPad Mini will need to shape up, resolution-wise, if it wants to join the iOS club.
[Update: John Gruber suggests Apple may well stick with iPhone 3GS technology, cutting the displays into 1024 x 768 7.85-inch chunks]
[Image credit: Ciccaresedesign]