DJI Ronin-S gimbal for DLSRs finally gets a release date & price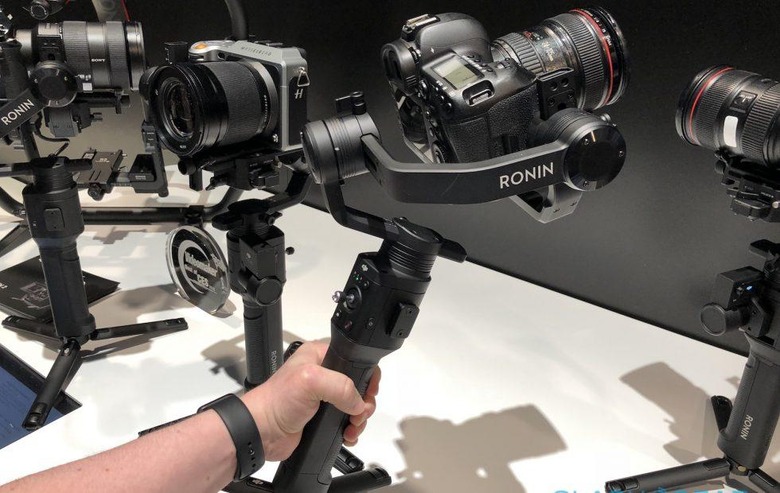 Forget drones: DJI's Ronin-S was the company's hit announcement back at CES 2018, and the single-handed gimbal stabilizer is finally headed to stores. Designed to mount heavier DSLRs and mirrorless cameras, it promises the same stabilization as its existing models offer for smartphones, but with some pro-user advantages.
For example, it's rated to hold cameras up to 7.9 pounds, a significant improvement over existing DJI stabilizers. That's despite sticking with a single-handed design, which keeps the whole thing smaller and easier to manipulate. There's not just more powerful motors inside, however, with DJI making some other changes to suit DSLR and mirrorless camera use.
So, the roll axis has been moved to a 45-degree angle from usual. That allows the rear display on the camera to be seen more readily. There are standard mounting points for adding microphones and lights, too. DJI's optional control devices, such as the Master Wheels and Master Force, are compatible too.
Three different operational modes are on offer: underslung, upright, and flashlight. Alternatively, the gimbal can be removed from the handle altogether; that allows for mounting on a jib, remote control vehicle, or other device. Sport Mode promises to smooth out faster-paced action.
A joystick on the handle adjusts the angle of the gimbal. Meanwhile there's also focus control for compatible Canon, Nikon, and Sony cameras, among others. A time-lapse option is included, plus track and panorama modes.
Overall, 360-degrees of continuous rotation are supported, together with tilt from -95 to 185 degrees. In Roll 360 mode, meanwhile, there's support for a complete 360-degrees of roll. Two different response modes can be preset and switched between with a quick-access switch: that way, you can rapidly change between smooth movements to rapid-response.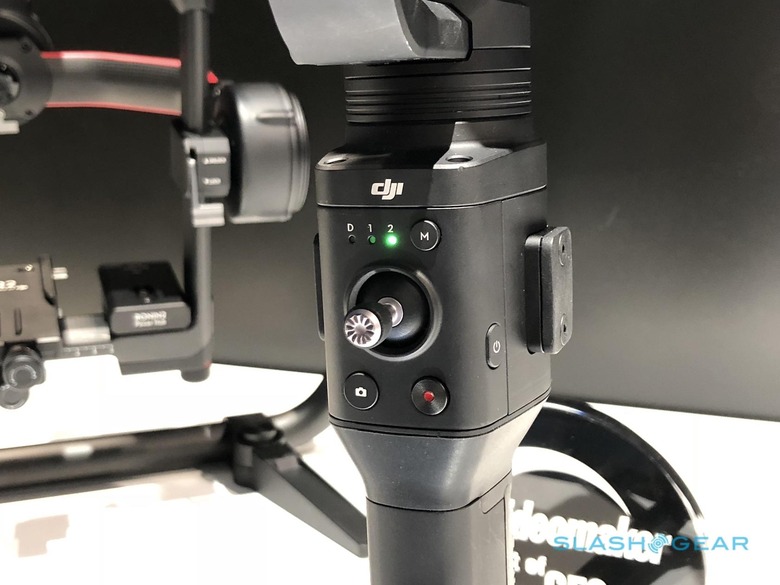 The whole thing is powered by a removable rechargeable 2,400 mAh Li-ion polymer battery pack. DJI says that should run for several hours on a charge. Bluetooth 4.0 and USB Type-C are supported for linking to DJI's Ronin smartphone app.
Certainly, most consumers will be best served by something like DJI's Osmo Mobile 2, which was also announced back at CES 2018 in January. That lowered the cost of entry for stabilizing smartphone photography even more. For those needing the sort of 4K video and interchangeable lens flexibility that a DSLR or mirrorless camera allows, however, the Ronin-S is up for preorder, priced at $699. It'll begin shipping on June 11.