Dish demands FCC see Softbank-Sprint deal "unripe for consideration"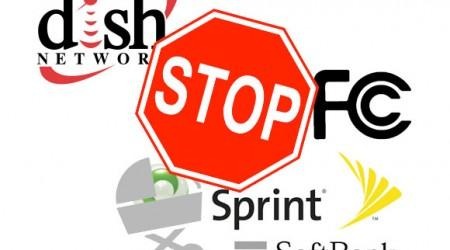 This week the folks at Dish Network have made it clear that they're going to go hardcore with their business tactics when it comes to attaining Clearwire – their methods including hitting the competition where it hurts: Sprint's merger with Softbank. Several months ago Softbank made a bid to attain US-based Sprint while Sprint made a bid to attain Clearwire, their ability to purchase Clearwire being based on they themselves being purchased by Softbank. Because Dish Network sees Softbank's acquisition of Sprint as contingent on Sprint's future purchase of Clearwire, they've filed for the whole stack of cards to come tumbling down.
A regulatory filing has been filed this week by Dish Network that they hope will ultimately leave Sprint on its own without the cash to purchase Clearwire, leaving them able to do so themselves. The following fact list should make this situation rather clear to you – or to the FCC – or both! Have a peek at how this is all about to go down – these are in chronological order, mind you:
1. Sprint owns 50% of Clearwire (and has since before these dealings started last year).
2. Softbank enters into agreement to purchase Sprint (a controlling interest, that is, 70% of the company) for $20.1bn USD. This deal remains under consideration by the FCC to this day.
3. Sprint offers Clearwire $2.90 USD a share for all remaining shares ($2.1bn USD contingent on Softbank deal going through)
4. Softbank limits Sprint's bid on Clearwire to $2.97 a share ($2.2bn total) and Clearwire accepts. (December 14th, 2012) NOTE: Bloomberg reports here now on January 17th, 2013, that the following is true: "While it has made no decision to reconsider Sprint's offer, Clearwire said it plans to talk to Dish, which is led by Chairman Charlie Ergen, and will keep its options open by not drawing on financing offered by Sprint."
5. According to CNET, Dish Network makes an unsolicited bid of $3.30 USD a share for the stocks they've just agreed to sell to Sprint, (this being the same 50% of Clearwire not yet owned by Sprint), this totaling $5.15bn USD. Clearwire states that it is "severely limited by its current contractual obligations." (January 8th, 2013)
6. Dish initiates regulatory filing with FCC that you can access at the FCC right now with a big fat "REQUEST TO HOLD PROCEEDING IN ABEYANCE" neat the head:
"DISH Network L.L.C. ("DISH") requests that the above-captioned proceeding, for which petitions to deny are currently due January 28, 2013, be held in abeyance, and that the "shot clock" in this proceeding be paused, until the resolution of significant unresolved contingencies concerning Sprint Nextel Corporation's ("Sprint") offer to acquire all of Clearwire Corporation ("Clearwire"). In this proceeding, Sprint seeks not only the authority to be acquired by SoftBank Corporation ("SoftBank"); it also requests authority to acquire the stock of Clearwire that it does not already own, as well as de facto control over Clearwire.

But Sprint's acquisition of control over Clearwire is subject to, among other things, a vote of the non-Sprint shareholders in the face of a higher value offer made by DISH and Clearwire's response to DISH's offer. These contingencies make SoftBank's and Sprint's applications unripe for consideration." – Dish Network
They add the following – and a whole lot more that you can read on your own if you wish – including reference to "the Eagle River purchase." Eagle River is the group from which whoever ends up purchasing the remaining shares of Clearwire will be buying them from, clean and simple. Also included is a reference to "Crest", this being Crest Financial, a minority stakeholder in Clearwire and one of two groups seeking the FCC's reconsideration in approving Sprint's purchase of the remaining stocks in Clearwire (the other being Dish). This is Dish Network's case:
"Moreover, whether the Eagle River purchase gave Sprint de facto control (as Crest alleges) or not (as Clearwire does), there is no doubt that it facilitates the acceptance of Sprint's offer to buy the rest of Clearwire. First things first: the Commission should evaluate the propriety of the cursory treatment received by the Eagle River purchase before it takes up the larger SoftBank-Sprint transaction. " – Dish Network
So it's a good time had by all! It would seem that if Dish Network is successful detaching Softbank's deal with Sprint to pick up Clearwire, the remaining stocks would probably be delivered to Dish with a bow. It all depends on the FCC though, of course, and we'll be watching this deal closely as it continues to unfold through the Spring of 2013.
Bonus! AT&T carefully objected to the Softbank/Sprint acquisition two days after it was announced, well before the Clearwire dealings, too!
[via CNET]