Today, Dish is announcing their CEO is stepping down. Joseph Clayton took over for Dish co-founder Charlie Erdman in 2011, and was charged with transforming Dish's business. He was at the head of the table as Dish acquired a massive portfolio of spectrum (relative to their needs), and also helped bring us Sling TV. In his absence, Erdman will reclaim the CEO role. The appointment of Erdman, who sat on Dish's board since stepping down as CEO, isn't temporary, either, suggesting even more change is afoot.

Dish is no stranger to aggressive moves into new territory. Prior to SoftBank acquiring Sprint, Dish pushed hard — really hard — to make their case for why they should be given a chance to buy Sprint rather than SoftBank. They went so far as to set up a website dedicated to the merger/acquisition/whatever you want to call it.
Not long ago, Dish made similar overtures about T-Mobile. They were reportedly partnering with Iliad for their T-Mobile bid at one point, which never seemed to come to fruition.
Ergen made remarks early last year suggesting Dish was interested in T-Mobile. Though T-Mobile boss John Legere likes to loudly laugh-off any takeover/acquisition talk, he cast a favorable tone on a Dish partnership during the company's last earnings call, saying "Dish offers a great opportunity for the country and possibly T-Mobile."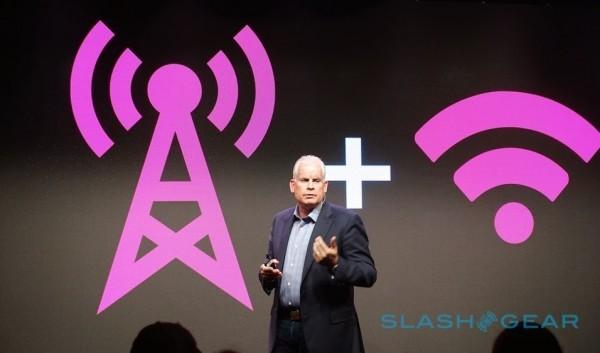 Further complimenting a Dish/T-Mobile partnership is Dish's spectrum holdings (which Legere is both critical and complimentary of), which are heavy-handed as use for data streaming. T-Mobile is a big proponent of data plans working for customers rather than against them, even going so far as to allow some music streaming sources to pass for free without counting against a customer's plan.
An even larger piece of the puzzle is T-Mobile parent company Deutsche Telekom. Though they have their price, Deutsche Telekom is almost constantly shopping T-Mobile around. At a recent conference, DT's CEO said his company dumps about $5 billion into T-mobile annually, just so it can keep up.
Dish is ready to jump into mobile, and has been for some time. Deutsche Telekom is ready to give T-Mobile up, and T-Mobile needs a home that isn't one of the other carriers, as the FCC wants four big-boys in the US. We won't say a T-Mobile/Dish deal is on the clock, but don't be surprised when talks resurface.