DICE+ Bluetooth Controller Hits The Market For Android And iOS

There's another wireless pair of dice – or one die, as it were – on the market this week called DICE+, ready to take the smartphone and tablet world back into the physical realm. This is a die you can toss, one that connects to your smartphone or tablet with Bluetooth. This device was introduced earlier this year amongst a selection of similar products like the Scosche smartROLL and the die included with the Lenovo IdeaCentre Horizon 27 "Table PC", and will be hitting stores this week.
This device is able to be charged and re-charged with a microUSB port under one of the sides of the uni, while pairing with your smart device will be done with no more than a couple tosses of the cube. At the moment it would appear that just iOS for the iPhone, iPod touch, and iPad alongside the Google mobile operating system Android will be available for play at launch. A variety of games are already ready for play.
One of these games goes by the name "Powered Board Games" by Syndergy-IT – available for essentially every smartphone and tablet on Android and iOS. Another goes by the name Pirates by Egmont Polska – you'll find this game included in the Board Games app along with Chuchumba, Backgammon, Rumble Stumble, Rainbow Jack, and DICE+ Heroes, amongst others. The games This Way Up, Bella & Max, and Reiner Knizia's Supremacy are also ready to roll either immediately or very soon (as in the case of Supremacy) for both Android and iOS.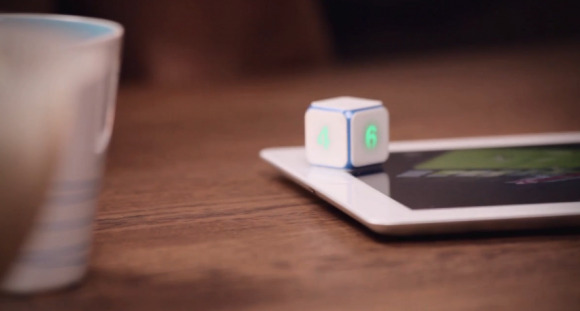 The $39.99 package this device comes in also includes a special DICE pouch with drawstring, quick start manual, and a lovely blue and white microUSB cable for charging. Inside the die itself is compatibility with Bluetooth 2.1 and Bluetooth 4.0, a magnetic field sensor, and both a proximity sensor and accelerometer.
This die also brings on more than just the white color you see in several of the preview images above. Each face of DICE+ works with 256 million colors, ready to fill in for whatever games might want to use said colors in the future. This 1.02 x 1.02 x 1.02-inch, 0.56 oz accessory requires only that you have an iPad 3rd gen or later, iPad mini, iPhone 4S or later, or an Android device with Android 4.0 or later as well as Bluetooth 2.1 or higher.