Here in the first few months after Microsoft introduced Windows 8 to the world, we're still looking for the perfect set of homes for this touch-friendly operating system – and in the Dell XPS One 27 (Touch Screen enabled model 2710), we may have found the best all-in-one solution yet. This beast works with a 27-inch 2560 x 1440 pixel resolution (Quad HD) display ready for 10-finger touch on an articulating stand. This stand will allow you to move 60 degrees, nearly flat to an ever-so-slightly forward-leaning position – your choice!
Hardware
The Dell XPS One 27 is a machine that comes in several different iterations – and you may have seen it in the past without an articulating stand or a touchscreen. This version is the newest and, of course, greatest of the pack with a relatively massive 19.32 x 26.14 inch chassis with depth ranging from 1.25 inches to 2.82 inches. This beast has been called competition for the newest iMac, but as you'll see in our iMac 27-inch (2012) review, aside from the "all-in-one" name, these computers are altogether different, essentially top to bottom.
This XPS monster weighs in at 35.16 pounds as you'll see plainly in the hands-on video above. The neck is made to make the computer's bulk feel light, and indeed it does – we're able to easily tilt the display back and forth with one hand, no problem. Moving the display up and down will require a couple of hands to manage, but again you'll have no trouble – it's picking the whole machine up and moving it from table to table that'll give you a back-ache, but since you're only going to have this bulk in one place the whole time you own it, that shouldn't be a problem.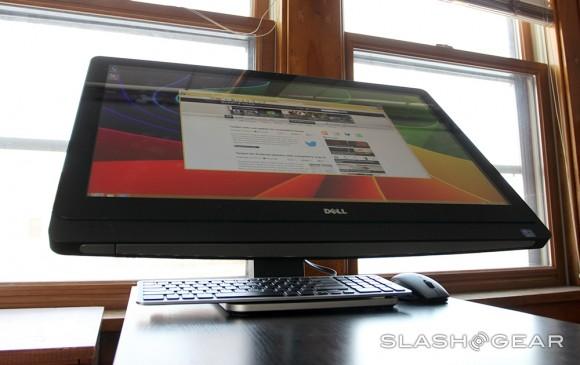 The front of this machine has about an inch of bezel surrounding the display, a bit more than that at the bottom with an additional bit of casing under the glass that brings you down another inch. The display glass sits out and above the casing rather than being flush with it, this giving you the impression that it goes from left to right to top almost magically – not an easy feat and certainly appreciated in the final aesthetic. The back of the machine is a simple gray on the back, all hard plastic casing with the largest collection of ports sitting below the neck.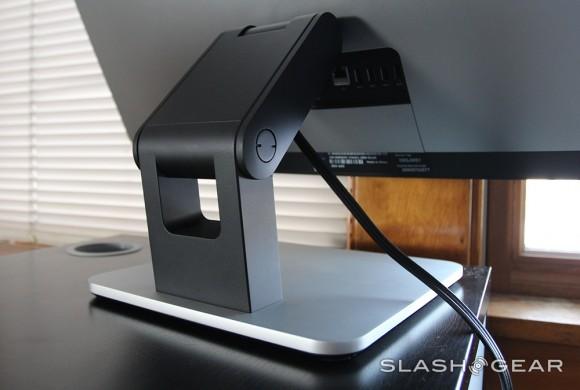 This set of ports includes four USB 3.0, HDMI out, HDMI in, SPDIF 1 (7.1 ch), and ethernet. On the right side of the machine you've got a disk drive for 12.7mm action, DVD+/-RW and BluRay Combo for your pleasure, HDD LED light, and a power button. On the other side you've got an 8 in 1 media card reader with support for SDXC (SD3.0), Secure Digital (SD), Multi Media Card (MMC), Hi Speed SD, Hi Capacity SD, Memory Stick (MS), Memory Stick PRO, and xD Picture Cards alike. Also on the left side you've got two more USB 3.0 ports that are Sleep Charge Capable – how about that?
Up on the front you've also got a set of four relatively hidden buttons that are capacitive and only appear when you tap them. The first two buttons increase and decrease the brightness of your display, the third controls the input of your display (if you're using your HDMI-in, for example), and the last button will eject a disk from your disk drive, no questions asked. Each of these buttons is marked with an LED light that, again, only appears when you tap it.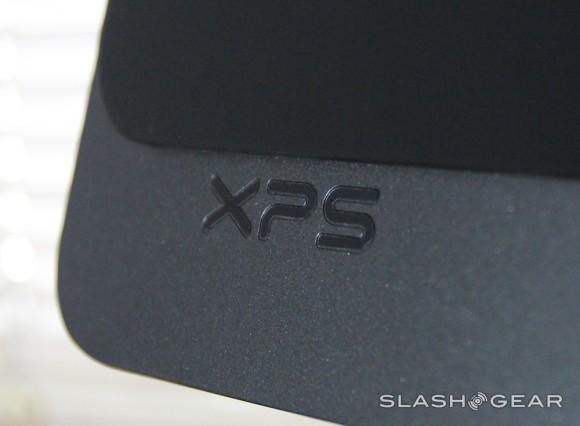 The front-facing camera on this machine offers you the ability to speak with Skype (or whatever other video chat apps you like), extremely easy to use and decent at least for video chat in general. While you wont be recording any Hollywood-quality videos with this camera, it's certainly nice to have as a given. It's also relatively hidden from view if you don't plan on using it all – no unrelenting design cues here!
Software and Performance
The machine we've got here works with Intel HD Integrated Graphics and NVIDIA GeForce GT 640M 2GB GDDR5, so you know good and well you'll be packing high graphics power from top to bottom. While we've been drawn immediately and continuously to playing HD video as this machine cannot be denied as a great motion picture player, gaming is certainly a reality here right out of the box. You may want to pick up a few gaming-centric peripherals if you do want to go that route as wired may feel slightly more perfectly accurate than Bluetooth for mouse and keyboard action, the power under this hood is good to go.
[sgbenchmark id=196 show=system]
Have a peek first at the system components included in this particular build, then see below the results of our standard benchmark test in Geekbench. Feel free to compare this score with past reviews of similar systems, keeping in mind that each system is indeed unique and benchmarks, no matter how accurate, show numbers, not your overall positive or negative experience.
[sgbenchmark id=196 show=score]
Windows 8 is running as smoothly and as beautifully as we've ever seen it here on the Dell XPS One 27, making its case for what's easily one of the most high-quality presentations of the operating system to date. Windows 8 is coming in to its own with more official full-screen and touch-optimized apps every day (see: Office 365 for example) and you're sure to find yourself lost in exploration with this machine if not ready for full-on entertainment action from day one. Video looks great out of the box, graphics and settings can be optimized instantly with NVIDIA's newest iteration of the GeForce Experience (still in Beta at the moment, but working great), and touchscreen action has never felt more natural.
Wrap-up
This machine will be costing you right around $1300 USD, and for that price you're getting one beast of a computer. The Dell XPS One 27 with multi-touch display is easily one of the most solidly put together total packages running Windows 8 today, and makes us feel right at home with the touchscreen user interface immediately on startup. Dell has created a computer that makes us confident that touchscreen interfaces are indeed the future of home computing, especially in the entertainment realm – grab it now!