Dell XPS 18 Review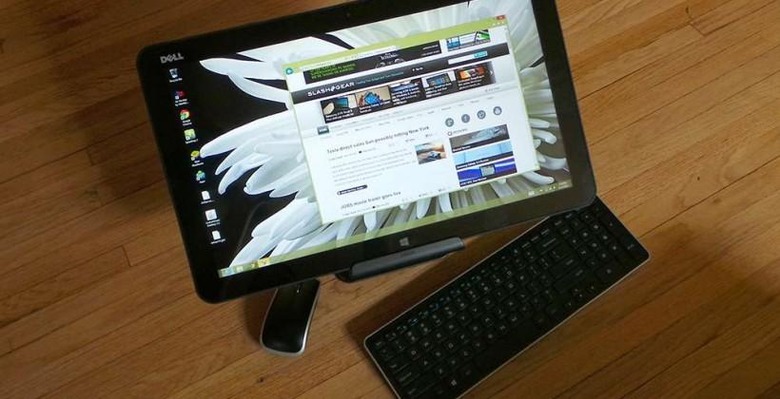 The most massive "tablet" you'll ever use – if you don't count the Lenovo IdeaCentre Horizon 27 – is sitting on SlashGear's review bench this week: the Dell XPS 18. The reason we'd call it a "tablet" is because you can, indeed, rest it on your lap and tap away with it as you would any other tablet-like device, but it's certainly not supposed to be considered just that. Instead we're running full Windows 8 and have a bevy of options when it comes to usage of this beast – enter the All-in-one multi-mode Dell XPS 18 from a desktop perspective.
Hardware
This device is made to be a bit more rugged than your average desktop machine – on its back you've got a collection of bumpers and rubbery bits that'll allow this machine to sit as comfortably down flat against the table as it does sitting upright under its own power. It's backside works with two hefty kickstands that are coated with a soft plastic as well – bumps for nothing.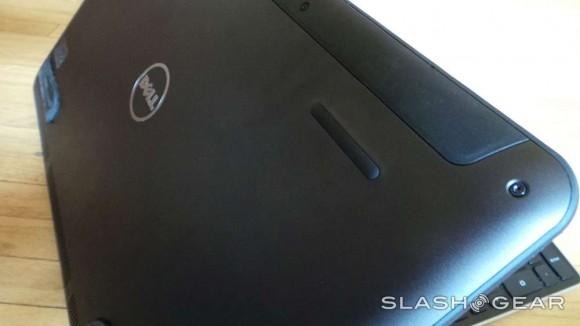 This computer does not come to the user in a box on it's own, mind you. You've also got a metal dock that can be plugged in with the same power cord that can power the computer separately. A multi-pin interface at the bottom of the computer connects to the dock, and the dock allows the computer to be a desktop machine, and it's adjustable in a big way, as well.
While the 18.4-inch monster of a Full HD resolution touchscreen panel can take care of your whole computing experience with Windows 8, you've also got the option of working with this machine's wireless keyboard and mouse as well. They're connected wirelessly from the moment you put the batteries in their bodies, and they're ready to last a long, long time before they need recharging – weeks, at least – good luck running them dry.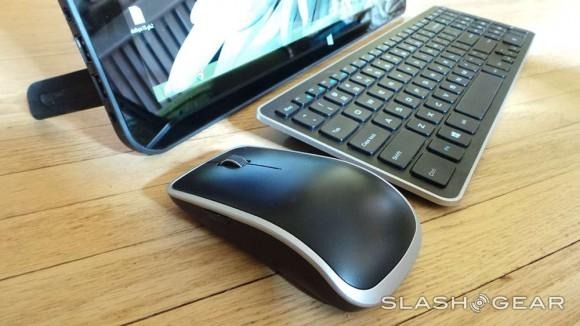 The computer itself weighs in at 5 pounds. That's not light, but it's certainly not unreasonable for a panel this large, especially when you consider the power it's working with. Have a peek at the innards of the model we're working with in the chart below, and note that this unit can work with up to a Core i7 processor from the 3rd generation of Intel's Core family – at the moment, that's as far as it'll go, too.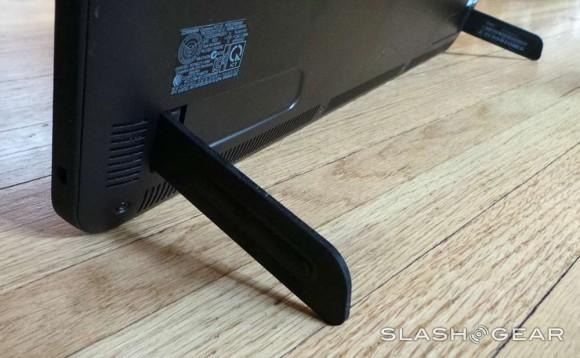 Also of note are Intel's HD GPU doing duty on the inside of this device. You're not going to be doing any massively powerful gaming on this machine – it's not a custom-built amalgamation of graphics power, of course, but everything save the newest generation of games will be rolling out well.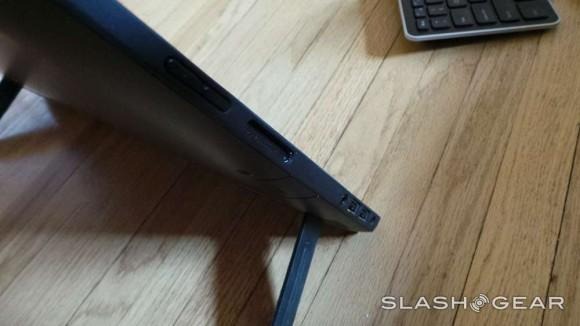 We play-tested the game Hawken to see how this device stood up to some first-person multiplayer mech action online, and it held up to the test – for the most part. We certainly didn't win any rounds for being slickest in battle, but the game was playable, at last.
[sgbenchmark id=212 show=system]
What you'll be using this machine for instead is massive presentations and media playback. The Dell XPS 18 works with stereo speakers on both the left and the right, and though – as always – we wish they were forward-facing, they've been more than loud enough to play movies at a comfortable volume in a bedroom-sized space.
Software
Inside this machine is a collection of standard Microsoft fare mixed with a few Dell-provided feature apps to help the user understand what the hardware is capable of. With Fingertapps Instruments you'll be playing a relatively basic version of Rock Band with on-screen instruments and a whole lot of tapping. With Air Hockey by IdentityMine, you've got a two-player transformation of this machine into a gameboard.
[sgbenchmark id=212 show=score]
It's through this air hockey game that you'll also see that this machine's response time, while not perfect, is certainly rather snappy. The rest of the software experience is really rather clean. Have a peek at the benchmark results here to get a taste of how this device compares to the rest of the units we've had a look at over the past few years as well.
Battery
This machine does not require a power cord to be plugged in at all times, making it one of the very few mobile computers of this power to be able to do so. While using this machine on a long-term basis without being plugged directly in to the wall isn't going to result in more than a few hours of up-time, especially if you're connected to and streaming video from the web, it's still neat to know you can.
Wrap-up
What Dell has created here is a truly unique amalgamation of elements. This computer can be a massive tablet, it can be a desktop machine, and it can be carried around in a custom-fitted carrying case that's also already out on the market. This isn't a computer made for the common user, that's for sure – what it is made for is a user hoping to go big on multi-form computing.
Here Windows 8 shines as a touch-friendly operating system once again as well. While it's still imperfect, working with Dell's implementation of touch makes the system amongst the easiest Windows 8 devices to use that we've encountered thus far. And it's not so big that you'll have to worry about it falling over and smashing your toe into oblivion – and even if it does, it's rubbery on the back, so it wont be so bad!