Dell XPS 18 hands-on: 18-inch tablet? Portable all-in-one PC? Delusional?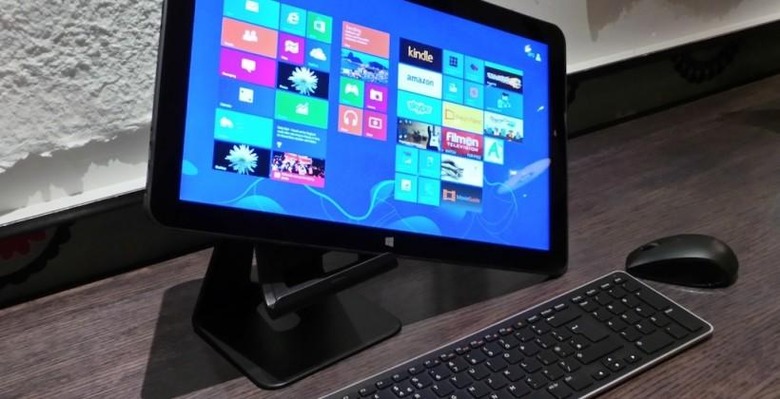 You have to give the PC OEMs some credit: they're really milking the touch potential of Windows 8, and hulking great "home tablets" seem to be the finger-fetish of the moment. Latest to join the trend is Dell with the XPS 18, an 18.4-inch slab of dockable multitouch, with the company would rather you think of as a portable all-in-one PC than as a tablet in the traditional sense. Intended to be toted round the home, rather than outside of it, the XPS 18 packs up to a Core i7 processor and a battery good for a surprising five hours of off-the-AC use. We caught up with Dell for an early play.
Dell isn't the first to try the big-tablet segment. Sony showed off its 20-inch Tap 20 at IFA last year, while Panasonic brought a 20-inch, 4K prototype tablet to CES in January.
Still, the XPS 18 does have some advantages. At five pounds it's not exactly light for a tablet, but it's half the weight of Sony's model and the battery is rated for almost twice the runtime. That means you can actually hold it with one hand, though you probably wouldn't want to support it that way for more than the minimum of time. Instead, Dell supplies a stand – with a set of power-providing magnetic pogo-pins that charge the slate section – and flip-out feet that can support the XPS 18 either in an upright pose or at a more laid-back angle for comfortable typing. Dell did point out that the rubbery feet on the pre-production units we tried were likely to change, which is good since they were a little slippery on the table.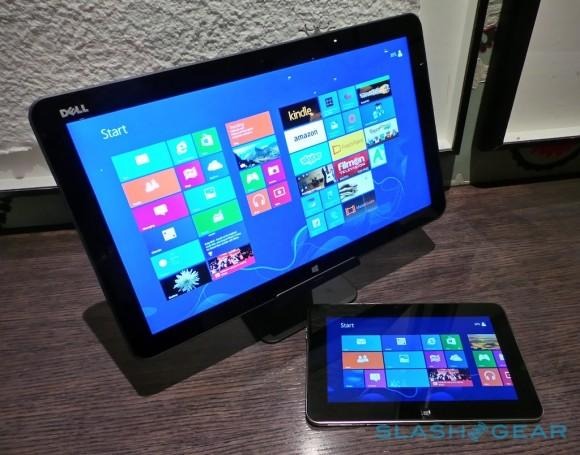 The display is a luscious Full HD panel which looks great showing photos and video. The XPS 18 has small stereo speakers, one in either side of the slate, but they're plenty loud enough for impromptu video watching duties, making the portable all-in-one a viable option for keeping the kids entertained. Physical controls are minimal, with a touch-sensitive Windows button in the bezel and a power/standby button on the right side. You also get a pair of USB 3.0 ports and a memory card slot, along with a webcam and integrated digital microphone.
Inside, Dell will run the gamut with processors, kicking off with a Pentium dual-core and then stepping up through Core i3, i5, and finally i7 chips depending on your power requirements. Storage options range from a basic HDD through hybrid drives, and finally SSDs; RAM is from 4GB, while graphics are courtesy of Intel's HD GPUs. Dell will include a wireless keyboard and mouse in the box, as well as a stand and a single AC adapter; you'll be able to buy the stand separately for $50, if you want to have a few of them dotted around the house.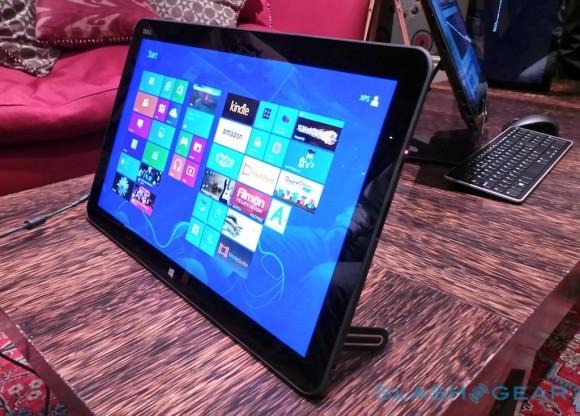 We'll confess, we weren't too hopeful for the XPS 18 when we first saw it. Still, after a little playtime, it started to make more sense. Where the Sony is ridiculously heavy – more of a luggable than a portable PC – Dell's version is actually light enough to rest on your knees or crossed-legs without cutting off all circulation. That opens up some interesting browsing possibilities, or simply makes it more likely that you actually will pick up the XPS 18 and carry it round with you.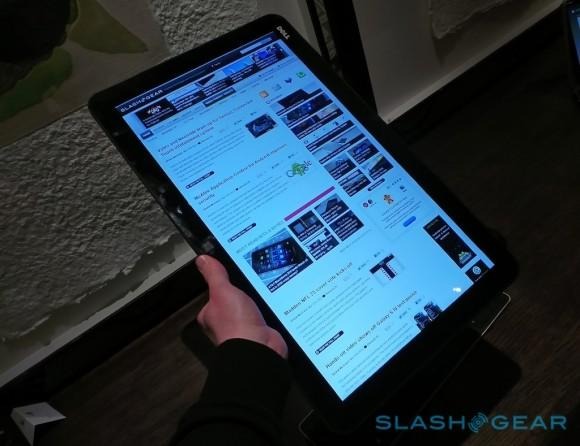 Nonetheless, it's a niche product. Dell will offer it from $899 in the US and from £849 in the UK from mid-April, with prices climbing to around $1,200 for a fully-spec'd version. That obviously makes the XPS 18 more expensive than a tablet, but it also makes it considerable more expensive than a regular all-in-one PC. For some, the flexibility will be sufficient for them to overlook the price, but we're still yet to be convinced that the big home tablet segment is one that will stick around.