Dell Chromebook 5190 offers 13hr battery and USB-C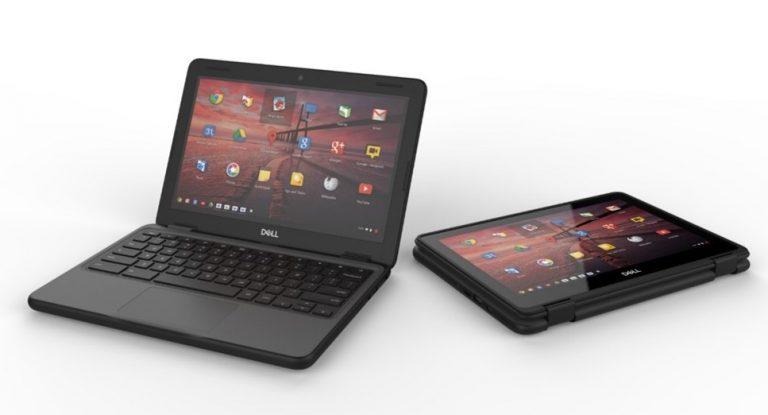 It's been a good week for Chrome OS, with Dell adding a new notebook running Google's platform, the Dell Chromebook 5190, to its line-up. Targeting classrooms and students at home, the new Chromebook 5000 series includes both regular clamshell laptop form-factors and a 2-in-1 convertible with 360-degree hinges.
Since a little rough & tumble can be expected, Dell has borrowed design and tech from its Rugged range of notebooks and tablets. As a result, the Chromebook 5190 packs things like scratch-resistant displays and reinforced hinges. The keyboard is spill-resistant, too.
The chassis has been developed to hold up even if the Chromebook is dropped. Indeed, Dell says it'll handle a regular 48-inch drop test, or from 30-inches if it lands directly on steel. That, the company points out, is about the height of the typical classroom desk.
Rather unusually, Dell has also tested the Chromebook 5000 series with "micro-drops" too. Rather than just one catastrophic fall, that assumes that – over the typical course of a notebook's life – it'll be slammed around and generally poorly treated. The Chromebook 5190 can apparently handle 10,000 of such micro-drops, which Dell defines as falls of 4-inches at multiple angles.
Otherwise, there's a choice of Intel Celeron processors in dual-core and quad-core form, and the option of a World Facing Camera that allows the Chromebook 5190 to be used to take photos of what's going on in the classroom or on field trips. Dell will offer an active stylus, too, for handwriting notes and sketching. Finally, there's USB Type-C.
Battery life is tipped at up to 13 hours, three hours more than the company's existing Chromebook 3000 series. It'll go up against Acer's pair of Chromebooks revealed earlier this week, which distinguish themselves with the offer of optional baked-in 4G LTE that the Dell does not get. It'll also have to compete with Lenovo's new Chromebooks, which will be cheaper than Dell's but have less battery life.
Dell says it'll begin shipping the Chromebook 5190 in February 2018. It'll be priced from $289.