Acer outs new Chromebook pair and Chromebox for classrooms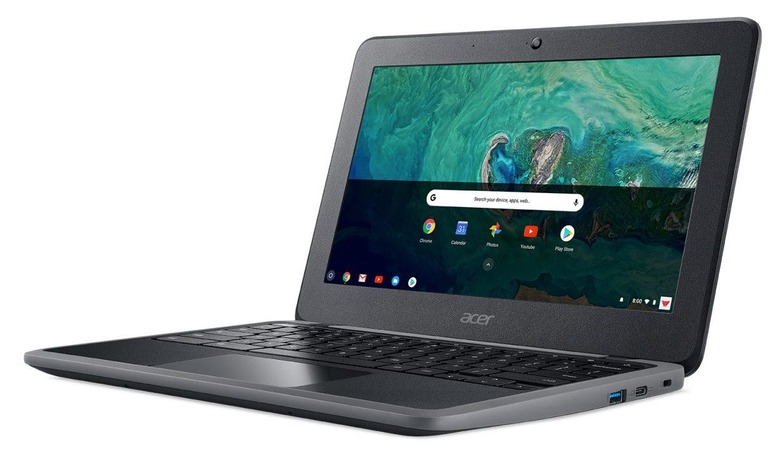 It's clearly affordable education notebook week, and Acer is joining the party with a trio of new classroom-minded Chrome OS machines. Unveiled at Bett 2018 today, the three new models – two Chromebook notebooks and a Chromebox desktop – each pack niceties like USB Type-C and even, on one model, includes the option of baked-in 4G LTE.
First up, the Acer Chromebook 11 C732 builds on the Chromebook 11 we saw the company unveil back at CES 2018 earlier this month. It packs an 11.6-inch display running at 1366 x 768 resolution, and will be offered in either TN touch or IPS non-touch forms. Either way, the laptop's hinge opens a full 180-degrees for groups to gather round.
Inside, there's either an Intel Celeron dual-core or quad-core N3450 processor, paired with either 16 GB, 32 GB, or 64 GB of eMMC storage in the non-touch model, and either 32 GB or 64 GB in the touch version. Up to 8 GB of RAM will be offered. Either way, you get IP41 durability and MIL-STD 810G testing.
That includes the ability to withstand drops up to 48-inches, courtesy of a special honeycomb internal structure that's designed to resist pressure on the lid and twisting to the hinges. The keyboard has recessed keys to avoid tampering, along with drain holes underneath that mean up to 330 ml of liquid can simply flow away.
Fanless, the Chromebook 11 C732 has a battery good for up to 12 hours, Acer says. It'll support Android apps from the Google Play store, too, while ports include two USB 3.0, two USB 3.1 Type-C Gen 1 ports – which support charging, 5 Gbps data, and an external HD display – and a microSD reader. There's an HD webcam, and both WiFi 2x2 MIMO 802.11ac and Bluetooth 4.2. Eventually, Acer says, it'll offer versions with built-in 4G LTE.
Then there's the Acer Chromebook Spin 11, which takes the same fundamentals but throws in a 360-degree hinge. It too has two USB 3.1 Type C ports, the option of touch or non-touch on its regular 11.6-inch display, and two USB 3.0 ports. Inside, there's either an Intel Pentium quad-core N4200 processor, a Celeron quad-core N3450 processor, or a Celeron dual-core N3350 processor.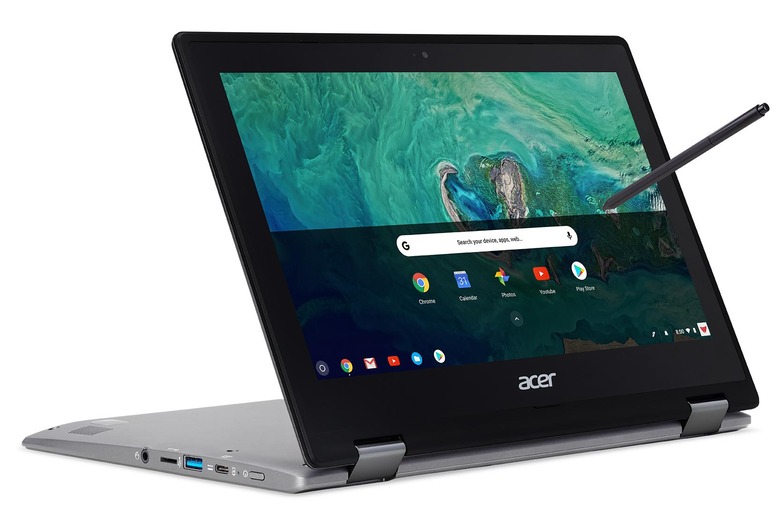 Either 4 GB or 8 GB of LPDDR4 memory is offered, and either 32 GB or 64 GB of storage. A microSD slot can be used to expand that. Optionally, there'll be a Wacom-powered, battery-free stylus, that will be included on the Chromebook Spin 11 CP311-1HN.
Finally, Acer has the new Chromebox CXI3. That has up to an 8th generation Intel Core processor, and packs a single USB 3.1 Type-C Gen 1 port, five USB 3.1 ports and USB 2.0, an HDMI output, gigabit ethernet, and a microSD card reader. 2.2 MIMO 820.11ac WiFi and Bluetooth 4.2 are standard.
Acer is positioning the Chromebox CXI3 as the perfect computer to hide behind your monitor, indeed. With that in mind, there's a VESA mounting kit that'll be available, though in the box you get a stand.
The Chromebook 11 C732 will arrive in March, priced from $299.99 for the touchscreen model or from $279.99 for the non-touch. The Chromebook 11 start at $349, and arrive at the same time. Pricing and availability for the Chromebox CXI3 is yet to be confirmed.