Lenovo's new Chrome OS and Windows notebooks are toughened for class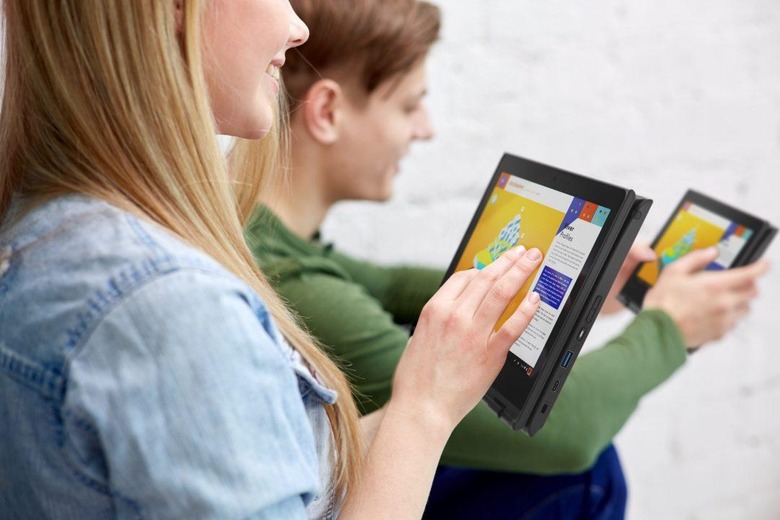 Lenovo has a gaggle of new education notebooks but, while it may be part of Microsoft's new push to seize back STEM from Google's Chromebooks, it's hedging its bets with new Windows and Chrome OS models. Seven new models are arriving today, spanning form-factors and ranges that include Yoga and ThinkPad, and in some cases offered in either Chrome OS or Windows 10 forms. Pricing will kick off from just $219, too.
Whichever OS you prefer, there are some welcome commonalities across all of the models Lenovo has announced today. Arguably most important, given their intended audience in classrooms, the whole range is MIL-SPEC tested. That includes keyboards that can resist an entire can of soda being spilled across them, and drop-tests from 29.5-inches.
Lenovo 100e
The Lenovo 100e is the most affordable of the line-up. It'll be offered in both Windows 10 or Chrome OS forms, each priced from $219. Running an Intel Celeron N3350 processor, it has an 11.6-inch HD display with an anti-glare coating, and tip the scales at 2.7 pounds. Lenovo claims they'll run for up to 10 hours on a single charge, and will go on sale in January for the Windows 10 model, and March for the Chrome OS version.
Lenovo 100e Chromebook:
Lenovo 100e Windows:
Lenovo 300e
Like its cheaper brethren, the Lenovo 300e will also be available in Windows 10 and Chrome OS forms. The Lenovo 300e Windows will start at $279, and have an Intel Apollo Lake processor, and go on sale this month. It'll offer up to 8 hours of battery life, and have pen support in addition to the ten-point multitouch 11.6-inch display.
Lenovo 300e Windows:
As for the Lenovo 300e Chromebook, that'll also start at $279 but will go on sale from February. Inside, it'll eschew Intel in favor of a MediaTek MTK 8173C processor. Though it doesn't have pen support, it still packs the 11.6-inch touchscreen and extends battery life to up to ten hours. Both weigh from 3 pounds.
Lenovo 300e Chromebook:
Lenovo 500e Chromebook
If you're focused on Chrome OS and have a little more to spend, though, the Lenovo 500e Chromebook might be the answer. Priced from $349, it's only available with Google's platform, in an 11.6-inch 360-degree spinning form-factor. The HD IPS display gets Gorilla Glass protection and a pressure-sensitive pen: handily, there's a built-in silo to store the stylus, too, something we wish "grown up" pen-enabled notebooks would adopt.
Inside, there's an Intel Celeron N3450 processor, paired with up to 8 GB of RAM and 64 GB of storage. Battery life is up to 10 hours, and the whole thing weighs 2.97 pounds. The 500e's 5-megapixel camera faces outwards, too, so that it's easier to take photos of the classroom or field-trips. It'll go on sale this month.
Lenovo 500e Chromebook:
Lenovo ThinkPad 11e
Flipping over to Windows, finally, there are the ThinkPad 11e and ThinkPad 11e Yoga. Each shed bulk and weight compared to their fourth-generation predecessors, while battery life has risen too. Lenovo claims they'll now each get up to twelve hours on a single charge.
Each runs a latest-gen Intel N series processor, and Windows 10. The ThinkPad 11e Yoga has a digital pen – with a silo for storage – and a world-facing camera, along with its 360-degree hinge. The ThinkPad 11e is a more traditional notebook form-factor, but its 11.6-inch HD IPS display can now be had with touch, too. It'll be priced from $429, while the ThinkPad 11e Yoga will start at $499, when both go on sale from February 2018.
Lenovo ThinkPad 11e Windows:
Lenovo ThinkPad 11e Yoga Windows: