Dell Adamo 9 + VIA Surfboard C855 = Best 1080p netbook ever?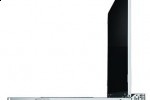 Dell had already confirmed that the 13.4-inch Adamo ultraportable was merely the start of a new high-end series of luxury computers, but signs of what's likely to be the next model – the Dell Adamo 9 – have already been spotted.  As we said at the time, the main question is whether Dell make what's presumably a 9-inch ultraportable into another Atom-based netbook, picks a more mainstream processor as you might find in the Sony VAIO TT, or takes another route.  Coincidentally, VIA announced their 1080p-capable Surfboard C855 reference design today, something that could well supply Dell's "another route".
Based on a VIA C7-M processor running at 1.6GHz, together with a Chrome9 graphics chipset capable of 1080p and hardware H.264, MPEG-2/4, VC-1 and WMV9 decoding, the Surfboard C855 is intended for the new breed of HD netbooks.  That would certainly be a way for Dell to differentiate the Adamo 9 from their existing Inspiron Mini ranges, which use Intel Atom processors and top out at 720p playback maximum, together with offering the sort of battery life buyers have come to expect from netbook-sized devices.  The Surfboard C855 is even compatible with the few confirmed Adamo 9 features we know about: the optional HSPA and GPS; it also has WiFi and Bluetooth as you'd expect. 
It would certainly be a tempting prospect to consumers: internal displays at up to 1366 x 768 and external displays at up to 1920 x 1440, from an ultracompact, luxury-design netbook.  Something to take on the ASUS Eee PC 1008HA Shell, certainly.  Of course, it would require Dell to step away from Intel and take up with their rival VIA, but the possibility of a single-vendor 1080p Full-HD capable platform (something Intel's own GN40 doesn't offer, and for which the Atom/Ion combination demands balancing Intel and NVIDIA relationships) might be enough of a draw.