CreoPop 3D Pen hands-on: Freehand object sketching gets cool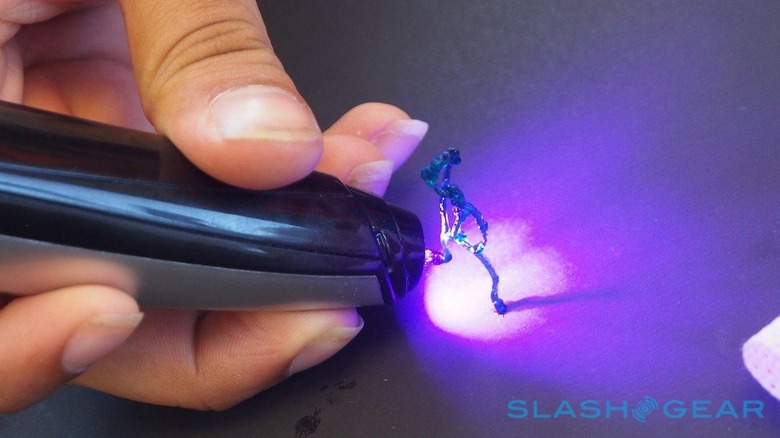 3D printing has segued from the niche lab to very nearly the mass market, and new startup CreoPop is hoping to tip it over the edge with its new 3D Pen. Built around an intriguing range of unusual "inks", as well as the promise of more child-friendly hardware, the CreoPop 3D Pen is hoping to follow in the illustrious footsteps of previous similar crowdfunding projects. I caught up with the team to try my hand and see what makes CreoPop different.
If you're thinking this all sounds quite familiar, I'm not surprised. We've already seen a number of 3D pens turn to crowdfunding to get their launch, with 3Doodler and Lix both smashing their funding goals.
CreoPop has a fundamental difference, however, from those other extruding styli. Whereas other such gadgets have used traditional 3D printing filament, heated up until it melts, CreoPop's pen runs entirely cool, relying instead on ultraviolet light to set the special "inks" used.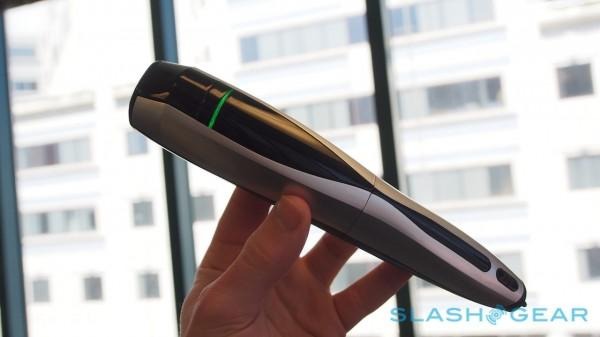 In fact, you could argue that it's those inks which are the company's real product, marketing chief Andreas Birnik explained to me, rather than the pen itself. The toothpaste-like inks – which CreoPop is in the midst of patenting – are pushed out of the nib and cured by the trio of UV LEDs, being self-supporting in a couple of seconds.
So, like 3Doodler and the others, you can "draw" three-dimensional objects of increasing complexity; unlike them, though, there's no risk of children or pets burning themselves on a hot nib.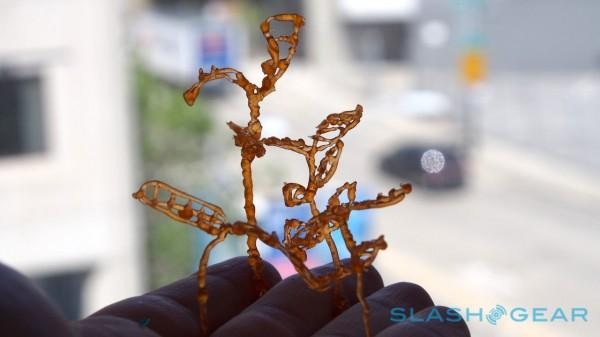 In practice, it can be tricky to get a clean result, at least with this third-generation prototype which, Birnik admits, still needs some refinement before the expected launch in mid-Q1 2015. The ink has a tendency to set too quickly and partially clog the nib, for instance. Exactly how much refinement will depend on what CreoPop's final crowdfunding tally will be. If the startup comes in around its $40,000 goal, the production pen will be much as you see the prototype here, for instance, capable of 2hrs solid sketching on a 40 minute charge through a mini USB connection.
Should things go according to the Lix and 3Doodler pattern, then the hardware is likely to get more complex, with electronically adjustable extrusion speeds among other things. The funding will also shape what inks are produced next: at launch, there'll be 6-7 colors, along with a handful of temperature-sensitive inks that go from solid hues to translucent when heat is applied, and a couple of glow-in-the-dark inks too.
Stretch goals will decide the subsequent supplies, though CreoPop has already figured out elastic ink (which can be stretched), glittering, magnetic, conductive (perfect, perhaps, for wearable electronics projects), aromatic, and even body paint. There's also been a request for an edible version, which Birnik says the R&D team is looking into; as it stands, the CreoPop inks are going through testing to prove that, even if eaten, they're not harmful.
That's important, because CreoPop is likely to be popular with kids. The company is initially targeting the sort of techie early-adopters that frequent crowdfunding sites, but also sees potential for the pen among kids, as well as more creative types, like artists, designers, home DIYs, and the Etsy crowd. There have also been requests for a professional version, for sketching out 3D visualizations of construction projects, though CreoPop is going to focus on getting the original out the door first before expanding too swiftly.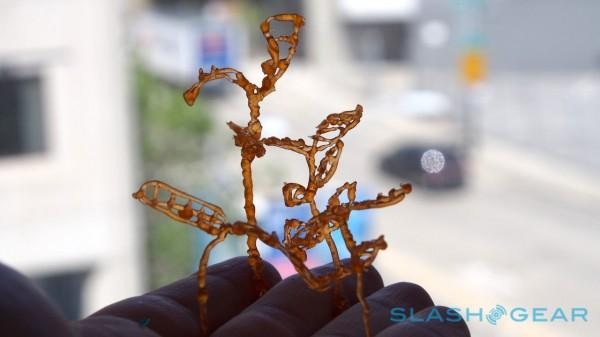 It also wants to make clear the possibilities – and limitations – of the hardware. While some 3D pens have billed themselves as capable of the sort of fine-detail creation a regular 3D printer might deliver, only with free-hand flexibility, Birnik is pessimistic that any will actually deliver on that. Far better, he argues, to be upfront about CreoPop's technology, so that the expectations are realistic.
The CreoPop Indiegogo campaign is set to kick off in a few weeks time, with $89 getting a unit along with a handful of ink refills. There'll also be a couple of early-bird rounds for those who preregister on the CreoPop site, knocking a little extra off that too.