Cree Connected LED Bulb Review - A promiscuous light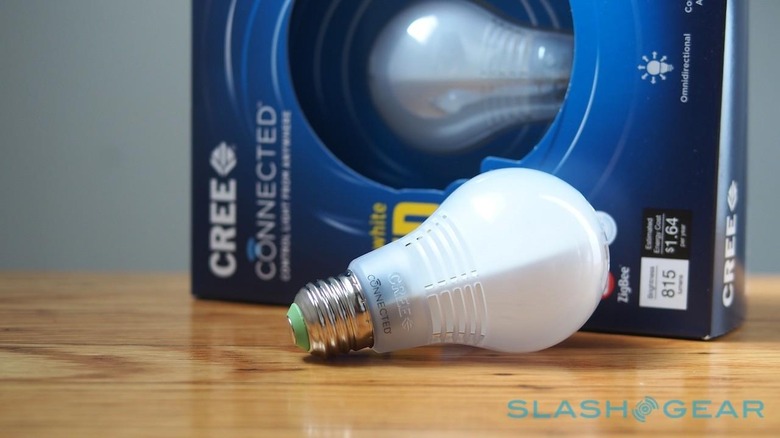 If the smart home is to catch on, then its constituent pieces have to start playing together nicely. Cree has been pushing the LED bulb envelope – particularly on price – for some time, and now it's the turn of the Connected LED Bulb. Not long ago, fifteen dollars for a wireless light bulb was unthinkable; Cree promises not only that, but cross-platform support for home automation hubs compatible with ZigBee. While it's Home Depot favorite Wink that gets the mention on the Cree box, I was also keen to see how friendly the bulbs would be with smart lighting stalwart Philips hue, not to mention the increasingly popular SmartThings.
Like its regular, non-ZigBee sibling, the Cree Connected Bulb is a 60W replacement. It's good for 815 lumens of brightness, too, which means it's brighter than both Philips' hue lux (750 lumens) and GE's Link (800 lumens) bulbs; however, it also sips a little extra power in the process, though Cree still argues that you'll spend just $1.64 on average a year.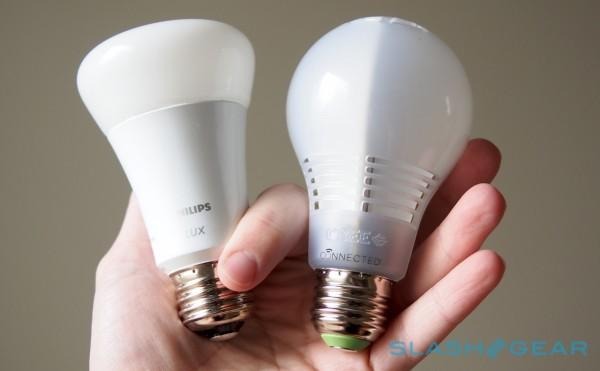 Compared side by side with hue lux, it's noticeably a little brighter, though Philips' bulb can be adjusted so that it's dimmer without switching off. Both have a quoted 2,700K color temperature, too, and they're pretty much indistinguishable: a warm, generic light rathe than the cold white of early LED bulbs.
Design-wise, its silhouette is traditional: a stereotypical incandescent bulb shape, with an E27 screw terminal at the bottom. Cree's 4Flow bulb design relies predominantly on passive cooling from air moving up from the bottom vents, across the LEDs themselves, and then out the top, rather than a vast and heavy heatsink.
The notches are an obvious giveaway that this isn't a standard bulb, but they seem to do their job fairly well. The Connected Bulb got noticeably warm to the touch after a period switched on, but not uncomfortably so. It's worth noting that you can't use it with a manual dimmer switch.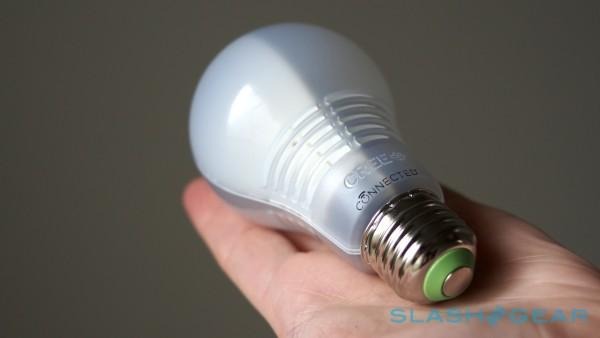 Cree provided not only the bulbs, but a Wink hub, one of a number of connected home bas-stations. It's certainly one of the more affordable out there, too, with a current street price under $40. Setup was simple: load the Wink app (and let it update the firmware), tap the "Add A Product" button, and then choose "Cree Bulb" from the list.
When the light on the front of the Wink hub flashes blue, you switch on whatever lamp the Cree bulb is screwed into and, following a brief pause, it's all paired up. While there are primarily two types of wireless connectivity being used in smart bulbs of late, WiFi and ZigBee, the advantage of the latter is lower power consumption and support for mesh networking: ZigBee devices can talk to each other, rather than directly to the hub or controlling device, expanding range with each that's powered up.
Unfortunately, just because the bulb wants to play nice with other platforms, that doesn't mean those platforms themselves are willing and able.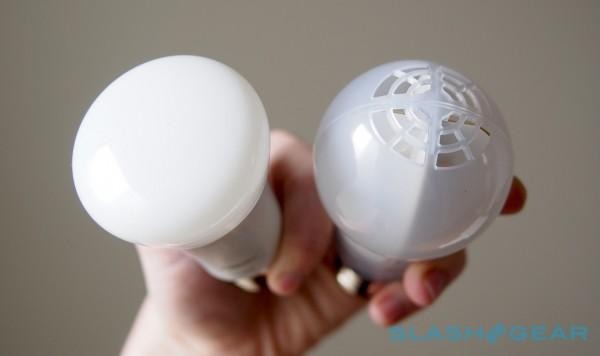 Cree promises out-of-the-box compatibility with Philips hue, and sure enough pairing up was straightforward. After I opened the hue app and hit the "Add Light" button, then turned on the lamp the Cree bulb was screwed into, a second or two later a new light was added to the list.
Beyond that they're treated just as hue lux bulbs are: you get a slider to control brightness, but no icon on the hue color map since there's no control for color or white tone. I found it wasn't worth renaming the bulb during the discovery process, either, since it defaulted back to "Dimmable Light" afterwards. Renaming it from the "My Lights" section afterwards stuck, however.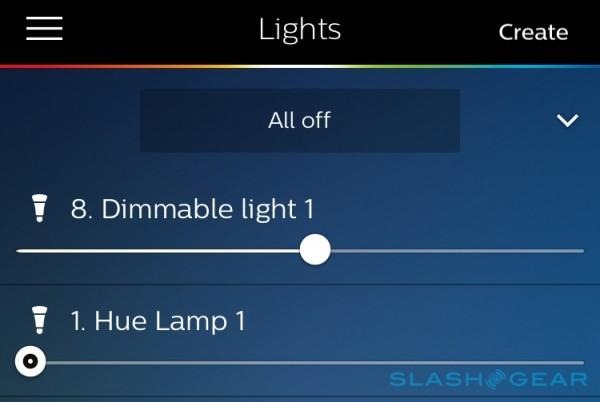 SmartThings, unfortunately, wasn't so welcoming. While ZigBee is included in the Samsung-owned hub, the Cree bulb refused to show up. With it already paired to the hue hub I could add it in a roundabout way, just as you can do with any hub bulb, but for the moment there's no direct control. I'd expect that to change soon enough, but it's something to bear in mind depending on where your smart home infrastructure journey has taken you.
Depending on the platform, the ways in which you can more intelligently use the bulb will vary. Philips allows you to treat it as you would any hue lux bulb, which means geofencing, adding it to scenes, establishing schedules, and controlling it remotely with a hue tap switch. Wink, meanwhile, has similar services, including the ability to link your lighting with other smart home components – such as door sensors – you may have installed.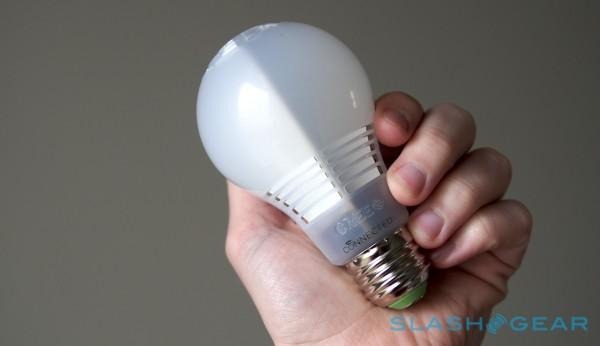 If I had a criticism, it's around just how sturdy the bulb is. In the hand it's very light; the plastic doesn't feel particularly high quality, either, and whereas I could see having a hue bulb on-show with a more decorative shade, I wouldn't really want to see the Cree in the same way.
Most worrying, though, I dropped one bulb a couple of inches onto the desk – a relatively mild rap rather than anything more dramatic – and after that point it refused to work. Now, a glass bulb – whether incandescent or hue – can be smashed, certainly, but I'd expect a little more resilience from something plastic.
For $14.97 apiece, perhaps I'm expecting too much. If you're careful in your installation, it's probably not something you'll experience, but it's a reminder that just because you don't have a delicate filament inside, that doesn't mean you can knock a bulb around.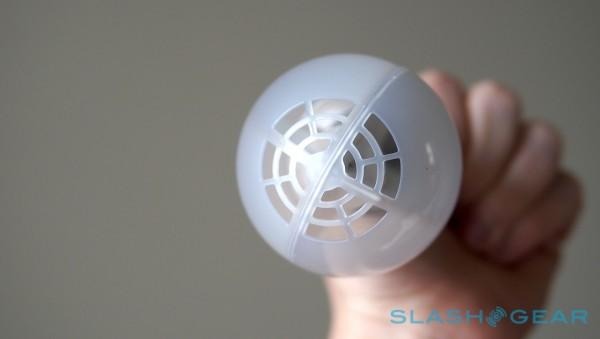 Nonetheless, I'm impressed by how much Cree has done with its Connected Bulb, even if there's some room for improvement still. It's half the price of a hue lux, for instance, and on a par with a GE Link. Right now, GE's LED bulbs are still more flexible – they work with hue as well, but can also be recognized by SmartThings – but with increased competition I can only see wirelessly-enabled bulbs dropping further and further in price.
That's good news for filling in lesser-trafficked zones in the smart home, which might previously have gone with a wireless upgrade on a cost-vs-convenience basis. Cree's commitment to platform ubiquity is admirable – they'll work with Apple HomeKit when that launches, too – and while we're not quite beyond the requirement to read the compatibility list just to be certain, its Connected LED Bulbs and a Wink hub mean the price of entry to smarter lighting at least remains low.