Philips Hue Lux Review: Wireless light at a lower price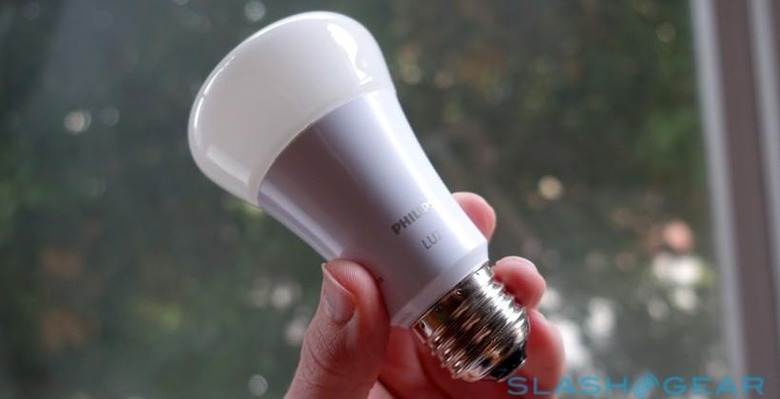 Selling people on the concept of Philips Hue color-changing bulbs generally isn't hard, but convincing them on the cost of the system can be tougher. Into the mixture, then, steps Hue Lux, slashing the price of the bulbs though giving up on color as a compromise. At just under thirty bucks a bulb, has Hue Lux finally got the balance right?
Hardware and Installation
At first glance, Hue Lux could easily be mistaken for the original Hue we reviewed back in 2012: a screw-fit E26 bulb with a frosted glass top and a tapering body. Where the original bulbs have a brushed aluminum finish, Hue Lux bulbs are white and a little lighter in weight.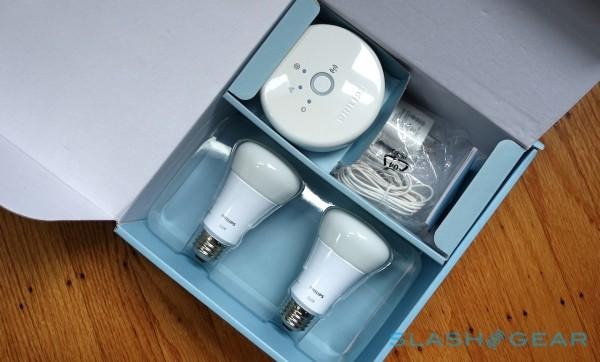 Ease of installation has always been part of Hue's advantage, and the Hue Lux bulbs aren't any different. Philips will sell you a $99.95 starter kit, complete with two bulbs and the compact ZigBee hub which plugs into your router, or – if you already have a Hue system installed – you can simply buy $29.95 add-on bulbs and add them in.
That means you can set up various different zones and choose between color-changing or white-only light, depending on your needs for each room. Adding a bulb is as straightforward as screwing it in and then searching for it in the iOS or Android apps; after that point, you can control it individually, or include it in a scene with other bulbs.
Usability and Performance
Hue has come a fair way since its initial days of app-only control. As always, you can adjust individual brightness of each Hue Lux bulb, but whereas usually you can also drag the icon for each around a color wheel, this time it's white-only.
On paper, Hue Lux bulbs are rated as being brighter than color-changing Hue bulbs: 750 lumens (roughly the same as a 60W incandescent) rather than 600 lumens. In practice, Philips' decision to tune the light so that it's warm rather than the unpleasantly cold tone many LED bulbs suffer from means that the difference between the ranges aren't really noticeable.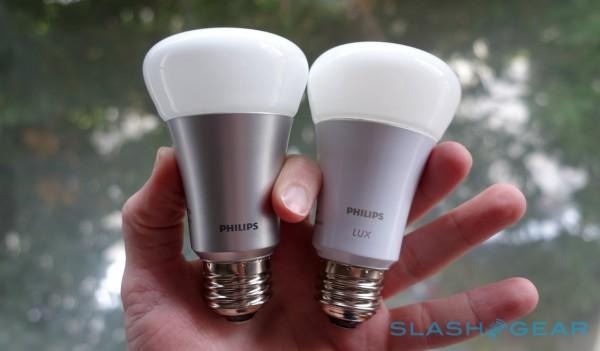 Flip the light switch for the lamp you have Hue Lux screwed into and you can manually control it: it defaults to maximum brightness, though if the switch is turned off you can't then use the app to remotely control it. Happily for those not glued to their phones or tablets all the time, there's Hue Tap – Philips' battery-free light switch – for smarter manual control, though at $59.95 it's as much as two Hue Lux bulbs.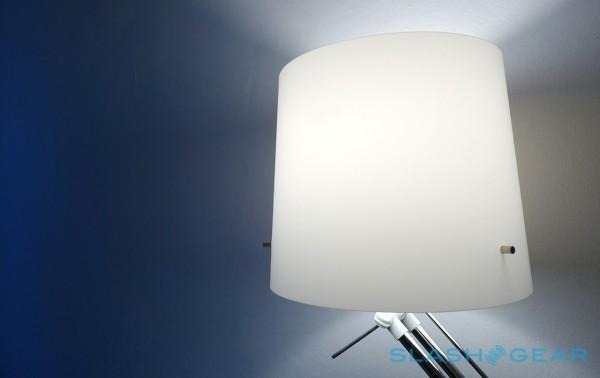 Things get interesting when you link Hue Lux into other systems, however. Home hubs from SmartThings and Revolv can each integrate with Hue and control each bulb, as well as synchronize them into a greater smart home system. So, you can have the lights come on when the front door opens, or flash certain colors when movement is detected on the driveway. IFTTT offers a web-based hub equivalent, connecting Hue to a range of services.
Even if you don't have such a hub, the Hue app itself supports timers and geofencing, automatically switching different scenes on and off depending on where you are or what time it is. It's worth noting that, while you can include Hue Lux in a regular scene, you can't use it in any of Philips' mood-changing "Light Recipes" like Energize or Relax. That hasn't proved too great a loss, however.
Wrap-Up
Hue's appeal has always been in the degree of control and convenience it brings to your environment: light makes a massive difference to how a space feels, and there's still something pleasing about being able to adjust the whole house from your phone. Holding it back has been price: at $200 for the regular Hue starter kit with three bulbs, most people couldn't afford to upgrade more than a few rooms.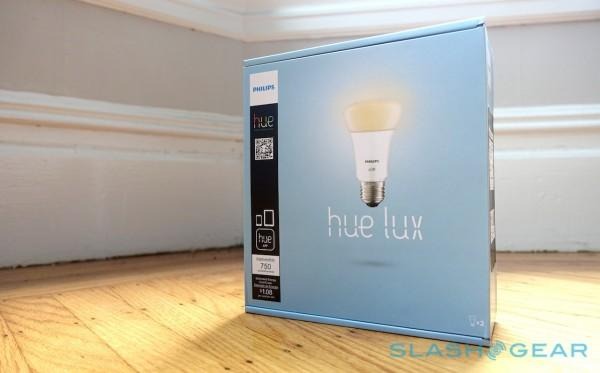 Hue Lux will certainly help with that. Thirty bucks feels like a reasonable amount to add remote control to the lighting in a room, and there are certainly places where you really don't need multiple colors and simply adjusting brightness is sufficient. A color-changing hallway may look impressive, for instance, but it's hardly necessary and paying $60 for a bulb seems excessive.
Philips faces a growing challenge from new entrants to the wireless bulb space, some of which are promising even cheaper costs. Right now, though, there's no other lighting system which matches its DIY flexibility and third-party integration, and while Hue Lux may not be quite as affordable as a dumb LED bulb, the convenience of wireless makes them a great sub-$100 point of entry to the Hue ecosystem.