Cradlepoint PHS300 3G WiFi router reviewed: simple & flexible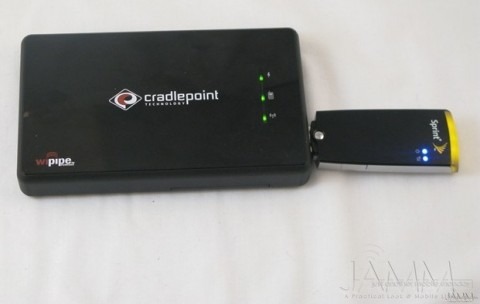 USB 3G modems are becoming more and more common, but sometimes you want to easily share the connection between more than one machine.  That's where the Cradlepoint PHS300 steps in, a compact battery-powered WiFi router that portions out a 3G connection.  Just Another Mobile Monday have been reviewing the $179.99 PHS300, and aside from a few reservations the judgment is good.
The Cradlepoint PHS300 will actually work not only with USB modems but tethered cellphones, as long as they can operate as a USB-connected modem (and your carrier data plan supports it).  The simplest way to get going, though, is to use a 3G dongle: slap it into the PHS300's single USB port, power on, and it automatically creates a WiFi b/g personal hotspot.  You can limit access either by a simple password or more complicated WEP/WPA/WPA2 security.
Thanks to the replaceable Li-Ion battery you can use the PHS300 cable-free for more than three hours; the only real drawbacks are the case and in-car power adapter being optional extras and the fact that the USB modem is left hanging out the side, which could be a little precarious.  Something like the Novatel MiFi will address that latter point, but of course loses the flexibility of the generic USB port.