Chitika iOS 7.1 adoption rate has 5.9% of USA in 24 hours [UPDATE]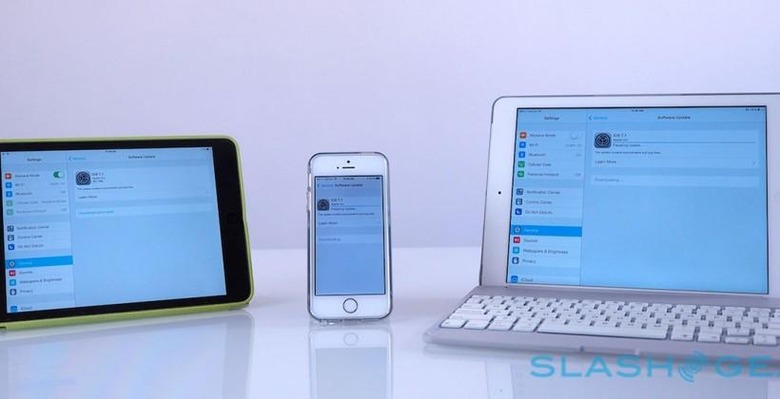 So you're unaware that there's a new version of the operating system your iPhone uses out there in the wild this week, are you? It would appear that approximately 5.9% of the United States are are both aware and found it important enough to hit the update button – or at least that much of America updated as of the first 24 hours of iOS 7.1 appearing for download.Chitika studies the United States with its ad network, the Chitika Ad Network, with impressions from around the internet via device-based web usage. This means that if a smartphone never accesses a webpage, somehow or another, it's not counted. Since most – as in the vast, vast majority of smartphones and tablets do access the web on a daily basis, Chitika's studies are generally perceived to be rather accurate in studying items like mobile OS adoption.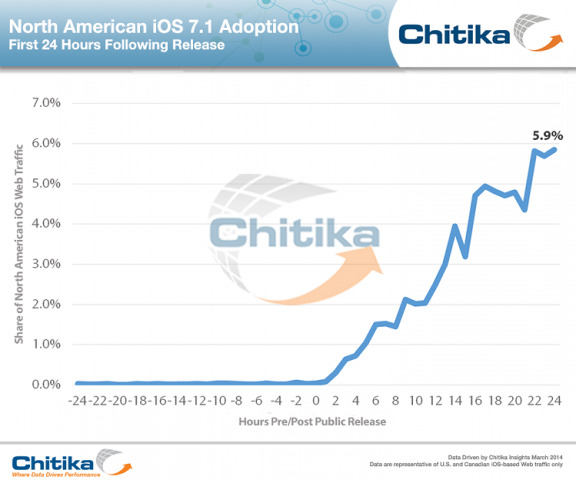 When a smartphone accesses a webpage, its details – operating system, operating system version, and more – are shared with that webpage. Chitika's Ad Network is also able to access these details, and in this case they've made use of them to see how many people were working with iOS 7.1 between March 9th and March 11th, 2014.
In the first 24 hours of release, iOS 7.1 grew from approximately 0% (a bit more due to testing) of the USA to 4.0% at around 14 hours after release. At around 24 hours after release, iOS 7 had hit 5.9%. Also according to Chitika, 24 hours after the release of iOS 7.0.6, adoption levels had reached 6% of the United States. Meanwhile iOS 7 in general reached 80% (compared to all other versions of iOS) over this three-day study period.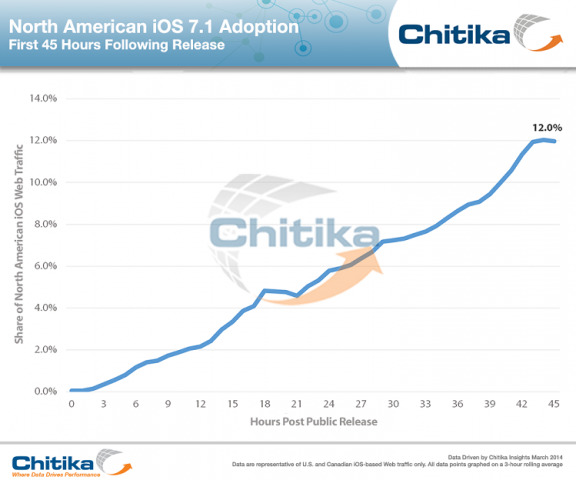 UPDATE: Chitika has sent in an update to their study, here showing 24 MORE hours after the first, showing how in 48 hours, adoption rate has reached 12% in the USA. This is a doubling, if you will.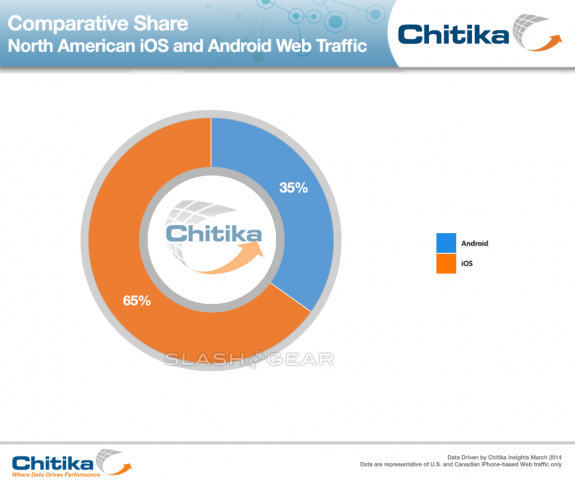 Above you'll see another recent study done by Chitika at SlashGear's request, showing a period in March of 2014 at which iOS is compared to Android, showing iOS at 65% of web traffic for the United States while Android commands 35%. Have a peek at the timeline below for additional insight as well.