Chevrolet "Connected by OnStar" 4G detailed for 2014: Hands-on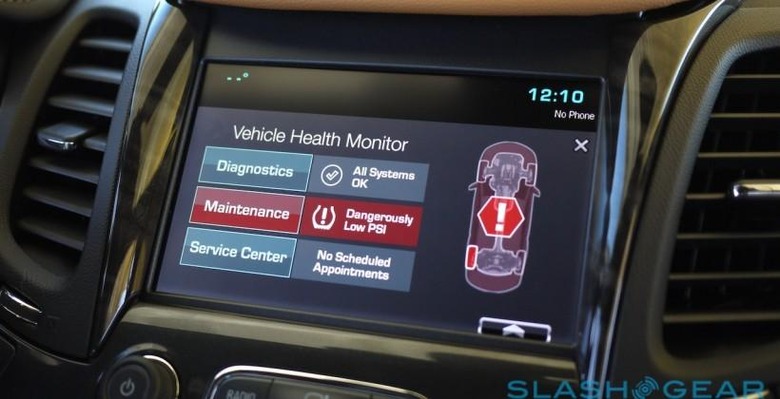 Chevrolet has detailed its "Connected by OnStar" 4G intentions for 2014, confirming which of the cars in its range will be first to get AT&T LTE as standard, and we went hands-on with some of the first apps for the new connected car platform. First announced back at Mobile World Congress 2013, the scheme will see 4G connectivity no longer the preserve of luxury vehicles alone, with GM choosing a spread of cars from the cheapest Spark through to the feistiest Corvette Stingray to be among the first models to go online. It's not just turning a car into a mobile hotspot, either; Chevrolet aims to use the technology to demystify the whole vehicle ownership experience.
Up to seven WiFi-connected devices will be able to use the hotspot to get online simultaneously. The first cars, from summer 2014, will be the model-year 2015 Corvette, Impala, Malibu, Volt, and Trax; they'll be followed shortly after by the Equinox, Silverado, Silverado HD, Spark, and Spark EV, with Chevrolet telling SlashGear that more models will follow "later in the year."
The system is more than just an AT&T mobile hotspot bolted into the glove compartment, though. In fact, Chevrolet has linked it up to each car's CAN (Controller Area Network) which gives access to core engine, performance, infotainment, and other functionality and data, just as the current OnStar service can feed car information to GM's remote helpdesk and the new 2015 Corvette Stingray "PDR" logs track day telematics.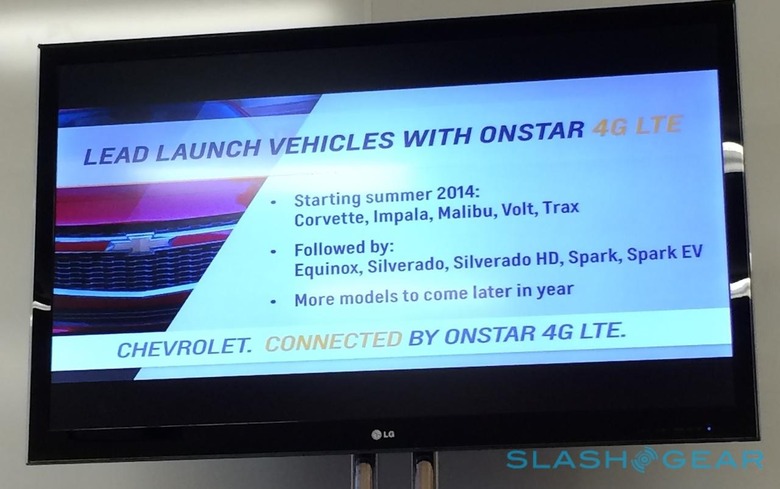 In the case of Connected by OnStar, that means hitherto inaccessible levels of telematics opened up to third-party app developers, as part of the new Chevrolet Appshop. The Appshop will launch with titles like iHeart Radio, The Weather CHannel, NPR, Slacker, TuneIn, Kaliki, EventSeeker, CitySeeker, and more, as well as some apps of Chevrolet's own making. That will include the Vehicle Health Monitor, Chevrolet's attempt to demystify the "Check Engine" lamp that can rattle drivers when it lights up on the dashboard.
For security of the platform, safety of use while in motion, and overall stability, the car company will be taking a similar approach to Apple when it comes to distribution, with all apps needing to be validated and certified before they arrive in the curated store. Still, despite those controls, Chevrolet says it still hopes to have a broad range of developers get involved, with the firm opting for HTML5 and JavaScript to lower the barriers to entry.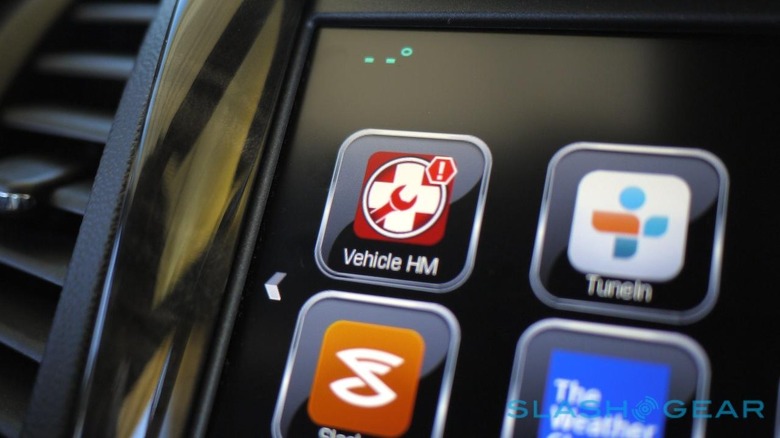 Vehicle Health Monitor will give a far greater insight into what that lamp actually means, by running diagnostics on the car similar to those a dealership might if it were brought in for service. That check can run on-demand, flagging up any issues across a variety of areas, or notify the driver proactively when a problem arises.
For instance, if tire pressure drops, the car can highlight that with escalating degrees of urgency. If a bulb goes out, the car can give a notification that it has happened and which lamp is affected; the driver can even then find the nearest preferred dealership and book the car in for service, all through the infotainment screen, with a notification of the appointment pushed to their smartphone.
Chevrolet is still finessing Vehicle Health Monitor, particularly when it comes to how warnings are flashed up so as to be suitably eye-catching but at the same time not unduly distracting from driving itself. Meanwhile, the team is also looking at remote notifications that could alert a phone – such as that of the car's owner – while someone else, such as a teenager, is driving. Still, from what we've seen, it's a much more transparent way of interacting with the car, taking away some of the confusion around cryptic warning messages and codes that only really make sense to trained technicians.
What's still unclear is how much all this 4G data will cost. Chevrolet isn't announcing that until closer to the summer launch, though has confirmed that full mobile hotspot service won't be something that's simply bundled into the cost of the car (unlike the 4G hardware itself).
Neither it nor AT&T are ready to break down exactly what will be included and what won't be, though we'd imagine there would be various tiers of service ranging from basic remote diagnostics and such, through simple app use, to media streaming and finally shared data for use with tablets and other devices. One confirmed app is AT&T's Famigo, which offers a kid-friendly environment you can happily leave the kids accessing on a tablet in the back seat without worrying that they're looking at age-inappropriate content: traffic from Famigo through a "Connected by OnStar" mobile hotspot will be bundled with the car.
AT&T, for its part, says it's very aware that "there are a lot of AT&T subscribers out there" who might want to see their car data access rolled into their existing subscription, too. In fact, owners who are also AT&T subscribers will be able to add their car to their existing shared data plan, just as if it was a tablet.
If all the prices are right, particularly to non-AT&T subscribers, it could be a tipping point for how our cars fit into our digital lives. Chevrolet has already seen developers cooking up apps that can crunch together fuel economy, how much is left in the tank, and navigation destination, and come up with not only the fastest route, but the one which is most practical given all those factors, even to the point of warning you if you don't have enough range. Similarly, EVs could become much more intelligent with how they integrate battery status and the locations of charging stations into what information is displayed to the driver.
Nonetheless, the number of people with 4G-capable tablets who only ever use them in WiFi mode because they can't justify the extra expense of another data agreement should serve as a warning to Chevrolet and AT&T. Get the pricing wrong, and too few people will jump onboard, leaving slim pickings for developers and minimal incentive to code up any of the innovative new apps GM is imagining. We'll have to wait until later in the year to find out whether Chevrolet gets that cost balance right.