Chevrolet Bolt EV configurator reveals fast-charge times and more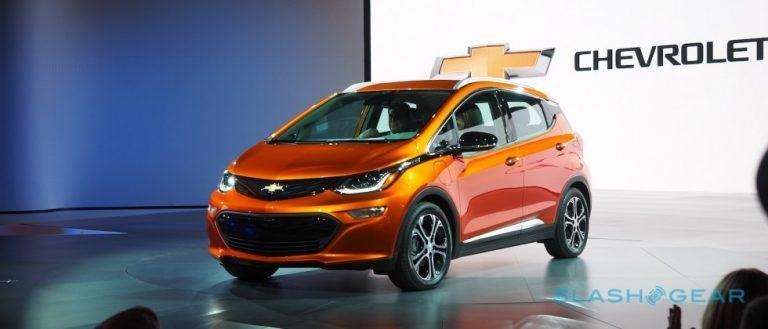 Chevrolet's configurator for the Bolt EV has gone live, detailing just what buyers of the all-electric Tesla rival can expect from their new car. Set to go on sale by the end of the year, availability of the Bolt EV will be fairly limited initially. If you're not in the handful of west coast locations where Chevy plans to sell the plug-in, though, you can still play with the configurator.
We already knew initial pricing for the car, which Chevrolet announced back in September. Kicking off at $37,495, it snuck in just under the automaker's original promise of a "sub-$37.5k price tag". Base Bolt EV LT trim comes with regen-on-demand paddles – which simulate engine braking in a car with a traditional manual gearbox by making the regenerative braking more aggressive – and a 10.2-inch touchscreen infotainment system with 4G LTE and WiFi hotspot support.
Of course, the idea is that buyers will also take advantage of various federal credits and tax incentives on offer, potentially bringing the price down under the $30k mark. Depending on state, as much as $7,500 can be knocked off the price of an electric car. Unsurprisingly, Chevrolet decided to prioritize two such states – California and Oregon – for its initial Bolt EV sales.
The incentives approach does have some inherent issues, mind. The government does cap the number of cars each manufacturer can make eligible for tax breaks and such, and Chevrolet has made inroads into that with its existing Volt plug-in hybrid and the Spark EV. It's unlikely to present a significant problem initially, but down the line – and as electric vehicles proliferate from all automakers, indeed – it's unclear how Chevrolet and the government will react.
Courtesy of the configurator, which went live this week, we know full spec lists and pricing. The Bolt EV LT has 17-inch painted aluminum wheels, HID headlamps and LED daytime running lamps, ten airbags, a reversing camera, keyless entry and start, single-zone auto climate control, power windows with one-touch open/close, XM radio, dual USB ports, a 60/40 split rear bench, and auto headlamps.
$41,780, however, gets you the Bolt EV Premier, which switches out the wheels, adds turn indicators to the side mirrors, throws on some roof rails, and puts leather seats inside, with heating front and rear. It also boosts the safety and convenience tech, with surround vision, blind spot monitoring, rear cross-traffic alert and rear park assist, changes the regular interior rear-view mirror for a camera-based system, and wraps the steering wheel in leather while adding heating, too.
Whichever trim you opt for, you get the same 200 HP electric front-wheel drive powertrain with 266 lb-ft. of torque. That's good for 0-60 mph in 6.5 seconds, Chevy claims, while the 60 kWh li-ion battery has a 238 mile EPA range. The onboard charger is a 7.2 kW high-voltage system, though the 120V portable charging cord supplied will only pump four miles of electric range in per hour plugged into an outlet.
It's probably wise to tick the DC Fast Charging option. For $750 you get support for the latest high-speed charging stations, which are increasingly prevalent across the US. Chevrolet says that, with a compatible charger, you'll be able to add 160 EV miles in an hour, or roughly 90 miles in half an hour.
Thanks Alex!
MORE Chevrolet