2017 Chevy Bolt EV starts at $37,495 before federal tax credit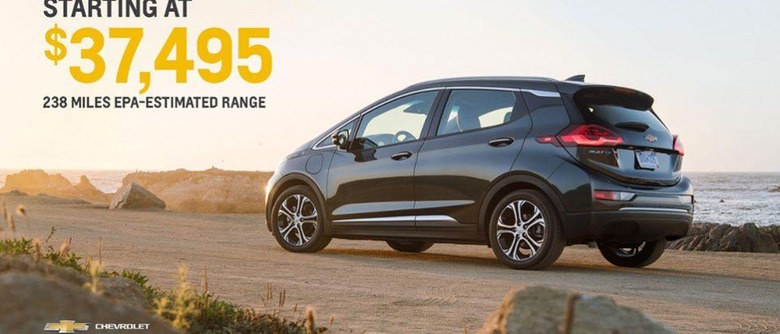 Chevrolet has promised an affordable EV with a long driving range for a while now and those promises are finally coming true. When Chevy first started to talk up the Bolt EV we didn't know exactly how much it would cost, but we did know that the vehicle would have an EPA-estimated driving range of 238-miles per charge. Chevy originally said that the car was expected to go on sale for under $37,500.
The official pricing of the car has now been announced and it will start at $37,495 before any federal tax rebates are applied. Depending on the tax situation with the government for each buyer, there is a potential to get a $7,500 rebate bringing the purchase price down to $29,995.
"Value is a hallmark for Chevrolet and the pricing of the Bolt EV proves we're serious about delivering the first affordable EV with plenty of range for our customers," said Alan Batey, president of GM North America and leader of Global Chevrolet. "We have kept our promise yet again, first on range and now on price."
Chevy says that the LT trim will start at $37,495 and includes a nice list of standard features. These features include Regen on Demand steering wheel paddle, rear vision camera, 10.2-inch color touchscreen, and Michelin Self-sealing tires. The Bolt will also be offered in Premier trim that includes all LT features plus leather seats, front and rear heated seats, surround camera, and rear camera mirror. The pricing does include all destination and freight charges. The Bolt EV will land at select dealerships in late 2016. It's unclear at this point how the dealerships who sell the Bolt will be selected. Chevy hasn't announced if the vehicle will be available nationwide or only in certain geographic areas.