2017 Chevy Bolt EV gets EPA-estimated 238 miles per charge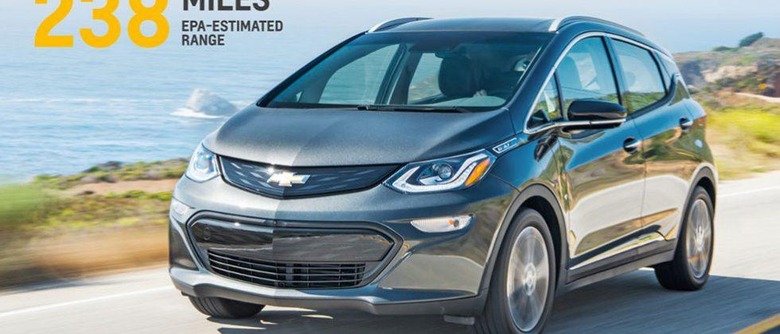 Chevrolet has made good on its promise to deliver the first affordable electric vehicle with over 200 miles of driving range per charge with the new 2017 Bolt EV. The car is set to go on sale later this year and it has an EPA-estimated driving range of 238 miles on a full charge. That driving range will vary in the real world, just as it does for every EV on the market today.
"Chevrolet showed the world the production version Bolt EV earlier this year and in a few short months we've moved from that vision to a reality," said GM North America President Alan Batey. "The Bolt EV is a game changer for the electric car segment and it will start to become available at Chevrolet dealerships later this year."
The Bolt EV is expected to go on sale for under $37,500 before the $7,500 federal tax credit is added in that is up to $7,500. Chevy also notes that the Bolt EV has plenty of cargo space, tech, and safety features to make a very appealing overall package for buyers looking for a new ride. While Chevy talks about the overall package, it doesn't actually say at this point just, what sort of options the Bolt EV will offer.
"While range is important, we knew Bolt EV owners would want more — more space and more power — and the Bolt EV delivers," said Bolt EV Chief Engineer Josh Tavel. "Our team took special pride in optimizing every aspect of this vehicle, especially its impressive range and ride dynamics."
The Bolt EV will be sold at select Chevy dealerships in late 2016 and will slot into the electrified range for Chevy along with the Volt extended range hybrid, and the Chevy Malibu Hybrid. We should learn more about the Bolt EV and its options later this year when it's closer to time for the EV to land on lots around the country.
SOURCE: Chevrolet