Check Out The Curved OLED In Cadillac's Latest Concept Car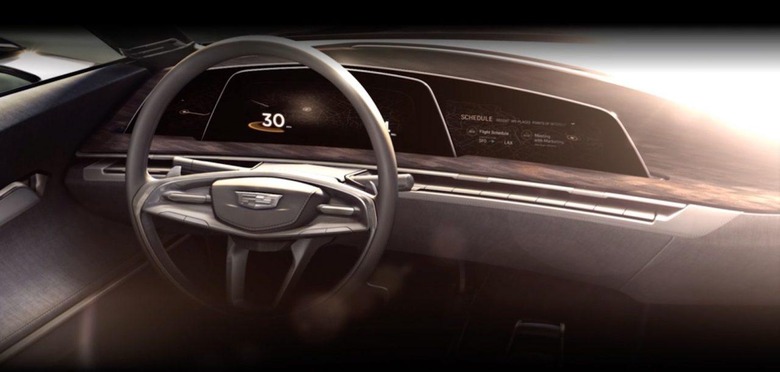 Cadillac is getting into curved OLED, with the automaker revealing a new concept car interior that spreads a fresh driver and infotainment interface across several arched displays. Scheduled for a full public demonstration later this week at Monterey Car Week, the Cadillac "new design concept" features at least three OLED screens that the company has co-developed with LG Display.
One screen sits behind the steering wheel for the regular driver information like speed, but it's flanked on either side by two further curved OLED panels. These act as overflow, with information and animations able to transition across all three of the screens.
Although all Caddy is showing today is computer-generated, rather than what will presumably be a physical car later in the week, the graphics certainly indicate a higher level of detail and personalized integration than what's currently on offer in the company's vehicles.
For instance, the dashboard indicates that the driver's schedule has been imported, and then maps a route through a 3D cityscape.

Cadillac has noticeably raised its game in interior design and build quality over the past four to five years, with the CT6 luxury sedan demonstrating most recently that the automaker isn't all brash Americana but can do understated luxury just like its German rivals.
If there's been a fly in the ointment, it's that the higher-quality wood, metal, leather, and Alcantara have wrapped around CUE at the center, Cadillac's controversial infotainment system. Although not as widely disliked as in its earliest, sluggish iterations, CUE nonetheless remains fairly finicky to use, particularly with its reliance on touch-sensitive buttons rather than physical switches.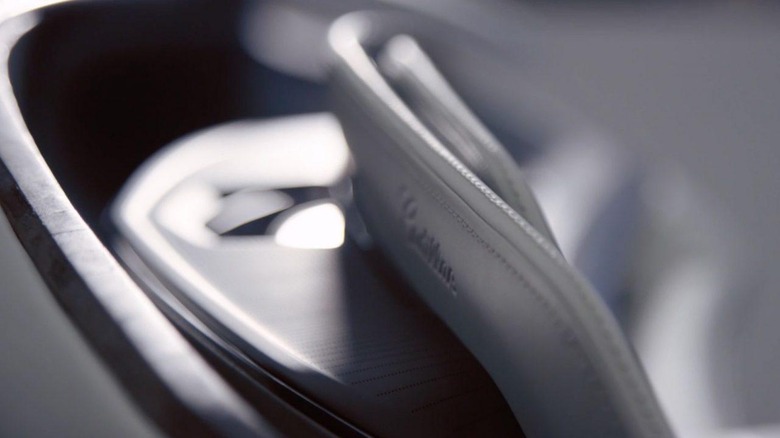 Cadillac isn't the first to embrace the possibilities of the curved OLED, mind. Back in 2014, Audi's Prologue concept used flexible OLED panels for displays that bent up out of the dashboard when the car was started, while last year's Audi e-tron quattro concept makes significant use of curved OLED around its cabin. Still, it's unclear how much of that will make it to the eventual production version Audi says should go on sale sometime before 2020.
NOW READ: 650HP CTS-V Review
For its part, Caddy says the curved OLED concept "is being developed for a future Cadillac production vehicle" though does not suggest which one it might be.
As of the automaker's roadmap for 2020, however, discussed in 2014, a larger, more luxurious sedan is on the cards – potentially the CT8 or CT9, to directly challenge long wheelbase cars like Mercedes' S-Class and BMW's 7 Series. That might be the perfect place to debut a new and fairly unusual display technology, though another potential candidate is the all-electric Cadillac that was also rumored to be on the cards.