Carrier-specific Galaxy Nexus' get Android 4.2.1 update while Verizon lags

This week it's being made official: every different kind of Samsung Galaxy Nexus will be at or upgraded to Android 4.2.1 Jelly Bean+ except for the version with Verizon 4G LTE. The international edition "GT-i9250 "Maguro" was first to be upgraded, not long after the Google Nexus 4 was revealed, while the newest and last version to be upgraded is model SPH-L700 "Toro Plus". This last iteration is the one unit to be released without a SIM card slot and connectivity with 4G LTE in the 1900 MHz band (Band 25).
What users who have this version of the device will be allowed to do very soon is get the update in an over-the-air update which will appear in the device's pull-down notifications menu. If you've got this device in your hand and want to update it right this minute, you've got a couple other options, the first of them being heading over to this XDA Developers Forum thread where you'll find the download link via Google. This download link is a ZIP file while you'll have to load yourself – and it'll be helpful if your device is rooted and all that good stuff, too.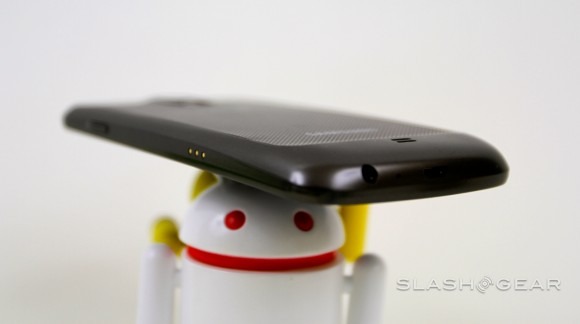 If you've never before "Flashed a ROM" and/or have no idea what that term means, you'll be better off waiting for the OTA update sent directly to you automatically. You can expect that to be appearing within the next week from your carrier. For everyone who is more than comfortable with upgrading their device via hacking, the file in the previous article is very, very easy to load – you've also got the option to work with NIGHTLY builds of CyanogenMod 10. Verizon's "Toro" also has a CM10 build out there that's stable – better than nightly, even!
Those of you looking to figure out what the big deal is with this newest iteration of Android, head down to our guide entitled What's New in Android 4.2 Jelly Bean? There you'll find Keyboard Gestures, Photo Sphere, User Logins, Wireless Display capabilities (not yet active, but in there somewhere), Notifications menu upgrades, Google Now upgrades, and a big ol' batch of bug fixes. You can also see our review of the LG Google Nexus 4 as well as the T-Mobile Nexus 4 (also by LG, of course) to see more about the software you're about to load to your Galaxy Nexus. Good times are on the way!
[via CNET]