Cadillac Escala Concept Teases CT6's Super-Luxe Big Brother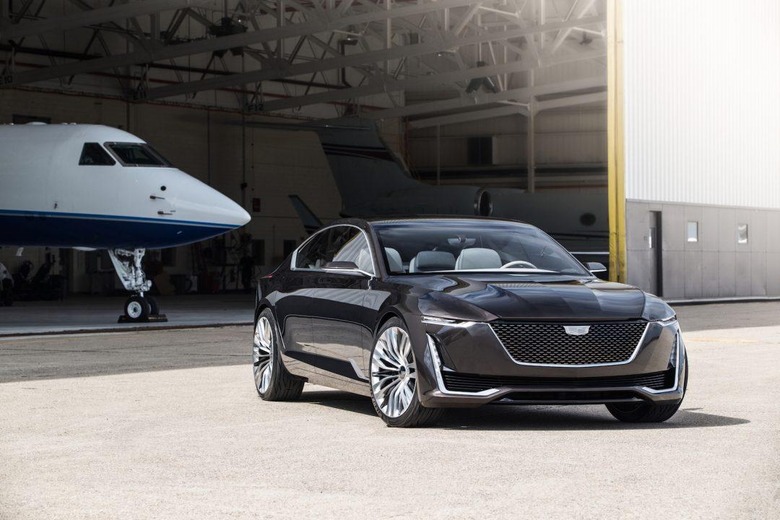 Cadillac has slipped the wraps off its latest concept car, the Escala, at Pebble Beach this evening, and it's a beguiling vision of the brand's next super-luxury sedan. Promising to wrap up both the future of Cadillac's design and technological systems into one sinuous vehicle, the Escala may not reach dealer forecourts in quite this form, but it's certainly a heavy-handed hint as to the American automaker's upcoming assault on Mercedes-Benz's S Class, BMW's 7 Series, and Audi's A8.
Cadillac teased the Escala earlier this week, focusing then on the design elements of the interior. The new concept car was to showcase an all-new dashboard complete with arrays of curved OLED screens co-developed with LG Display, Cadillac said, conveniently leaving most of the exterior's wow-factor to surprise at the California car show.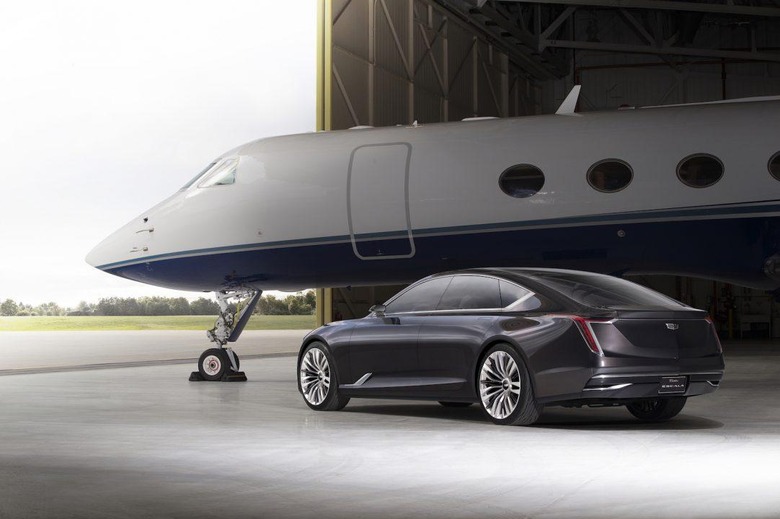 The result is a vision of what Cadillac's bigger brother to the CT6 sedan could look like. The Escala – its name the Spanish for "scale" – is described as "a larger, more elite and expressive companion" to the CT6, which currently stakes out a space somewhere around the E-Class and 5 Series.
A larger footprint is a given, therefore, though this is no normal three-box sedan. Instead, Cadillac has opted for a liftback design, visually stretching out the 210.5-inch long body while also throwing in a little more practicality.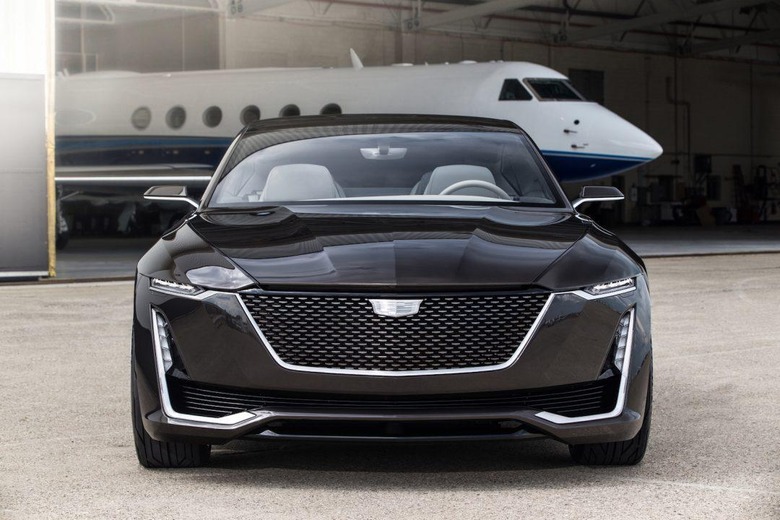 Compared to current Cadillac fare, it's arguably a smoother, less "shouty" aesthetic. Gone are some of the more dramatic, angular creases that have given recent cars from the company an almost Art Deco look, replaced with a new, cleaner grille and light design, three-dimensional grille mesh, and layered-spoke 22-inch wheels.
Cadillac used OLED lighting elements for the exterior lights, for what the company describes as "a sinister look, day and night." It's not just for the concept, either, with production cars expected to wear the new face soon enough.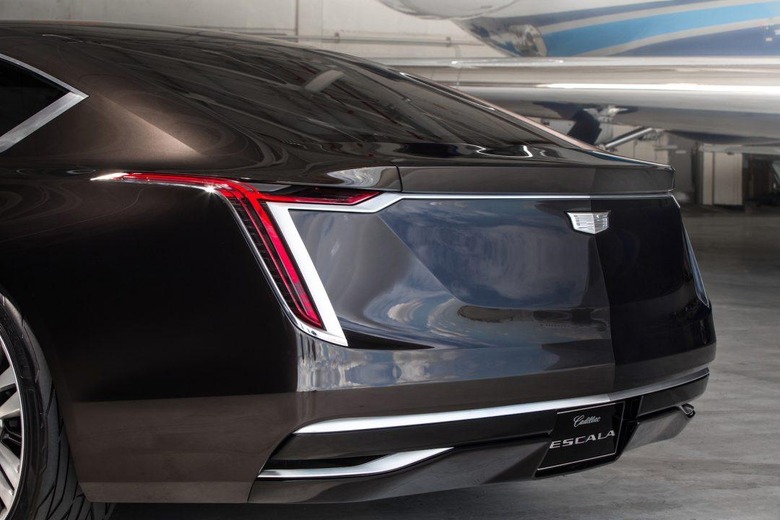 Inside, meanwhile, Cadillac's renewed focus on challenging German luxury shows itself once again. Up front it's all about tech, with three curved OLED panels – wrapped, of course, in hand-stitched leather – while the interface previews the next generation of CUE, Cadillac's love-it-or-hate-it infotainment platform.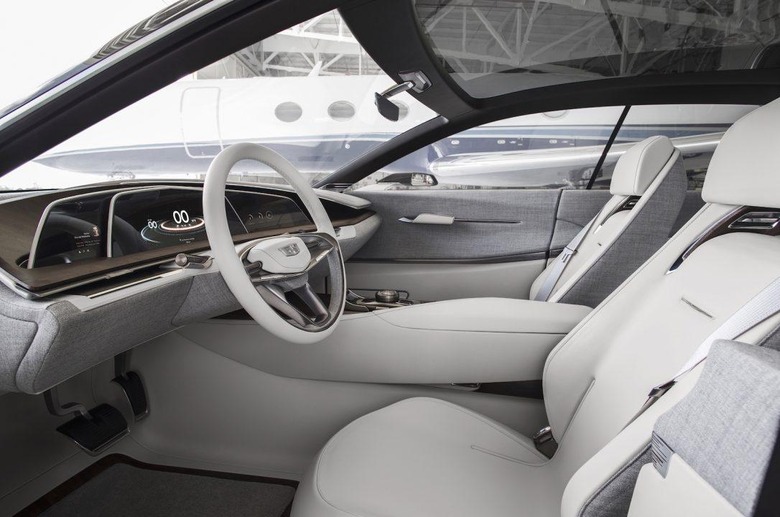 It's controlled by a dial in the center console, with touch-sensitivity, along with both voice and gestures. Still plenty of wood and leather, of course, but they're joined by a new fabric finish on the wheel, doors, and lower dashboard.
In the back, meanwhile, comfort and relaxation are at the fore. Along with two big, comfortable seats there are slide-out displays built into the headrests, that cleverly collapse until they're just a sliver of touchscreen to handle the essentials of HVAC control, multimedia, and other basics.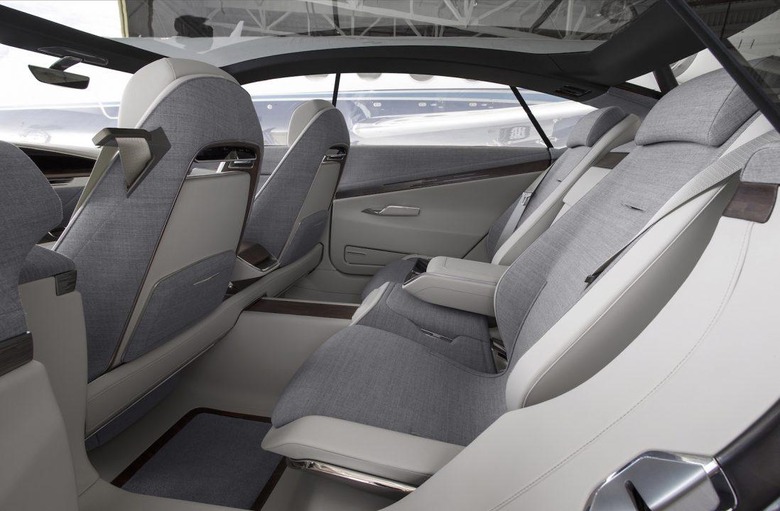 Under the hood there's a 4.2-liter, twin-turbo V8 engine, which Cadillac says is the prototype of a whole new powertrain it plans to use in future production cars. It promises more fuel economy than the average V8 by deactivating half of the cylinders when under low load.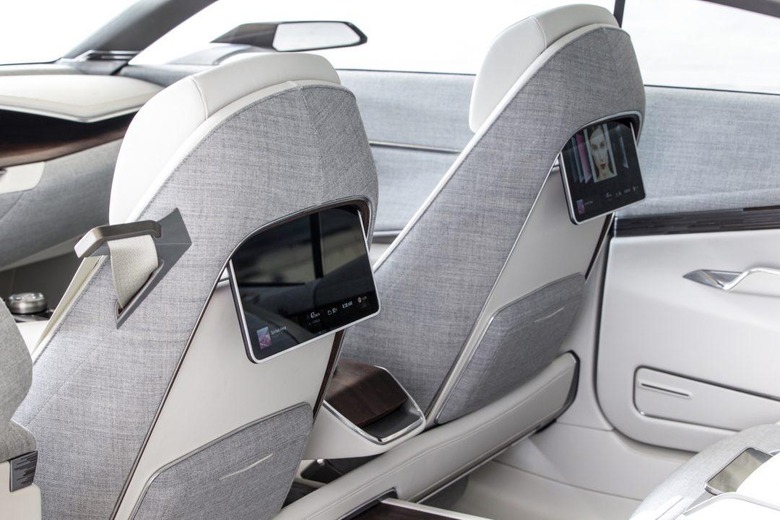 NOW READ: 2016 Cadillac CTS-V Review
The platform underneath is the same rear-wheel-drive architecture that forms the basis of the CT6, with plenty of aluminum and other lightweight materials to ensure that, even with a 127.1-inch wheelbase, the Escala should still be relatively fleet footed.
Striking doesn't seem to quite do the Escala justice, though keen followers of the luxury segment might spot a few familiar touches. There's more than a hint of the Jaguar XJ in the rear three-quarter design, for instance, while the trunk is faintly reminiscent of the old Acura TL. Side-on, there's a little of Audi's A7 in the sweep of the roofline.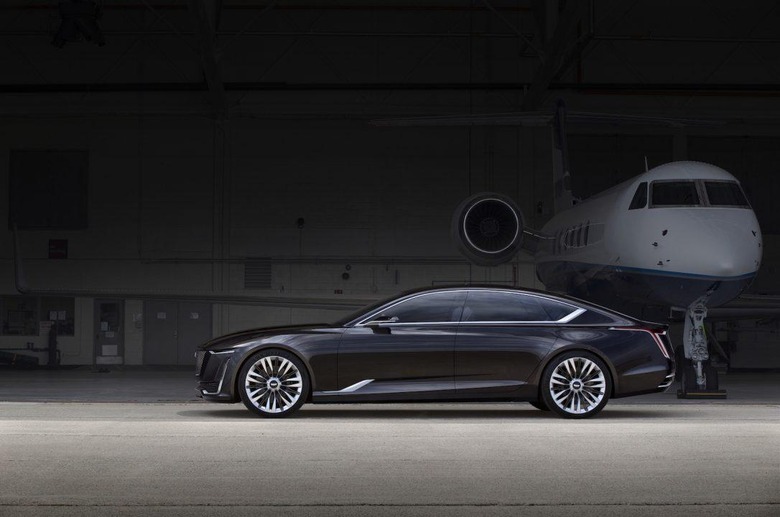 Nonetheless, there's all the drama you'd hope for from Cadillac's spin on "American Luxury" and it has us even more eager to see the CT6's bigger brother.
"Depending on the development of market segment for large luxury sedans," Johan de Nysschen, president of Global Cadillac, said of the concept, "Escala is a potential addition to our existing product plan." Now we just have to see how Caddy fans react.