C-motech Mangrove WinMo UMPC hands-on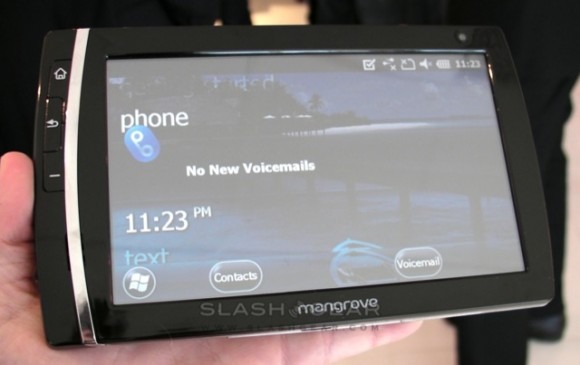 We'd forgive you for having forgotten about C-motech's Mangrove UMPC; after all, the market for a 7-inch touchscreen tablet running Windows Mobile 6.5 is hardly vast.  Still, we were interested to see the unit at Qualcomm's event today, though its tubby form-factor was a whole lot less impressive when sat next to the Quanta Android Smartbook.
Being based on the 1GHz Snapdragon chipset, the Mangrove is around as powerful as the Quanta Smartbook; however, and as we've seen with the HTC HD2 Microsoft's smartphone platform can certainly whip along when it has that many spare CPU cycles to play with.  In use it certainly felt snappy, but we missed the HD2's capacitive touchscreen – C-motech have used a resistive panel – and the resolution appears to still be WVGA 800 x 480 so you're not really gaining a huge amount display-wise for the extra inches.
What you do get is a pair of USB ports which turns the Mangrove into a pretty decent netbook-alternative, plus integrated WiFi, 3G and WiMAX.  Niche is certainly our lasting impression of the C-motech slate, though we'll need to know final pricing before we can give a final judgement.